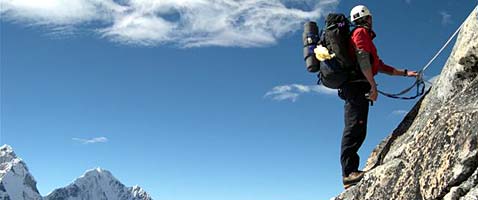 Ama Dablam Climb with International Mountain Guides
Thanks for your interest in our 2017 Ama Dablam Expedition. This is one of the most famous and beautiful peaks in the world, rising above the Dudh Kosi River valley on the way to Everest Base Camp in Nepal.
After conducting eight successful guided Ama Dablam expeditions and two more successful teams that we supported with logistics and Sherpas, we have a great track record on the mountain. Before committing to the 2017 Ama Dablam expedition, we wanted to reassess the conditions on the mountain and our program. We now have confirmation that a large chunk of ice fell from this glacier, and that this appears to have stabilized the ice cliff. This is good news, and based on this current assessment we will move forward with the 2017 expedition.
Our 2017 Ama Dablam expedition will utilize the very successful model we have evolved for Mt Everest. This means that we will have a Classic (sherpa guided) and a Hybrid (western guide) team. The Classic program is suitable for experienced climbers who don't require the extra guidance of the Hybrid program.
We plan a leisurely acclimatization trek to Ama Dablam Base Camp, with plenty of time to focus on acclimating and familiarization with the terrain and technical challenges on the climb. We have added more contingency days in the itinerary, and crafted a slower and more deliberate schedule for the ascent with more rest and acclimatization days. This will also allow more flexibility. For example, some climbers may decide to go to the top from Camp 2, while others might opt to spend a night in the higher Camp 2.7. We want to give everyone the best chance to reach the top, and we know everyone climbs at a different rate.
Please contact us if you have further questions or would like to discuss different options. We can put together a package for you that will meet your requirements. We'll look forward to hearing from you.
— Eric Simonson and Greg Vernovage, IMG Himalayan Programs
How hard is Ama Dablam?
We recommend that you be very comfortable on Alpine Ice Grade III; rock climbing in rock shoes on 5.7-5.8 rock and experienced on multi pitch rock climbs wearing mountaineering boots over 4th and moderate 5th-class terrain. Most of the route on Ama Dablam is fixed, so you will also need a high level of competence ascending and descending fixed ropes and passing anchors. There is one pitch on the route that is just about dead vertical, so practice ascending a vertical fixed rope as well.
The best general practice for you is probably to go out and do some longer Grade III or IV rock climbs, preferably ridge climbs with a range of difficulty from short roping/short pitching up to moderate 5th class climbing. If you want to come out to the Northwest and train with IMG guides, we can schedule a climb for you with one of our Ama Dablam veteran guides in the North Cascades over terrain similar to what you would expect on Ama Dablam.
Expedition Organization and Leadership
International Mountain Guides (IMG)
IMG is the oldest and most respected high-altitude climbing service in the world and its three principals, Eric Simonson, Phil Ershler, and George Dunn, have led and organized hundreds of expeditions worldwide since 1975. IMG's Himalayan mountaineering programs are organized and directed by Eric Simonson, one of the world's premiere expedition organizers. Under his direction IMG has conducted over 60 Himalayan 8000 meter expeditions. His teams include a group of professionals and Sherpas who are the best in the business. Since 1990, over 600 IMG team members have summited the world's classic 8,000-meter peaks, including Everest, Lhotse, Cho Oyu and Shishapangma.
IMG's Philosophy
IMG leads the way! Our goal is to minimize risk while helping as many members as possible reach their goal, and we invest in the logistics and manpower to make this possible. We will not sit back and let other teams do the work. Invariably, our IMG Sherpas are part of the rope fixing efforts and the first team to the summit, preparing the route for future summit bids. We value our reputation as one of the premiere international climbing companies. If you would like to join a world-class team on Everest, we encourage you to contact us to discuss your goals and qualifications for membership in the IMG Everest team!
Ang Jangbu and the IMG Sherpa Team
A veteran of dozens of expeditions and an Everest summiter, Ang Jangbu has worked with Eric Simonson on every IMG Himalayan program since 1991 and is a very popular leader. Ang Jangbu Sherpa and his staff put together one of the very best Sherpa teams for IMG. We are proud to have a group of Sherpas working for us who are among the best paid, best led, best equipped, and best trained in the business.
References
Joining a high-altitude trek or expedition is a serious decision. You should be completely confident in the organization and leadership before you make that decision. Many of you have climbed with us before, and because your experience with us was good, you're considering another climb with us. For those of you who haven't climbed with us before, we strongly encourage you to interview us thoroughly and also talk to our past clients. When you're ready to make the decision, we'll be happy to provide you with a complete list of references. In the meantime, please browse a few comments from past climbers.