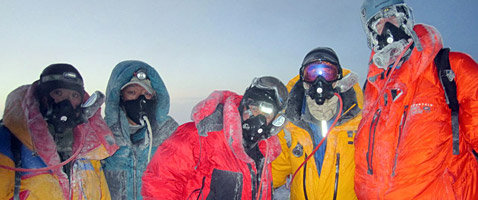 Cho Oyu Climb with International Mountain Guides
50 Climbers Total Allowed on Cho Oyu for 2017
For 2017 the CMA and CTMA have informed us that there will be only 50 climbers allowed in Tibet this Autumn, all total, for all the expeditions (this is due to the 19th Congress of the Communist Party going on at the same time). As a preferred guide service they are going to grant IMG a permit for six climbers, in addition to our Sherpa Staff. With a small team like this, we have decided to run the Cho Oyu Expedition along the lines of our very successful Mt. Everest Hybrid Team. We will take a maximum of five climbers on the expedition with one Western Guide who has been on the summit of Mount Everest, and they will be supported by a very strong contingent of our Sherpa "A" Team.
The building blocks for this program come from our incredibly successful Mount Everest Hybrid Program that we initiated in 2011 and which we have utilized every year since. This program combines the best aspects of climbing with Sherpas and Western Guides. For the smaller Cho Oyu Hybrid Expedition team, the price bumps up to $27,500. This Hybrid Team will allow you a more boutique style and feel on Cho Oyu, much like the "old" days of Himalayan climbing when there were only a few other climbers on the mountain.
We hope this great opportunity for climbing Cho Oyu with a small IMG Team works into your plans for this Autumn. It is quite unlikely that you will ever again have the chance to climb one of the most popular 8000m peaks in the world with only 50 climbers! Please contact us personally if you have further questions or would like to discuss different options.
We'll look forward to hearing from you.
—Eric Simonson and Greg Vernovage
IMG Himalayan Program Directors
Thanks for your interest in our Cho Oyu Expedition. Cho Oyu is the 6th highest mountain in the world (8,201m) and is a classic Himalayan climb. Since 1995 we have seen 240 climbers reach the summit of Cho Oyu with our IMG teams on the 26 expeditions (24 successful) that we have conducted via the original 1954 route from Tibet. We're proud to have the best climbing record on the mountain. Our programs are recognized worldwide as well organized with first-rate logistics and experienced leaders, conducted under the direction of legendary climber and expedition leader Eric Simonson.
IMG was one of the very first 8000m Himalayan operators to run Tibet Everest and Cho Oyu expeditions, and 2017 marks 27 years of running expeditions in Tibet.
Personal Sherpa and Extra Oxygen Option
In addition to the all the benefits and Sherpa support that goes with our Classic Cho Oyu program, we will also assign exclusively to you one of our very best Sherpas, who has summitted Cho Oyu and Everest many times, been through the Khumbu Sherpa climbing school, and who speaks English well. As a small two-person team, you will be able to take advantage of the "best of both worlds" with all the "horsepower" of the main IMG team at their disposal, but also having the additional flexibility of your own dedicated climbing partner. Your personal Sherpa will also be available to help carry your personal gear to the higher camps. In addition, we will provide extra oxygen so you can start using oxygen at Camp 2.
Note on Dates
Dates are listed starting with the arrival day to Kathmandu to the arrival day back to Kathmandu at the end of the trip. The ending date for the CHO OYU CLIMB is flexible, depending on weather and conditions. It would be normal to add at least 7 extra contingency days on the itinerary for the climb. If necessary, climbers will change their departure flights from Kathmandu when they know exactly when the expedition is going to end.
Spring vs. Autumn
Spring has less snow and avalanche danger, but has more ice and is more technical. The autumn can be good, but if you get a big snow dump (more likely in the autumn than spring,) you could be out of luck.
Spring starts out cold and windy, and gets better. Autumn starts out warm and wet, hopefully has a good stretch, then gets cold and windy later in the season. We try to climb in the spring during mid-May, when the weather starts to improve, and in the autumn during late September/early October before it gets too cold, and there are big snow storms.
Generally speaking, Everest is good in the Spring, less reliable in the Autumn. Cho Oyu is good both Spring and Autumn. There are probably more expeditions on Cho Oyu in the Autumn, since many companies are on Everest in the Spring.
International Mountain Guides (IMG)
IMG is the oldest and most respected high-altitude climbing service in the world and its three principals, Eric Simonson, Phil Ershler, and George Dunn, have led and organized hundreds of expeditions worldwide since 1975. IMG's Himalayan mountaineering programs are organized and directed by Eric Simonson, one of the world's premiere expedition organizers. Under his direction IMG has conducted over 60 Himalayan 8000 meter expeditions. His teams include a group of professionals and Sherpas who are the best in the business. Since 1990, over 600 IMG team members have summited the world's classic 8,000-meter peaks, including Everest, Lhotse, Cho Oyu and Shishapangma.
Ang Jangbu and the IMG Sherpa Team
A veteran of dozens of expeditions and an Everest summiter, Ang Jangbu has worked with Eric Simonson on every IMG Himalayan program since 1991 and is a very popular leader. Ang Jangbu Sherpa and his staff put together one of the very best Sherpa teams for IMG. We are proud to have a group of Sherpas working for us who are among the best paid, best led, best equipped, and best trained in the business.