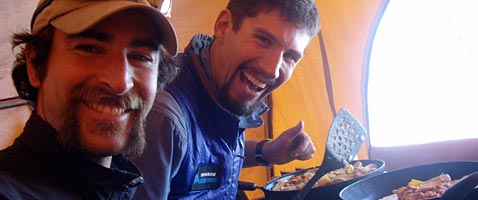 IMG Guide Food Suggestions for Mt. Rainier
To help make your climb more comfortable, below are a few food recommendations from IMG guides who have spent a lot of time snacking on Mt. Rainier.
IMG Guide Erica Engle

Things I take with me might include gooey cookies, a little bit of fresh fruit, like apple or peaches, chocolate or yogurt covered nuts, a few pieces of fried chicken, a package of cream cheese with salty crackers, jerky, some slices of moist banana or zuchini bread, a few bars that actually are tasty, some gummy candy, cheese of course with a yummy bread to go with it.
IMG Guide Chris Meder

My overall plan for packing food is to make sure I have a variety of items that are tasty (make sure you know you like what you're bringing first!), pack well, have a high calorie-to-weight ratio, and that I have a mix of sweet, savory and salty items. Too much of one type of food will leave you drooling over your fellow climbers' snacks. Shoot to be the food envy of the trip, not the envious one! All that said, watch the weight!
Here are some of my favorites in the rotation and some standbys that I always have along:
Bagel sandwiches with your favorite meat and cheese or just simple peanut butter and jelly. Veggie burgers also hold up pretty well. Bagels offer dense calories and they pack really well, can take a lot of abuse and still hold up after multiple days in your pack. On a three or four day trip I'll pack one bagel sandwich per day. Even lunch meat is fine by day four since its cold.
Frozen burritos and tamales — nuke them in the morning on the first day of the trip, and they might still be a bit warm by the time you get to them, but still tasty even if they are cold.
Loaf of fresh bakery bread like sourdough, baguette, or whatever else looks good and a tub of humus or your favorite dip.
Muffins — pick your favorite, put them on top of your pack and eat them early
Cookies — homemade kicks up the comfort a bit
Chocolate covered pretzels
Box of crackers and a block of cream cheese — I can't claim originality on this one but its an awesome snack
One or two pieces of fresh fruit for day one — there's nothing like a juicy peach on a sunny day on the Muir Snowfield!
Dried fruit and nuts
Soft chewy candies of some kind like Swedish Fish or Fruit Slices — these are great for quick energy on summit day or at shorter snack breaks where you need an extra boost. Put a couple extra in your pocket at a break and pop one when needed. The various energy bar companies make these as well (Clif Bar's Shot Blocks are an example) but they tend to be more expensive, although the ingredients are certainly more pure.
Pack everything in one or two 1-gallon Ziplock bags with the sliding zipper and put it in the top of your pack for easy access.
IMG Guide Tyler Gimenez

Homemade fruit leather (spread your favorite yogurt in the dehydrator and let it rip).
A nice chunk of pre-cooked black forest ham.
Blue Diamond wasabi flavored almonds.
Hardy colorful fruits/veggies(bell peppers, cucumbers, carrots, kohlrabi)
Beet sandwiches (cook nice thick slices of beet and put on a multi-grain bread with avacado, brown mustard, cayenne pepper, spinach and a white cheese like a swiss or gruyere. I find that white cheese keeps longer. Tip: smash your sandwiches to compress the air from the bread to save space. You can fit like 3 sandwiches in a single zip lock).
Motts all natural jellies.
Hard candies that you can chew on for a period of time while climbing like Starburst.
IMG Guide Dan Otter (a.k.a. "Otter")

Bagel sandwiches with meat and cheese
Bagel + Cream Cheese
Pizza
Pita + Hummus
Fresh fruit for day 1
Dried fruit
Cookies
Crunchy trail mixes that have wasabi peas in them
Chocolate covered espresso beans
Gu packs
Tasty bars (try them first!)
Tip: Bring heavier, more "complex" food (i.e. pita and hummus) for day 1, and easy, quick to eat items for summit day.
IMG Guide Eric Remza

Here are some ideas for those with the Gluten and wheat free diet... if you have access to a Trader Joe's, you can ask for a list of all the gluten and wheat items/brands in the store.
70-80% dark chocolate, antioxidants, this candy is actually good for you.
Columbus brand salami's. Most processed meats have gluten added to them.
Sunflower seeds. With gluten and wheat free diets, you get hungry and need to eat every 2 hours — having a large bag of sunflower seeds is a great way to keep the hunger pains down...
Jelly Belly jelly beans, gluten free candies; most candy have wheat or gluten added to them.
Blue diamond almond crackers — the best wheat free cracker I have yet to find that is durable in the hills.
Tye Chapman, IMG Operations Manager

Pre-made quesadillas (day 1)
Pringles in the single serving can
Chicken strips from the deli
Single serving Blue Diamond almond packs (variety of flavors)
Pre-cut fruit — hint use your food bowl to carry this (day 1)
Have a local restaurant make you a sandwich for day one
Fruit leather or fruit roll-ups
Fruit snacks
Payday candy bars