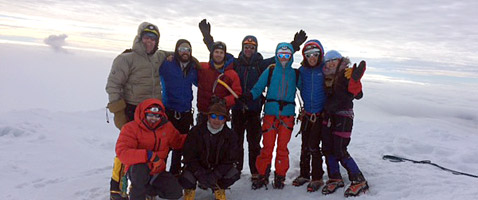 Climb the Ecuador Volcanoes with International Mountain Guides
Ecuador is simply a great country to visit. It has everything from 20,000' glaciated peaks to the Amazon Jungle. Why more Americans don't spend time in Ecuador is beyond us. On our two-week trip, we will try to sample as much of this beautiful country as possible. Our two ascents will include Cayambe (18,990') and Antisana (18,714'). Chimborazo (20,561') is available as a 3-day extension for the interested and capable climber.
Our contacts and relationships in Ecuador make this program unique. The climbs themselves are only a piece of the total adventure experience with IMG in Ecuador.
Expedition Highlights
Our acclimatization schedule is quite good. We hike Fuya Fuya and Imbabura prior to our Cayambe attempt. Additionally, we do a basic technique review on the slopes of Cayambe prior to the climb and spend two nights at the hut there prior to our climb. The hot springs of Papallacta follow our summit attempt.
Antisana is next, as we build on our foundation of acclimatization. We'll establish two camps prior to our summit attempt.
After climbing Antisana, we spend a night at the old hacienda of La Cienega. Romulo's wife, Patricia, will be preparing a lunch of Ecuadorian dishes for us at their home the following day. And, you'll visit with famed Ecuadorian photographer and explorer, Jorge Anhalzer.
The itinerary also gives us the flexibility to pull an additional day, even two, out of the schedule if needed for weather contingencies.
An IMG Senior Guide leads each of these programs. Luke Reilly is currently at the helm and knows Ecuador as well, or better, than any US based guide. We are joined by some of the finest Ecuadorian guides, our lead Ecuadorian guide being Romulo Cardenas. We've climbed with Romulo for over three decades. All our Ecuadorian guides are dear friends and add immeasurably to your Ecuadorian experience.
You will see more of Ecuador than you ever imagined. Our goal is to make this trip so much more than just a mountaineering experience.
Required Skills and Physical Conditioning
Prior knowledge of ice ax arrest, cramponing and rope team travel are REQUIRED. Everyone needs to be familiar with these climbing skills. Crevasse problems should be no more difficult than those encountered in climbing Mt. Rainier. The routes are very exciting and much more involved than those on the Mexican volcanoes.
You cannot over train for high altitude climbing. You owe it to your team mates to be in excellent condition for the trip. Please see the Ecuador FAQ for more on this.