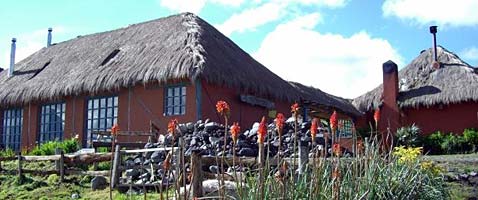 IMG Ecuador Volcanoes Itinerary
Day
Itinerary
Day 01
Depart home for flights to Quito. Most flights arrive around midnight. We will have a group transfer at that time to our hotel in Quito. Night will be spent at the Embassy Hotel on Calle Presidente Wilson in Quito.
Day 02
Morning tour of Old Town Quito. Depart Quito for the town of Otavalo. Lunch will be at a local restaurant on the way. Night will be spent at the Otavalo Hotel. Late afternoon visit to local weavers in the town of Peguche.
Day 03
Early morning visit to the famous Otavalo Indian Market. We will hike to the top of Fuya Fuya (13,986 feet) after our market visit. We will return to Hotel Otavalo for a second night there.
Day 04
Acclimatization hike to the summit of Imbabura (15,109 feet). Transfer that afternoon to Hacienda Papa Gayo near the town of Cayambe. We will begin to prep our climbing equipment in the evening/afternoon.
Day 05
Drive to the Oleas-Ruales-Berge Hut (15,902 feet) on Cayambe. We will spend the afternoon relaxing at the hut and discuss topics including high altitude and expedition climbing.
Day 06
Training day on the lower slopes of Cayambe. Review to include basic cramponing, proper use of the ice axe and roped travel. Second night spent at the hut.
Day 07
Summit attempt of Cayambe (18,996 feet). Return to the hut, pack gear and transfer to Papallacta for the night at the famed hot springs and hotel.
Day 08
Drive to Antisana basecamp (13,405 feet) through the small village of Pintag. Camp there.
Day 09
Move to high camp on Antisana (14,870 feet) and prep for our summit attempt. Night will be spent at high camp.
Day 10
Summit attempt on Antisana (18,891 feet). Return to high camp, base camp and onward to the Hotel Cienega, outside the city of Latacunga.
Day 11
Visit with Jorge Anhalzer, famed Ecuadorian explorer, climber, photographer, journalist, ultra-light pilot and old friend. Lunch of Ecuadorian dishes prepared by Romulo's wife, Patricia, at their home. Return to Quito for a night at the Hotel Embassy.
Day 12
Free day in Quito. Teleferico up to hike around Pichincha. We'll then have a final dinner at a beautiful restaurant in town. Finish packing at the Hotel Embassy with group transfer to the airport for flights home.
Day 13
Most flights to the United States depart Quito just after midnight. That's the night of Day 12/morning of Day 13. Catch connecting flights to your home and arrive home on Day 13.

**Day 11 or 12 can be made available as a contingent day, if needed, to wait out bad weather on either climb.

Chimborazo Extension
Day 13
Drive from Quito south to Chimborazo. Short hike to Whymper Hut (15,744 feet). Night spent there.
Day 14
Summit attempt or possible high camp move.
Day 15
Summit bid of Chimborazo (20,564 feet) or weather contingency day. Late evening return to Quito. Hotel night in Quito.
Day 16
Early morning departure (just after midnight) from Quito to the U.S. and catch connecting flights for home.