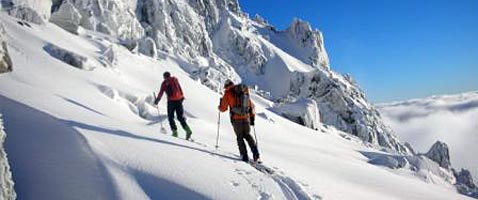 Women's Climbing and Mountaineering Training Programs with International Mountain Guides
IMG is proud to announce two brand-new programs for the summer of 2017: an all-women's Mount Rainier climb via the Disappointment Cleaver and an all-women's 6-day Mount Shuksan Mountaineering Skills Seminar & Climb.
Inquiries? Feel free to get in touch — we're always happy to help. Email (This e-mail address is being protected from spam bots, you need javascript enabled to view it ) or call (360.569.2609) any time. We can answer questions, put you in touch with one of our female guides, and help you plan the perfect adventure.
IMG Women's Climbs
Mt. Rainier Women's Climb »

Climb Description

Join us July 31-August 3, 2017 for our all-women's climb of Mount Rainier. This program will be identical to our standard 3½ day Muir/DC Rainier summit climb. It will be led by female IMG guides, and you will be climbing in the company of other strong women with a common goal.
Mt. Rainier Women's Climb Page »

Mt. Shuksan Women's Seminar »

Seminar Description

Join us August 5-10, 2017 for our all-women's 6-day course on Mount Shuksan. Here's what our guides say about the climb: "A beautiful hike through dense forest and up into the alpine zone will lead to our camp at the base of permanent snow. The rolling glacier terrain above camp is perfect for training in ice axe arrest, cramponing and crevasse rescue skills. As time allows, we'll do other training and skills sessions, which may include anchors, self and team crevasse rescue, ice climbing, route finding, glacier travel and fixed line ascension. Our route of ascent is via the Sulphide Glacier, the most direct route up the mountain with the fewest technical difficulties. The broad rolling expanse of the Sulphide Glacier provides a moderate roped glacier approach to the final 600-foot rock summit, which provides an opportunity to experience steeper roped snow climbing and moderate rock scrambling to the summit pinnacle, which is a very spectacular and scenic summit experience. Your all-female IMG guide team will take you through the training process and to the summit of Mt. Shuksan for a classic Northwest mountain experience."
Mt. Shuksan Women's Seminar Page »
I recently climbed Mount Rainier with three female IMG guides, and I was absolutely blown away. They're professional, supportive, strong, and fun. I hadn't thought it would make a difference for me to climb with other women (instead of with men), but it turned out to be a highlight of my adventure.