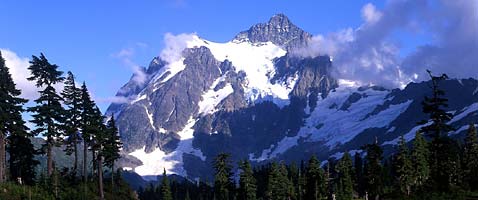 Shuksan Women's Mountaineering Course and Climb with International Mountain Guides
Mt. Shuksan is one of the highest non-volcanic peaks in the Pacific Northwest at 9,127 feet. It's also one of the most strikingly beautiful peaks in the United States, which makes it one of the most heavily photographed. The varied and world-class terrain make it a perfect training ground for our six-day mountaineering course which culminates in a summit bid of this breathtaking peak.
This course is designed as a women's-only in-depth skills seminar, and it's perfect for female climbers who are interested in learning more about glacier travel, have aspirations to climb bigger objectives, or who want to plan and execute their own trips in the mountains.
Our approach to Mt. Shuksan has it all for the aspiring mountaineer: A beautiful hike through dense forest and up into the alpine zone will lead to our camp at the base of permanent snow. The rolling glacier terrain above camp is perfect for training in ice axe arrest, cramponing and crevasse rescue skills. As time allows, we'll do other training and skills sessions, which may include anchors, self and team crevasse rescue, ice climbing, route finding, glacier travel and fixed line ascension.
Our route of ascent is via the Sulphide Glacier, the most direct route up the mountain with the fewest technical difficulties. The broad rolling expanse of the Sulphide Glacier provides a moderate roped glacier approach to the final 600-foot rock summit. This final challenge involves either steeper snow in early summer or third class rock scrambling to the very summit pinnacle in the later summer months. The summit pyramid provides an opportunity to experience steeper roped snow climbing and moderate rock scrambling to the summit pinnacle, which is a very spectacular and scenic summit experience. Your female IMG guides will take you through the training process and to the summit of Mt. Shuksan for a classic Northwest mountain experience.
This program is suitable for first time female climbers or female veterans of past climbing adventures looking for a spectacular climb. This is a good first time introduction to glacier travel or a comprehensive refresher course for those with previous experience. However, all participants must be in very good physical condition. The need to train for this climb cannot be overstressed! For several months prior to the start of the climb, training should include lots of long, slow distance runs over hilly terrain, an hour or more in duration. Add additional weekend outings carrying a heavy pack (50-60 lbs.) up steep hills or stairs. These sessions should gain 2-3,000 feet over 3 or more miles.
For any inquiries, email This e-mail address is being protected from spam bots, you need javascript enabled to view it or call 360.569.2609. We're happy to answer questions and/or put you in touch with one of our female guides.