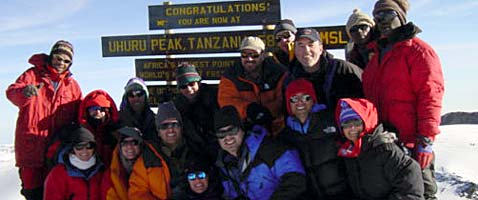 Kilimanjaro Climb and African Safari with International Mountain Guides
Expedition Price Increase Coming up in November
Prices for the Kilimanjaro Climb and Safari program will increase effective November 1, 2018. If you wish to schedule your Kilimanjaro adventure and take advantage of the current price, you must register and be confirmed on the program by October 31, 2018. Are you ready to take on one of the Seven Summits? Now's the time!
Since organizing our first Kilimanjaro (19,340'/5896m) expedition in 1989, every one of our 200 plus Kili teams has had a high percentage of the group reach the summit. Obviously, we can't guarantee an individual's success, but isn't it good to know that if you have the lungs and the legs, the opportunity to reach the top has been there on every trip we've ever done?
There are a lot of companies offering Kili climbs and each does it differently. As you investigate the different Kili options on the market, keep the following in mind:
Kili, while non-technical, is very high and must be taken seriously. Climbers are at health risk from the altitude. We always have a Gamow (hyperbaric) Bag, pulse oximeter, and supplemental oxygen in case of Altitude Sickness.
Every one of our climbs is led by a top-notch American high-altitude mountain guide. IMG Senior Guides have climbed and trekked all over the world and are always excited to visit Tanzania. Our Chagga crew does a great job, but if you have a problem at 18,000 feet, it's good to know that you have a real pro with you, one well-trained in all elements of climbing as well as wilderness medical procedure.

We have a first class staff of African guides and porters, all local people from the Chagga tribe who live right at the base of Kili. Many of them have been on dozens of IMG trips over the years.They know we'll be coming back, they like working with us, and they deliver top service.
We don't rush our ascent! Our program gives you a seven-day climb. We have learned that the extra time is well worth it for a successful and fun trip to 19,340 feet, giving climbers a far greater chance of standing on top and far less chance of altitude sickness. We discuss the Machame route in depth and why we feel it's the best for IMG climbers.
We do four days/three nights on safari, and this is plenty for most people. Serengeti and Ngorongoro are classic African Game Parks with great animal viewing. Our safari drivers really know the game habits and where to find the critters. Our private safari camps are just what the doctor ordered after a tough climb. As a holiday treat, we offer classic safari lodges in December. Be sure to sign-up early as demand is high and space is quite limited! Visit our Kilimanjaro Tanzanian Safari page for more details.

From the initial contact, through the whole trip planning process, to the expedition itself, everything was highly professional and first class in every respect. It appears that you set the standard in guided mountaineering, and I thank you for making possible this once in a lifetime experience for my son and me...


We add the benefit of a beautiful one-way Serengeti flight over Africa (easier, faster, more time to see animals, less time spent driving). Our groups usually fly out to Serengeti and drive back to Arusha with stops at Olduvai and Ngorongoro along the way, depending on the season (safari plans are subject to change).
Follow these links for recent trip reports, client comments and to view our Kilimanjaro expedition updates.
We are proud of the track record we have established over nearly 30 years with our Kilimanjaro trips, and we know that we offer a fantastic trip for the money. Shop around, and if you can find a better program, go for it! We hope you can join us on one of our future Africa trips.
—Eric Simonson and Phil Ershler, IMG Kilimanjaro Program Directors
I'm writing on behalf of my entire family to thank IMG for our fantastic trip to Kilimanjaro. My wife, two teenage children, and I all had an incredibly great time, both on the mountain and on safari. I'd recommend a trip to Kilimanjaro with IMG to any family seeking a challenging and fulfilling adventure.

I am not an avid hiker, camper or climber, so there was a risk I might regret the whole trip. As it turns out, I had by far the best vacation of my life. I loved the challenge of climbing and doing it with my family. I loved Tanzania and the people there. And I really loved Eben [our IMG guide]... Thank you for making my 50th birthday trip so memorable!