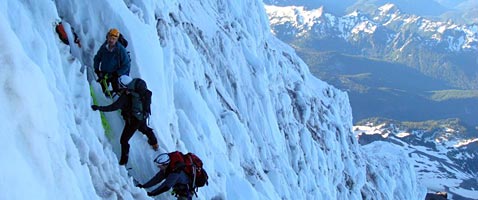 Mt. Rainier Kautz Summit Climbs
The Kautz climb is a perfect fit for anyone with prior alpine climbing experience looking to increase their climbing skills during an ascent of a more challenging route on Mt. Rainier. If you are very fit and looking to push yourself physically and technically on a climb other than the standard route this program is for you.
Why Choose This Program?
The Kautz Glacier is a great intermediate climb, more demanding and technically challenging than the standard DC and Emmons routes. It is a good choice for people in excellent condition who have done previous climbing; are looking to hone their alpine skills; and are seeking a greater summit day challenge. The intermediate mountaineering training curriculum for this trip is comprehensive, but previous cramponing practice on 30-50 degree glacier ice is required. A prior successful climb of Mt. Rainier is highly recommended before attempting this route. If you are very fit and looking to push yourself physically and technically on a climb other than the standard route this program is for you.
Climbers on this program have often climbed either the Emmons or the Disappointment Cleaver routes on Mt. Rainier and have felt comfortable with the skills learned on those routes. They must be confident cramponing in firm glacier conditions on steep slopes (up to 50 degrees) with a full pack and ready to learn more advanced techniques for dealing with steeper, icier terrain. This is a challenging climb that ascends large and imposing glaciers and snowfields, and gets you away from the masses of the Camp Muir corridor. The crux of the route, just above high camp, involves ascending a chute that increases in angle from 30 to 50 degrees over several hundred feet and likely includes multiple rope lengths of very firm snow or glacier ice. Later in the season this section can become exposed glacier ice in its entirety. Multiple pitches of belays by the guides from ice anchors are often employed to facilitate passage. The 5-day program allows enough time for the team to learn necessary skills and complete the climb comfortably, but if you have not climbed on ice before, we strongly recommend advance training with crampons and technical ice tools on ice. IMG's Ouray, CO Ice Climbing or New England Winter Climbing programs are an excellent option.
We employ a light and efficient philosophy for climbing on Mt. Rainier. We will help you pare down your personal climbing gear during a pre-climb gear check to minimize weight and make certain you bring only the essentials up the mountain.
We maximize training by adding a half day pre-climb orientation and instructional meeting at IMG's Headquarters in Ashford, just outside the park. Learning to climb thoughtfully and efficiently continues en route during each day of the ascent. This increases acclimatization, minimizes total days for the trip and allows for training to be conducted on the mountain in real conditions all the way to the summit and back.
Climbing with a 2:1 client-to-guide ratio provides a superior level of support and instruction. Our group size is never larger than twelve (8 climbers and 4 guides). IMG provides breakfasts and dinners for the group on the mountain for your convenience and comfort.
Prerequisites
This is an intermediate training climb for big glaciated mountains. A review of basic climbing skills is incorporated into this program's curriculum. However, if you have not climbed on steep ice with crampons before, it is strongly recommended that you participate in a course that provides basic ice climbing instruction in advance. Additionally, a previous successful ascent of Mt. Rainier via the DC or Emmons glacier routes or a similar glacier climb on another high peak is required.
All participants must be familiar with basic mountaineering skills including cramponing in firm ice and snow conditions. As with all IMG programs, a review of basic climbing skills is incorporated into this program's itinerary. Additional skills will be taught including multi pitch belayed climbing, lowering and rappelling. Past experience on multi day backpacking trips is required. This is a strenuous and more technically demanding summit climb, not for first time climbers.