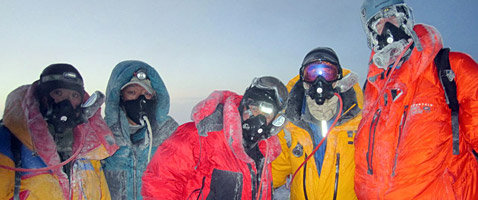 Putha Hiunchuli Expedition with International Mountain Guides
Travel to Nepal and climb Putha Hiunchuli this Autumn with IMG!
We have been looking for a high mountain that can be climbed in the Autumn season without unreasonable avalanche hazard, and Putha Hiunchuli (pronounced "POO-ta hoo-en-CHOO-lee") fits the bill. The expedition will be led by our top IMG Senior Guide Mike Hamill and supported by our IMG Sherpa "A" team. Putha Hiunchuli (also known as Dhaulagiri 7) is the westernmost summit of the Dhaulagiri range, and is accessed from the Dolpo area, to the north and west.
For the best possible chance of summiting this 7246 meter peak (23,773 feet) we are looking to take advantage of the "window" of good weather that follows the end of the monsoon, but before the cold winter winds start picking up. This climb is going to be fantastic, giving you the opportunity to climb on a big mountain, become familiar with our great Sherpa team, and also gain experience using oxygen on the summit day. If an 8000 meter peak is in your future, we hope you will join us for Putha Hiunchuli. This will be great experience!
Eric, Greg, Tye, Becky
IMG Himalayan Expeditions
Why Putha Hiunchuli?
Over the years, we have organized expeditions to many mountains in Nepal during the Autumn season including Hiunchuli, Singu Chuli, Tharpu Chuli, Baruntse, Mera, Imja Tse, Lobuche, Cholatse, Ama Dablam, Manaslu and Annapurna 4. As previously noted, the big issue in the Autumn Himalayan season is hitting the window between the end of the monsoon and the onset of winter, and dealing with the possibility of monsoon snowfall. With climbing in Tibet (Cho Oyu and Shishapangma) severely curtailed by the Chinese for Autumn 2017, many climbers will try Manaslu, as IMG did back in 2012 (the last time China closed Tibet in the autumn). On that trip our IMG climbers and Sherpas were all very fortunate not to be killed by the massive avalanche on Manaslu that year which claimed the lives of many other climbers. While a number of companies do still conduct expeditions to Manaslu, IMG has made the decision that we will not go back to Manaslu, as we are just not comfortable with the avalanche hazard on this peak. Avalanche issues are also a problem in the Autumn season on the other Nepal 8000'ers (Everest, Lhotse, Makalu, Dhaulagiri, Annapurna, and Kangchenjunga). These climbs are all better done in the spring season. Cho Oyu is very unique, perhaps the only 8000 meter peak that has historically been reasonably safe to climb in the Autumn season.
We understand that Putha Hiunchuli is not an 8000 meter peak. We also know it is an excellent Autumn season objective that will offer amazing opportunities to climb high and gain additional experience. Our IMG staff will work with you on your technical climbing skills, as well as teach you the tricks for going to high altitude. This is perfect for climbers with Denali, Bolivia, Ecuador or Aconcagua under their belts who are ready for a real Himalayan expedition, or for our veteran Himalayan climbers who are missing the mountains and people of Nepal. Regardless, the experience you have on Putha Hiunchuli will be extremely valuable for future climbs in the Himalaya including Mount Everest.
Putha Hiunchuli has been climbed a few times from the south side, but most ascents have been from the north side (same as we will go). This was the route of the first ascent party 1954, led by the famous British climber Jimmy Roberts. On this trip, they hiked practically from the Indian border and around the west end of the Dhaulagiri range. Their expedition account is a classic!
Our Autumn 2017 trip begins with a flight from Kathmandu to Nepalgunj, in western Nepal, and from there we fly north to Juphal, the jumping off point. Over the next week or so, we trek towards the east, gaining elevation. We will be camping along the way, with our Sherpa cook team preparing our meals. Eventually we enter the Bharbun Khola valley, that wraps around the north side of the Dhaulagiri range. This is in the Dolpo area of Nepal. It is remote, not crowded, and very spectacular.
Base Camp is at about 4900m (16,000'). Above BC, we will establish three camps. The route is all on snow and ice. In addition to our IMG leader Mike Hamill we will staff the program with our top IMG Sherpas. We will have high altitude climbing oxygen available starting from high camp, similar to how we climb Cho Oyu. This is a great opportunity to practice for the 8000 meter peaks! Do you want a personal Sherpa and extra oxygen? We can arrange that as well ($7000). We have done our homework and are confident that this is an excellent objective for prospective high altitude climbers for the Autumn Season in Nepal. The cost for this program is $11,900 USD, which is a great price for a real old fashioned mountaineering expedition in a very remote region of Nepal. We are excited to run this program and are looking forward to working with you on this expedition to Putha Hiunchuli!
Note on Dates
The actual ending date is flexible, depending on weather and conditions. We have a number of contingency days built into the itinerary, but normally climbers will change their international departure flights when they know exactly when the expedition is going to end. We recommend adding seven days to this itinerary below if case we must wait for weather or conditions.
International Mountain Guides (IMG)
IMG is the oldest and most respected high-altitude climbing service in the world and its three principals, Eric Simonson, Phil Ershler, and George Dunn, have led and organized hundreds of expeditions worldwide since 1975. Each is an AMGA Certified Alpine Guide with Himalayan expedition experience. IMG's Himalayan mountaineering programs are organized and directed by Eric Simonson, one of the world's premiere expedition organizers. Under his direction IMG has conducted over 60 Himalayan 8000 meter expeditions, and since 1990, over 600 IMG team members have summited the world's classic 8,000-meter peaks, including Everest, Lhotse, Cho Oyu and Shishapangma.
Ang Jangbu and the IMG Sherpa Team
Ang Jangbu and his staff in Kathmandu puts together for IMG one of the very best Sherpa teams. We are proud to have a group of climbers working for us who are among the best paid, best led, best equipped, and best trained in the business. The Sherpa staff on the expedition have many 8,000m summits under their belt! Many of our Khumbu Sherpas do intensive technical skills training on an annual basis with some of the best American climbers in their home town of Phortse, through the Khumbu Climbing School.
Ama Dablam Extension
Do you want to take advantage of your acclimatization and climb Ama Dablam after you return to Kathmandu? We can organize an accelerated Ama Dablam climb for you... let us know!