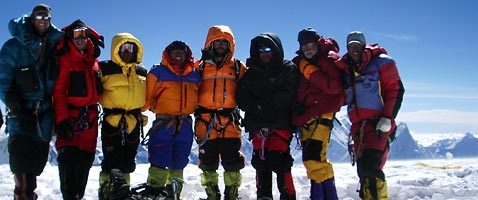 Putha Hiunchuli Expedition Tentative Itinerary
A Note on Dates: The actual ending date is flexible, depending on weather and conditions. We have a number of contingency days built into the itinerary, but normally climbers will change their international departure flights when they know exactly when the expedition is going to end. We recommend adding seven days to this itinerary below if case we must wait for weather or conditions.
Autumn 2018
Day
Date
Itinerary
Day 1
Monday, Sep 17
Arrive Kathmandu
Day 2
Tuesday, Sep 18
In Kathmandu
Day 3
Wednesday, Sep 19
Kathmandu - Nepalgunj, overnight hotel
Day 4
Thursday, Sep 20
Fly to Juphal (2470m), trek to Dunai (2140m) 3hrs. Lodge
Day 5
Friday, Sep 21
Trek to Tarakot (2537m) 6hrs. Camp
Day 6
Saturday, Sep 22
Trek to Musi Khola (2889m) 7hrs. Camp
Day 7
Sunday, Sep 23
Trek to Kagkot (3200m) 4hrs. Camp
Day 8
Monday, Sep 24
Acclimatization/Contingency day. Camp
Day 9
Tuesday, Sep 25
Acclimatization/Contingency day. Camp
Day 10
Wednesday, Sep 26
Trek to Panjing (4200m) 8hrs. Camp
Day 11
Thursday, Sep 27
Acclimatization day/Contingency
Day 12
Friday, Sep 28
Trek to German Base Camp (4500m) 4hrs.
Day 13
Saturday, Sep 29
Trek to Putha Hiunchuli Base Camp (4900m) 3hrs.
Day 14
Sunday, Sep 30
Rest/setup Base Camp
Day 15
Monday, Oct 1
Puja and prepare equipment
Day 16
Tuesday, Oct 2
Acclimatization hike to Camp 1 and return to Base Camp
Day 17
Wednesday, Oct 3
Rest
Day 18
Thursday, Oct 4
Camp 1 to sleep
Day 19
Friday, Oct 5
Touch Camp 2 and return to Base Camp
Day 20
Saturday, Oct 6
Rest
Day 21
Sunday, Oct 7
Rest
Day 22
Monday, Oct 8
Camp 1 (5350m)
Day 23
Tuesday, Oct 9
Camp 2 (6100m)
Day 24
Wednesday, Oct 10
Camp 3 (6600m)
Day 25
Thursday, Oct 11
Summit (7246m) day, descend to Camp 2
Day 26
Friday, Oct 12
Return to Base Camp
Day 27
Saturday, Oct 13
Rest/Contingency
Day 28
Sunday, Oct 14
Pack up Base Camp/Contingency
Day 29
Monday, Oct 15
Putha Base Camp - Kagkot - 8hrs.
Day 30
Tuesday, Oct 16
Kagkot - Lashicap (2775m) 7hrs.
Day 31
Wednesday, Oct 17
Lashicap - Dunai 7hrs.
Day 32
Thursday, Oct 18
Dunai - Juphal 4hrs.
Day 33
Friday, Oct 19
Fly to Nepalgunj and connect afternoon flight to Kathmandu
Ama Dablam Extension: Do you want to take advantage of your acclimatization and climb Ama Dablam after you return to Kathmandu? We can organize an accelerated Ama Dablam climb for you... let us know!