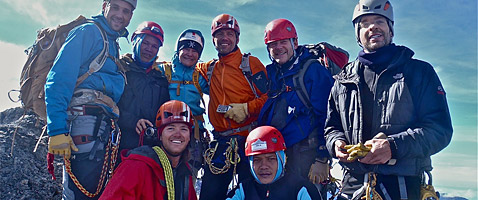 Carstensz Pyramid with International Mountain Guides
Dear Prospective Team Members,
We have now conducted seven successful Carstensz trips, via four different routes (from the mine, via helicopter, via Ilaga trek and via the Sugapa trek approach). In addition, we have conducted guided climbing expeditions to other Papuan high peaks incliuding Idenberg, Trikora, Mandala, Ngga Pulu, Semantri, and East Carstensz.
Now that we finally have a reasonable helicopter option again in Papua using a Bell 212, we have changed our 2016 Carstensz program to combine the best of both flying and trekking. Under the leadership of IMG senior guides Greg Vernovage and Jonathan Schrock, the team will meet in Jayapura on the island of Papua, then travel on to Enarotoli (6,122 ft / 1,866m). From here our helicopter charter will fly the team to Nasidome on the Plateau north of the Sudirman Range. Unlike Carstensz Base Camp (which at 13,700 feet is too high to safely fly people into without the risk of altitude problems) this Plateau Camp is at more reasonable altitude (about 12,200 feet).
After acclimatizing two nights on the Plateau, we will make a one day approach over New Zealand Pass to our Base Camp below Mt Carstensz in the Yellow Valley. This is a rugged and fun hike, requiring the "mud boots" that this trip made famous! With our local porters supporting us, we will traverse plateau vegetation, a high limestone karst plateau, rocky passes, and several stream crossings. This is just enough Carstensz trekking to get the "feel" of the Plateau and its fabulous views and plant life, without the danger of the jungle part of the trek with its very steep slopes, treacherous river crossings, very long days, or the potential safety and security issues associated with going through the local villages.
After the climb, the team will spend the night at BC, before flying by helicopter back to Enarotoli. We used this Hybrid itinerary on our most recent expedition, and it worked very well will all seven climbers, two IMG guides and our one Indonesian guide all reaching the summit. For 2016 we feel that our Hybrid itinerary combines the best of the classic trek and the helicopter option. Please let us know how we can be of further assistance!
For Carstensz you need to be confident moving on moderate (3rd, 4th and easy 5th class) rock terrain, on fixed ropes, rappelling, clipping in and out of anchors, etc. Up on the summit ridge there are several precipitous notches to cross (with fixed ropes). These days the biggest notch is now fixed with a cable Tyrolean Traverse. It is not unusual to get rain or snow during the climb, but the temperatures are not extreme. Don't forget leather gloves for the rough rock.
What an adventure!
—Eric Simonson
This e-mail address is being protected from spam bots, you need javascript enabled to view it