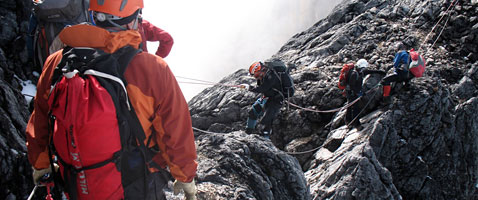 Carstensz Pyramid with International Mountain Guides
Dear Prospective Team Members,
With our successful January 2013 Carstensz expedition, we have now conducted five successful Carstensz trips, via five different routes (from the mine, via helicopter from both Timika and Nabire, via the Ilaga trek, and also the Sugapa trek approach).
While there is no question that the trek approach is the most difficult way to go, we also know that we can do it without having to rely on the notoriously unreliable helicopters in Papua. Plus, it is a real adventure!
Our September 2013 program will be led by IMG guide Dan Zokaites, a veteran of two Carstensz trips and a summiter of all the main peaks of the area. We will again do the famous trek approach, pioneered by Heinrich Harrer and his team in 1962. This was the original route to the mountain and remains the most challenging way to do it. With our local porters we traverse thick forest, a high limestone karst plateau, and rocky passes, with many stream crossings in between. This is a trip for very fit and strong climbers who are capable of strenuous hiking day after day, in very challenging terrain.
I personally climbed Carstensz, and really enjoyed the ascent very much. It was a long, hard day with a pre-dawn start. You need to be confident moving on moderate (3rd, 4th and easy 5th class) rock terrain, on fixed ropes, rappelling, clipping in and out of anchors, etc. Up on the summit ridge we traversed several precipitous notches (that we could jump across with a belay). These days the biggest notch is now fixed with a cable Tyrolean Traverse so that is easier than having to rappel into the notch and climb back up the other side. It is not unusual to get rained on, and during our descent from the top we rappelled into several small waterfalls and got soaked. What an adventure!
If you want to do the Carstensz climb with the classic approach and are fit and strong and capable of two weeks of very hard effort, then consider joining our 2013 Carstensz team. Make no mistake, this is still real adventure travel! If you are interested in joining this trip, please contact me by email and let's set up a phone call to discuss further.
Regards,
—Eric Simonson
This e-mail address is being protected from spam bots, you need javascript enabled to view it