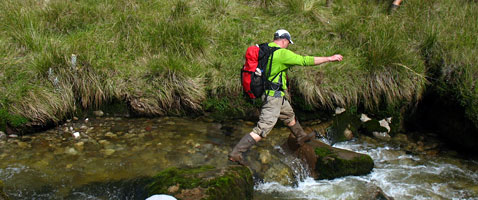 IMG Carstensz Pyramid Gear List
This equipment list is meant to help you compile your personal gear. Most items are required—so please bring everything on the list. Also consider each item carefully and be sure you understand the function of each piece of equipment before you substitute or delete items from your duffle. Keep in mind that this list has been carefully compiled based on our past experience with the trek to Carstensz. Don't cut corners on the quality of your gear. In order to assist our clients in understanding and selecting the appropriate equipment for this program, IMG has worked with outdoor retailer Mountain Gear website or place telephone orders at 800-829-2009.
A few IMPORTANT notes to keep in mind as you pack for your Carstensz expedition:

We are under weight restrictions for helicopter and porters. Bags will be weighed at various times before and during the trek, so be ready for this by packing only what you need. Keep it simple, light and functional.
Don't count on carrying overflow gear that didn't fit in your duffle in your own pack to fudge the amount of gear you'll bring on this trip. We'll travel over some super rough terrain, and if you carry too much stuff in your own pack while trekking, you'll pay the price, so do your best to keep things light and functional.
Some clothing on this trip will get very thrashed, so if you are so inclined after the trip you are welcome to leave some gear with the locals; they need clothes, and it can lighten your trip home.




Travel Items
[ ]
Duffel Bags: Travel with two duffel bags to Jayapura. Make sure your bag size fits within your airlines' luggage specs. One duffel will eventually be left in our hotel with your unneeded travel clothing and travel gear; this bag could be a wheeled bag. The other duffel bag should be tough waterproof-like bag that porters will carry to base camp with your trekking and climbing gear. This bag should NOT have wheels. Have padlocks for your bags (use zip ties or TSA locks for international travel so they can be opened if necessary).
[ ]
Mark your bags with your name and home city using an indelible or silver pen in case your tags get ripped off—and to help us locate bags during the trek. Label bags with luggage tags (for international flights).
[ ]
Bring 3 large compactor plastic garbage bags to pack gear inside duffels and to line your pack like a garbage can (purchase at Home Depot, in the paint section). Bring another 5-6 large lighter-weight black garbage can liners to line your stuff bags and to put your boots in while camping. You'll want to use these bags to protect gear from rain and mud. Three 35 liter Sea to Summit "dry bags" can substitute for the 3 compactor bags.
[ ]
Daypack for travel: Large daypack or bag with a shoulder strap. Avoid setting your pack down while doing the duffle shuffle or handling travel documents, or when going through passport control and customs at the airport. It needs to be big enough to hold everything you'll need for an overnight layover en route to Jayapura. You maybe able to use your travel pack as your trekking pack; see below for details. If you do this, make sure to make your pack looks compact during your flights, so it doesn't draw attention as oversized when boarding your flight.
[ ]
Travel Wallet: Important for carrying your important documents including passport, duffel inventory list, and money. We suggest that you use a travel wallet that you can hang around your neck and place inside your shirt, or around your waist tucked under your shirt or trousers.
[ ]
Passport (valid for at least 6 months after the trip ends with sufficient extra pages for visa stamps and in same name as airline ticket. Purchase your $25 Indonesian visa on arrival at the airport.
[ ]
Two additional passport photos and a photocopy of your passport, and a copy of your flight itinerary.
[ ]
Spending money: $500-600 should cover your needs for everything. You'll want to exchange around $350 at the airport for the Local Indonesian Rupias. Bring a range of bill denominations (get new style bills). Be sure to bring a credit card for unexpected expenses or an emergency.


Trekking Gear
[ ]
Trekking Poles: You'll want poles to balance on log walks, in the jungle, and stream crossings. They also help to ease the impact to your knees. Get collapsible poles that can attach to your backpack and fit into your duffel bag. Baskets should be medium sized to create flotation in the mud. Bring an extra basket, in case one gets sucked off in the mud.
[ ]
Backpacks: Your "day pack" is great for a travel carry-on and may be large enough for the trek and climb. Keep in mind you'll need room for your clothes, water, camera, food, maybe a pair of boots at times, etc., during the day while hiking and climbing. A 40 to 50 liter size is perfect for this trip. Larger packs are nice if you need something at the bottom of your pack, and want to shuffle things inside of your pack, vs. pulling everything out if you have a smaller pack, a consideration in the wet-muddy jungle, rain, and wet climb. If you go with two packs on this trip, pack your larger one in your duffel bag for your international flights.
[ ]
Pack Cover: Waterproof rain cover for your pack; REQUIRED.
[ ]
Sleeping Bag: Rated to 20 degrees Fahrenheit. Synthetic REQUIRED. Use a Nisil compressor bag and line it with one of those plastic bags, and your bag will show up reasonably dry each night.
[ ]
Bring a closed cell mattress (RidgeRest) and a light weight (¾ length?) ThermaRest or a NeoAir mattress. Don't forget a small repair kit to fix your mattress. Avoid "Z-Rest pads; they are hard to dry when wet, and avoid a down-insulated pad. Pack your pads in your duffel bag during the trek, inside of a plastic bag.
[ ]
Small lightweight tarp/ground cover/bivy sack in case the tent is wet inside.
[ ]
Trekking umbrella (MountainGear.com).
[ ]
A couple of medium to large stuff bags to organize your gear. Line with plastic bags. Three or 4 large heavy-duty zip-lock bags can come in handy, too.
[ ]
Trekking umbrella


Footwear
[ ]
Approach Shoes: Approach shoes for camp and the last stretch to base camp, and around town. Gore-Tex shoes are nice, but not required. Don't bring lightweight casual camp shoes for this purpose.
[ ]
Climbing Boots: Medium-weight climbing boots, waterproofed and broken-in (i.e., La Sportiva Trango EVO GTX). Fit with 1 or 2 pair of socks.
[ ]
High Rubber "mud" Boots (Wellington type, with metal shank). You will want to wear 2-pair of socks in these boots; probably two pair of your climbing socks (mid-weight). Avoid a liner sock, since you'll have an inch or two of water in your boots at times, and liner socks often slide down and bunch up, causing blisters. The medium thickness two sock combination is your best defense against blisters. Also consider placing a pair of custom insoles (i.e., Super Feet) to increase your comfort to further decrease blister issues. IMG will email you some boot links that would be appropriate for this trip. Inappropriate boots risk the soles falling off due to the 80 miles we'll trek in them, so getting the correct pair is important (and even then, you might have boot issues). We'll bring a backup pair for the group just in case someone gets into a pickle. Lastly, some people may be tempted to wear shorts while wearing mud boots. Believe it or not, it's possible to create blisters around the tops of your calves, caused by the boot top slapping against your legs all day. The best defense is to wear long super lightweight trekking pants. That layer of pant fabric will prevent that wear on your legs.
[ ]
Gaiters: To keep rain, snow, mud, and scree out of your boots. Probably used only during the summit climb. If your rain pants don't fit closely around your ankle and boot, gaiters will be key. Anticipate shredding your gaiters during the summit climb (the limestone rock cuts and quickly wears clothing).
[ ]
Socks: Four complete changes of socks; so a total of 8 medium-thickness socks (all the same size). You may be able to wash socks on the trek, but with the high humidity, everything dries very slowly. Each day, your goal should be to dry the 2-pair of socks you wore the day before. Your IMG guide will provide some ideas for accomplishing this during the trek.
[ ]
Consider an additional pair of SealSkinz waterproof socks (or something similar), for the summit day. Purchase one size larger if they are to fit over another pair of socks.
[ ]
Flip flops


Clothing: Muted colors for travel; BRIGHTER colors for the jungle, so we can keep track of you!
[ ]
Synthetic Briefs/Boxers: 3 pair.
[ ]
Base Layer Bottoms: One pair synthetic lightweight long johns (bottoms), or a synthetic sport pant that you can hang out in camp, and sleep in (if your sleeping bag is damp, these are helpful from a comfort standpoint).
[ ]
Base Layer Top: Lighter-weight—you may want a top that has a zippered neck for ventilation; some come with a hood.
[ ]
Mid Layers: Two warm layers (One mid-weight and one heavier; a combination of a wool sweater, fleece jacket, fleece or lightweight Primaloft jacket (!), etc, that can be all worn in conjunction with the other layers). Optional: Add a lightweight soft-shell Schoeller type wind shirt/hooded jacket.
[ ]
Shell Jacket: Waterproof/breathable jacket with attached hood (not zip-on). Must have some kind of pit zip system to ventilate when using in the jungle. This layer doesn't have to be expensive, but it should be newer, and shed rain super well!
[ ]
Shell Pants (2 pair): Waterproof/breathable pants (full side zips are best). Anticipate shredding one pair on the summit climb from the abrasive limestone rock.
[ ]
Climbing Pants: Look for construction that provides freedom of movement and/or stretch materials, like "Schoeller," a popular soft-shell material. Fabric should be a breathable synthetic that preferably holds up to abrasion and dries quickly. You can wear them over long johns if it is cold, but this is not likely. Note: These are not your typical nylon trekking or "convertible pants," rather, a true climbing pant i.e., Outdoor Research Exos pants. REQUIRED.
[ ]
Warm Parka: Synthetic is REQUIRED. This should be big enough to fit over all of your other garments. If your parka is on the lightweight side, consider bringing a lightweight Primaloft style vest or jacket (noted above).
[ ]
Trekking Clothes: Two pair light synthetic hiking pants for warm weather in the jungle (1 pair should be convertible to shorts); NOT cotton. Long sleeve trekking shirt and non-cotton t-shirts (2; quick-drying synthetic fabric is essential; Outdoor Research has zip-neck).
[ ]
Lightweight Casual Clothes: Consider a couple of shirts with a collar to wear on flights and for restaurants and a couple of lightweight travel pants. Three pair socks, t-shirts, 3 pr underwear, shorts, lightweight jacket/fleece layer, and sunglasses. Travel clothing is easy to wash; do some daily laundry if you get a chance (bring small bottle of soap). Optional ball-cap. Avoid bright colors if possible for your city-wear.
[ ]
Bathing Suit: Some of the hotels will have pools, and Indonesia is famous for awesome beaches!


Clothing Accessories
[ ]
Gloves (2): Light gloves for hiking and warm insulated Gore-Tex climbing gloves. Must be able to work with technical gear with your warmer gloves. If your climbing gloves have leather on them, be sure to treat them with some waterproofing, like NikWax.
[ ]
Leather gloves for rock climbing on rough rock. Garden gloves or climbing leather gloves—you'll wear these the entire climb, for rappelling and crossing the Tyrolean traverse. Like the above pair, treat them with NikWax. Also, these gloves should be new or very new, and anticipate that you'll wear holes in them during our one-day climb. Crazy, huh? It's really rough rock!
[ ]
Hats: Must be quick drying (fleece?). Also, bring a quick drying sun hat and bandana. Optional: Rain hat with a wide brim.
[ ]
Lightweight balaclava or a buff.


Camp Accessories
[ ]
Headlamp (strong LED beam): With 2 sets of extra lithium batteries. Climbers should bring a second lighter-weight "back up" headlamp (with 2 sets of extra batteries for that like, too).
[ ]
Water Bottles: 1 liter wide-mouth water bottles (2), plus one .5 liter wide-mouth bottle (must be able to clip your bottles to your pack for easy access (a must); use one of your climbing carabiners). Be sure to LABEL your bottles with your name using a marking pen and consider wrapping your favorite color tape around your bottle. Avoid hydration systems/reservoirs; they are difficult to fill and keep clean, and need special care (and have been known to leak in packs). Bring a Pee bottle too (1 to 1.5 liter); helpful so you don't have to get out of the tent…in the mud, during a downpour.
[ ]
Water Treatment: Iodine tablets (On bottle of Potable Aqua or similar) or iodine crystals (One bottle Polar Pure). Check expiration dates. You probably won't use this much, but if you run out of water on a trek day, this can be a life saver. There will be many places where can take water out of a river.
[ ]
Camera: With spare batteries, and film or memory cards. Use high quality freezer zip-lock bags to protect your electronic gear and other key items (or consider a small Otter box). Consider a small USB flash drive (16gb) for sharing photos with team members at the end of the trip.
[ ]
Pocket Knife, plus bowl, cup and spoon. Flatware is an option, but consider an actual bowl and a sturdy but lightweight mug on this longer trip. An insulated mug is not needed. Consider storing these things in a mesh bag, so it's easy to bring your eating wear to meals without dropping something.
[ ]
Hand Warmers: Two sets. If you get super chilled on the trek, these might be helpful. The other pair should be reserved for the summit climb.


Personal Accessories
[ ]
Wrist Watch: With alarm.
[ ]
Sunglasses to wear during trek and climb. Consider eyewear to wear in the jungle, to protect your eyes from branches.
[ ]
Vision correction: Bring extra prescription eyeglasses or contact lenses (and extra lens solution).
[ ]
Skin Care: Maximum SPF sunscreen and lip balm.
[ ]
Personal Items: Ear plugs, and 3 rolls of toilet paper, small quick drying towel (Outdoor Research), biodegradable soap, toothbrush and paste, hand sanitizer (Purell; 3 x 2oz. personal sized travel bottles).
[ ]
Basic First Aid Items: Tape, aspirin (many climbers take an 81mg aspirin every day to prevent stroke), Imodium and Pepto Bismol for diarrhea, Band-Aids, antacid. Bring ibuprofen/acetaminophen, and consider bringing a few extra if you get sore after super physical days like we'll have during the jungle approach.
[ ]
Blister Kit: Moleskin, duct tape, compeed (Dr. Scholls). Must be 'water tight,' and anticipate changing your dressings daily (if needed), so bring plenty to cover your own needs. Lightweight scissors may be needed to cut materials. Keep in mind the objective is to NOT get blisters — prevention is the key. Once you have blisters on this trip, they are super difficult to treat, since your boots will often be filled with water, and anything you tape to your feet will come off in a matter of an hour or two of walking. So, as noted earlier, your best defense will be to wear 2 medium-thick socks in your rubber boots.
[ ]
Insect Repellant: Insects are not a problem on the Plateau, but repellant might be necessary in low altitude areas.
[ ]
Prescription Medications:

Antibiotic for upper respiratory problems (azithromycin)
Antibiotic for GI problems (Cipro or azithromycin)
Diamox (acetazolamide) for acclimatization (125 mg tabs recommended, enough for a week)
Mild sleeping pills for jet lag
Tylenol 3 or similar for severe headaches/pain
Malaria Chemophrophylaxis
Asthma medication, if any history
nifedipine (for pulmonary edema)
dexamethasome (for cerebral edema) in association with immediate descent
EPI-Pen (if you are allergic to bees, bug bites, or have food allergies)

[ ]
Cold medicine (Sudafed, etc), Chloroseptic or Tessalon Perles throat lozenges.
[ ]
Personal Snack Food: Approximately 12 pounds of personal snacks, to include ultra-lightweight flavoring drink (i.e., Crystal Light/Kool-Aid/hydration tabs; 10-20 qts. worth), plus a hydration/ performance sports drink (i.e., Cytomax; 10 qts. worth [mix half strength]). Add drink mix to your water bottle after giving iodine tablets 30 minutes of contact time). Include 15 energy bars that contain at least 10-20 grams of protein each. Any meats should be in original store-purchased packaging. Snack ideas: Small amount of GORP, a couple handfuls of mini-candy bars, fruit snacks, foil-pack chicken, P&B and muffins, cheese and meat sticks, etc. Bring 8 GU, and use sparingly (summit climb, and one here and there on the trek—at the end of the day, when needed. A large selection of choices is best. Summit climbers should bring some extra high altitude snacks they know they will like to eat up high!
[ ]
One or two books, and/or consider a MP3 player w/headphones and extra batteries. Plan on sharing books amongst your team members to expand your reading selection. For MP3 players, you'll want to bring any charging connectors, etc. For Indonesia, they use plugs with 2 round prongs. A small solar panel is a reasonable thing to bring to save battery weight, if you listen to your MP3 player a lot.
[ ]
Small repair kit: Small roll of duct tape, a couple feet of wire, small tube of "Seam Grip."
[ ]
Cell phone (optional): Nice to have one when departing the USA, should something come up, and your IMG guide needs to contact you about something. Most cell phones in Indonesia operate on GSM network (900/1800mHz) as in Europe, etc.
[ ]
Internet/Wi-Fi: WiFi is available from the hotel in Jayapura.


Climbing Gear
[ ]
Helmet: Newer style, manufactured within the past 8 years. We suggest the Petzl Meteor III, or something similar for this trip (to save weight).
[ ]
Climbing Harness: We prefer a lightweight harness with a minimum of padding that can be adjusted to fit over bulky clothing with leg loops that open so you don't have to step into the harness. Must have a BELAY LOOP. Do not bring a BD Alpine Bod Harness (it lacks a belay loop; needed for our Tyrolean traverse). Consider buying a new harness if yours is more than 5 years old.
[ ]
Ascenders: One ascender (must be the larger, full-handled size, to fit your gloved hand). Configure with 8mm perlon cord so the ascenders can be quickly changed out to accommodate different applications (moderate fixed rope climbing [short lead], as well as Texas 1-foot and 2-foot systems). Set this up during your Carstensz pre-trip tech training in the spring.
[ ]
Other Hardware/Material: Four large locking carabiners (i.e., Petzel Attaché 3-D), 3 non-locking lightweight carabiners, Purcell prussik Personal Anchor System (PAS; set up during spring training), double-length nylon runner/sling (120cm), 2 single length runner (may need to use with your camera, as a pack ditch/tether loop, or IF there's a need to prussik up a rope). Bring 30 feet of 8mm accessory cord if you have not rigged your gear yet.
[ ]
FIGURE 8 rappel/descending device. REQUIRED. A BD ATC Alpine or Guide WILL NOT WORK ON THIS TRIP; the ropes are too large.