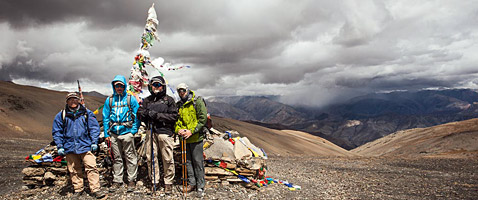 Upper Dolpo to Mustang, Nepal. Crystal Mountain Kora and the Great Himalaya Trail.
This is simply the ultimate trek for the traveler who's done it all and is still seeking a truly special and rewarding experience. Our trek begins in a region north of the Himalayan Crest called the Dolpo District. It is bordered to the north by Tibet and is one of the last vestiges of pure Tibetan culture. At the core of the region Shey Phoksundo National Park contains what is known as the Crystal Peak, the "Mount Kailas" of Nepal. Each year hundreds of pilgrims kora around the Crystal Peak making this a culturally intriguing trek. To make this journey even more exciting, we are upping the ante: our trek will depart the regular routes and traverse to the other also once "Forbidden" Kingdom of Mustang along the soon to be famous Great Himalaya Trail.
Expedition Highlights
A huge part of any journey is the people that you meet along the way and this will be an especially fascinating trek. The Dolpa people are generally adherents of Bön, a religion whose origins predate Buddhism but whose modern form is officially accepted as the fifth school of Tibetan Buddhism. When Nepal adopted the area in 1789, the Tibetan culture was destined to benefit from Nepal's future protection. The trek contains many religious sites including the famous Shey Gompa, and possible views of Mount Kailas. The largest snow leopard population on earth also benefits from the region's isolation, and for the well-read traveler we will at times be walking in the footsteps that Peter Matthiessen and George Schaller blazed in "The Snow Leopard."
A note from IMG Guide Adam Angel
I led the Dolpo Trek for IMG in the Autumn of 2013 and it was an amazing trip, the most incredible trek I have ever done. Please see my Trip Report. During my many trips to Nepal and Tibet, I've ardently kept my eyes and ears open for new regions to explore and photograph. For me, the cultural and aesthetic experience of travel is equally important to the cleansing experience of an ambitious journey, and Dolpo fits the bill perfectly. Our good friend Lobsang Sherpa has done this trip many times and it was especially good to be able to do the trek with him. This trek is as much a cultural journey as it is an adventure. Feel free to contact me personally () to discuss the details.
Expedition Organization and Leadership
International Mountain Guides ("IMG")
IMG is the oldest and most respected high-altitude climbing service in the world and its three principals, Eric Simonson, Phil Ershler, and George Dunn, have led and organized hundreds of expeditions worldwide since 1975. Each is an AMGA Certified Alpine Guide with Himalayan expedition experience including Everest, K2, Kangchenjunga, Shishapangma, and Cho Oyu. IMG's Himalayan mountaineering programs are organized and directed by Eric Simonson, one of the world's premiere expedition organizers. Under his direction IMG has conducted over forty Himalayan expeditions. His teams include a group of professionals and Sherpas who are the best in the business. Since 1990, over 600 IMG team members have summited the world's classic 8,000-meter peaks, including Everest, Lhotse, Cho Oyu and Shishapangma.
IMG's Philosophy
Our goal is to minimize risk while helping as many team members as possible reach their goal, and we invest in the people and equipment that will make this happen. We value our reputation as the premiere international climbing company, and we only put programs in place that measure up to our own high standards. If you would like to join a world-class team, we encourage you to contact us to discuss your goals and qualifications and secure an exciting role for yourself on our expedition!
Ang Jangbu and the IMG Sherpa Team
A veteran of dozens of expeditions and an Everest summiter, Ang Jangbu has worked with Eric Simonson on every IMG Himalayan program since 1991 and is a very popular leader. Ang Jangbu Sherpa and his staff put together one of the very best Sherpa teams for IMG. We are proud to have a group of Sherpas working for us who are among the best paid, best led, best equipped, and best trained in the business.
References
Joining a high-altitude trek or expedition is a serious decision. You should be completely confident in the organization and leadership before you make that decision. Many of you have climbed with us before, and because your experience with us was good, you're considering another climb with us. For those of you who haven't climbed with us before, we strongly encourage you to interview us thoroughly and also talk to our past clients. When you're ready to make the decision, we'll be happy to provide you with a complete list of references. Please also browse comments online from our trekkers and climbers.