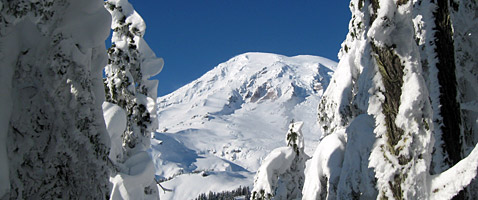 Mount Rainier with International Mountain Guides
Mount Rainier is the highest glaciated peak in the Lower 48 States and is the perfect setting to learn the essential snow and ice mountaineering skills. Your learning and experience on our Rainier climbs will not only challenge you but it will prepare you for the bigger mountains. Rainier is a "must do" challenge for all aspiring mountaineers. Our goal is to make The Mountain accessible to all who wish to climb with a guide and learn proper climbing techniques from the best instructors and guides. From three-day summit climbs to six-day Glacier Skills Seminars, we have a program that will suit your preferences and time frame. Check out our quick scan list to find the trip that suits your needs best and we will be happy to help you get started on the experience of a lifetime!
We Provide the Best Possible Experience on Mt. Rainier
All of our climbs are guided at a ratio of 1 guide for every 2 climbers. Your guide/instructor is better able to focus on your individual needs and your rope team is able to travel more efficiently. Instruction, success and enjoyment of the entire experience are the goals we strive to achieve every climb.
Training starts the very first day and continues throughout each program. We choose to teach many skills up on the mountain rather than at the base prior to the climb. We feel this provides more realistic training conditions so you start out better prepared on summit day.
On our 3 Day Disappointment Cleaver climb, Rainier's classic route, our itinerary includes a second night on the mountain to allow for extra acclimatization, training, and time to rest and recover for the summit day. Our high camp at 11,000 feet on the Ingraham Glacier provides a jump start on summit day and makes the summit just a bit closer and more achievable.
We provide breakfasts and dinners on all of our programs at no extra cost. The guides work together to help prepare you tasty nutritious meals during the climb and we eat together as a team in a social and positive learning environment.
We Offer Value to Our Customers
The National Park Service sets limits for fees charged by all guide services on the mountain. Why do some programs cost less and others more? It all boils down to number of days spent on the mountain and guide to climber ratio.
At IMG we feel it is worth the extra expense to provide two nights on the mountain for our shortest summit climb option. Better acclimatization, realistic training environment, and an easier summit day really pays off! A 2:1 climber to guide/instructor ratio provides for a more personal climb with focus on YOU.
What More Do We Offer at No Extra Cost?
Food. We serve breakfasts and dinners on all of our programs and not just freeze dried!
Transportation. At the start of the climb, we'll transport you as a team from Ashford, WA up to the trail head in our environmentally friendly propane powered vans.
Lodging. You'll spend each night of your climb on the mountain. There are no hotel nights to pay for except the first night after our orientation and training day at IMG headquarters. Want a convenient and economical place to stay? Book one of our comfortable tent rentals for the night right at IMG headquarters. No extra driving or shuttling to a hotel prior to the climb!
Throughout the climb, every accommodation is made to include you in the IMG family and make you feel welcome.
International Mountain Guides
Guide owned and operated
A world class guide staff
Focused Training Curriculum for every program
Programs for all levels of aspiring mountaineers
Personal attention and instruction
The best possible program at an excellent value
Come experience the difference

Just can't even thank you enough for the incredible experience I just had summiting Mt. Rainier with your company... What a remarkable team of guides we had... They were patient, funny, experienced, knowledgeable, and excellent teachers. I always felt safe and had a blast. I will definitely be climbing with you again... Thanks again. You guys are simply the best!