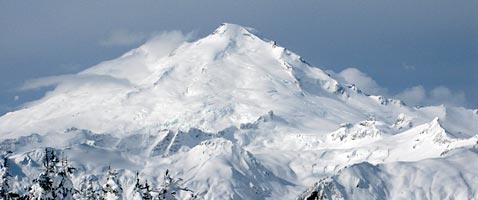 Mt. Baker Easton Glacier 3-Day Summit Climb with International Mountain Guides
Mt. Baker is the fourth highest peak in the Northwest at 10,781 feet (3286 meters) with the second largest glacier system in the lower 48 States (second only to Mt. Rainier). Mt. Baker now holds the world record for annual snow fall, 95 total feet in 1998.
Our route of ascent is via the Easton Glacier, a direct and relatively moderate route up the mountain with the fewest technical difficulties. However, it should be noted that the summit day is long (a 10 hour round trip summit day) and glaciated (roped glacier travel to the summit).
The broad expanse of the Easton Glacier provides a moderate roped glacier ascent at an angle of up to 35 degrees. The summit crater provides a spectacular view of the surrounding Cascade Range. Mt. Baker is a perfect first introduction to roped glacier travel on snow and ice and one of the classic North Cascades summits.
Mt. Baker has it all for the aspiring mountaineer: A beautiful hike up into the alpine zone to camp at around 5500 feet. The rolling glacier terrain above camp is perfect for training in ice axe arrest, cramponing and crevasse rescue skills. On summit day the team will ascend glaciated terrain the entire way to the very summit of the volcano. Your IMG guides will take you through the training process and up on the glacier terrain of Mt. Baker for a classic Northwest mountain experience.
The second day of the program will involve training with crampons, use of an ice axe, ice axe arrest, roped glacier travel and crevasse rescue. This is a good introduction to glacier travel for first time climbers or a comprehensive refresher course for those with previous experience looking for a spectacular glacier ascent.