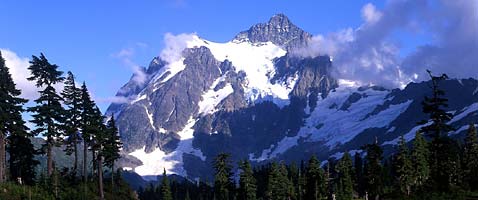 IMG Mt. Shuksan Women's Seminar Itinerary
Day
Itinerary
Day 1
The group meets at the Sedro Woolley Ranger Station in the North Cascades at 8:00 a.m. The drive from Seattle takes about 1.5 hours, and we strongly encourage carpooling from Seattle and/or from the SeaTac airport. A team roster and contact information will be shared with the group several weeks in advance to facilitate carpooling. At the ranger station the guides conduct a thorough gear check of all of your personal gear, and issue team equipment for each person to carry. The group then drives to the trailhead together.

The trailhead at Schreiber's Meadow is at 3,200 feet in elevation. We will hike through the woods up into the alpine zone, and potentially make our first camp after about 4 hours of hiking at approximately 5,500 feet on the edge of the Easton Glacier. Our first camp will be determined by your guides based on many factors, including input from the group about overall objectives. Instruction on day 1 may include campsite selection and considerations, digging tent platforms, and building a kitchen. There may also be time for further instruction or discussion topics before and after dinner.
Days 2-4
Discussions, lectures, and hands-on practical skills sessions. Please see "POSSIBLE COURSE OBJECTIVES" on the intro page. We may move camp one or two times to practice tearing down and setting up camp, incorporate expedition-style climbing practices, and to put ourselves in the best location for our summit bid.
Day 5
Typically the summit day, but flexible based on weather, conditions, and the group. On summit day we get up well before dawn, eat a quick instant breakfast of hot cereal and drinks, put on harnesses, helmets and crampons, rope up into teams, and begin our climb up the Sulphide glacier. It generally takes 3-4 hours to reach the base of the summit pyramid, and depending on sill level and group size another 2-3 hours to reach the true summit. From there we will enjoy spectacular views of Mount Baker and the rugged North Cascades, and descend back to camp in about 5 hours.
Day 6
After packing up camp the team will head down to the trailhead. Often people enjoy a meal out at one of the local restaurants to plan our next adventures together and exchange contact information before a final round of hugs and parting ways.