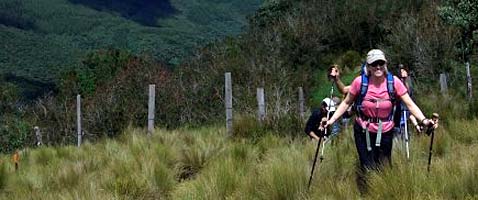 Ecuador Volcanoes Frequently Asked Questions
This information should answer many of your initial questions and also guide you through the next stages of preparing for the expedition. If you have any questions, please feel free to contact us: This e-mail address is being protected from spam bots, you need javascript enabled to view it
What is the route like?
All climbs involve cramponing on moderately steep slopes and a great deal of glacier travel. The snow level is reached between 15,000' and 16,000' and each of the ascents will require several thousand feet of snow climbing. Crevasse problems should be no more difficult than those encountered in climbing Mt. Rainier. The routes are very exciting and much more involved than those on the Mexican volcanoes.
How should I train?
You cannot over train for high altitude climbing. Concentrate on your heart, legs and lungs. Climb or hike at any opportunity. You will enjoy the trip more if you are properly prepared. An aerobic program of either running, stair climbing or bicycling, plus a conditioning program for the thigh muscles is strongly recommended. You owe it to your team mates to be in excellent condition for the trip.
What skills do I need?
Prior knowledge of ice ax arrest, cramponing and rope team travel are REQUIRED. Everyone needs to be familiar with these climbing skills.
Is a visa required?
An embarkation/disembarkation card is needed and can be obtained from the airline desk in Miami. These cards are usually handed out on board your flight to Quito, also. You will need to have your passport handy to present to immigration officials in Quito upon landing as proof of your citizenship, along with the above card. You must keep your copy of this card with you and present it upon leaving Ecuador. No other visa or form is currently required.
How do I get there?
Seats can sometimes be in short supply to South America and flight schedules can change frequently.
International Mountain Guides has worked for many years with the staff at CTT Destinations to provide professional travel service for participants in our programs. For help with your plans, we urge you to contact Pirjo at CTT Destinations: 800-909-6647 or This e-mail address is being protected from spam bots, you need javascript enabled to view it
The group will meet at the departure gate before the scheduled flight to Quito. We encourage everyone to connect with the group flight for the flight to Quito, mainly for the sake of simplicity and your own convenience. Remember, you are responsible for making all of your own flight arrangements.
What kind of insurance do I need?
We invest in insurance coverage for commercial liability and medical and disability insurance for our employees while participating on our programs. We cannot insure you for your personal needs, but we do expect you to be as fiscally responsible as we are. We require that you insure yourself against potentially expensive difficulties that may arise. First, Trip Cancellation Insurance may provide financial relief should you be forced to withdraw from the program before it even happens. Next, make sure you have adequate Travel Insurance for coverage should you have a problem during the trip. Medical care and evacuation in remote locations can be expensive. For more information, please see our page on Trip Cancellation and Travel Insurance.
We again remind you that no insurance of any kind is provided for trip participants.
What immunizations will I need?
No immunizations are currently required to enter Ecuador. It is recommended that you consider the following:
Tetanus/Diphtheria: There is no natural immunity to the tetanus toxin and since it is found throughout the world, immunization is a universal recommendation regardless of age. A combined tetanus/ diphtheria booster is available, good for ten years.


Hepatitis Vaccine: New vaccines are available for both hepatitis A and B.
Please consult your physician or local health department for their recommendations.
You should also ask your physician for a prescription for a course of the antibiotic azithromycin ("Z-Pak"). Please consider this to be part of your required equipment.
We recommend that you visit the travel clinic at a major University Hospital or your local Public Health Department for the most up to date info on travel requirements, or check the Center for Disease Control Website at www.cdc.gov.
What's included in the expedition fee?
Costs Included in Trip Fee:
guide fees
double accommodations in hotels
shared accommodations in huts
group transportation
group equipment including stoves and fuel, ropes, cooking gear, group first aid kit, technical climbing equipment, radios, etc.
meals while climbing except for lunches (i.e. snacks)
Costs Not Included in Trip Fee:
airport taxes
meals while not climbing
personal clothing and climbing equipment such as boots, packs, sleeping bag and pad, crampons and ice ax
items of a personal nature