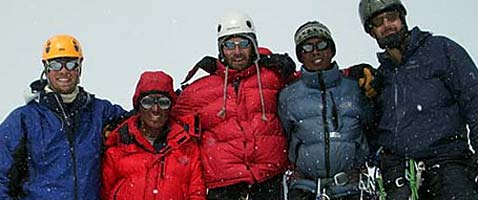 IMG Ama Dablam Climb Gear List
This equipment list is meant to help you compile your personal gear for Ama Dablam. Most items are required. Please consider each item carefully and be sure you understand the function of each piece of equipment before you substitute or delete items from your duffle. Keep in mind that this list has been carefully compiled by Eric Simonson, the expedition organizer. Don't cut corners on the quality of your gear.
Climbing Gear
[ ]
Ice Axe: A 60 cm length is probably the most useful length. Bring a light weight axe with a pick that will stick easily in hard glacier ice (for example the Petzl Sum-Tec Mountaineering Ice Axe). Attach a light weight wrist leash that is usable for climbing steeper terrain. The summit day is a consistent 40 degrees, so a shorter axe is necessary.
[ ]
12-point Crampons: These must be sharp and must fit your boot perfectly.
[ ]
Climbing Harness: Make sure the buckle is easy for you to thread in cold conditions! Gear loops will be useful for this trip as well as adjustable leg loops.
[ ]
Climbing Helmet: Required. Be sure you can comfortably fit a warm hat underneath.
[ ]
Hardware: Bring 3 locking and 4 lightweight regular carabiners. It is helpful if at least one of the locking carabiners has a "key gate", like the Petzl Attache. Bring one handled ascender, and one Petzl Tibloc for ascending the fixed rope. You will need rigging material — two sewn 48" nylon slings and 10' of 8 mm perlon should be sufficient. Also include one small 5 mm prussik loop (about 4 feet of cord tied with a double fisherman's knot) for a rappel backup. For rappelling the Black Diamond ATC Guide is good since it can handle ropes from 7.7mm to 11mm. A Figure 8 is an old standby and works on a variety of ropes and also icy ropes. While it twists the ropes more, it is quite foolproof. You might consider both, in case you drop one of them and lose it.


Backpack & Sleeping Bag
[ ]
Climbing Backpack: Medium size internal frame pack (60-liter capacity). Look for a pack which is comfortable to carry, very durable, as light as is reasonable and one which has a minimum number of bells and whistles.
[ ]
Sleeping Bag: Bring a sleeping bag comfortable to -20°F. Down is lighter and much more compressible. Be sure to bring a compression stuff sack. Keep in mind that many of your nights will be much warmer than -20, especially on the trek in to base camp.
[ ]
Sleeping Pads: Bring one RidgeRest or Thermarest pad. A stuff sack helps prevent punctures.


Camp Accessories
[ ]
Headlamp: Bring a good LED headlamp with 2 sets of lithium batteries for cold conditions. I'd recommend the Petzl MYO RXP.
[ ]
Water Bottles: 2 wide mouth plastic water bottles with insulated covers. A small Thermos bottle is great for cold mornings.
[ ]
Water Treatment: Iodine tablets (Potable Aqua or similar) or iodine crystals (Polar Pure). One bottle of Potable Aqua (enough to treat 25 liters) should be more than sufficient.
[ ]
Utensils: Bring an insulated mug with a lid, a decent sized bowl, spoon, pocket knife and lighter. You are better to bring lighters from the US. TSA says you can carry them on, or pack two in a DOT approved case. Kathmandu lighters are not very good.


Footwear
[ ]
Double Climbing Boots with expedition liners. Make sure your crampons can be adjusted to fit them! The newer insulated boots like the Scarpa Phantom 6000, or the La Sportiva Spantik, are ideal for the climb — they climb well enough on the rock sections to Camp 2 and are warm enough for up high.
[ ]
Approach boots. A good example is the La Sportiva Trango S, which will work on the trek and approach to Camp 1, and even up to Camp 2 if conditions warrant.
[ ]
Gaiters and Yaktrax or Kahtoola Microspikes in case of snow.
[ ]
Socks: Four sets of climbing socks.


Clothing
[ ]
Insulated Parka: Heavyweight insulated expedition parka with hood.
[ ]
Shell Jacket: Lightweight waterproof-breathable construction with a hood.
[ ]
Pants: Lightweight waterproof-breathable shell pants or bibs with full-length leg zippers (so they can be put on over boots/crampons). ALSO, insulated pants with full-length zippers for evenings and cold summit days (either down pants OR synthetic insulation full-zip pants like Mountain Hardwear Compressor Pants). Down suits will work but can be heavier and bulkier to carry in your pack.
[ ]
Mid Layers: Fleece or Soft Shell layering pieces that work well with the rest of your clothing. A Soft Shell jacket and an expedition weight longjohn top will work well.
[ ]
Climbing Pants: Look for construction that provides freedom of movement and/or stretch materials. Fabric should be a breathable synthetic that preferably holds up to abrasion. I'd recommend a Schoeller fabric climbing pant for general use and zippered fleece pants for the summit push.
[ ]
Base Layers: 2 synthetic tops and 1 bottom. Zip neck tops are the way to go.


Outerwear Accessories
[ ]
Mittens: Fleece mittens with an over mitten. Nothing competes with a mitten for warmth when the going gets tough.
[ ]
Ski Gloves: A warm insulated glove with leather palm will be worn a lot of the time.
[ ]
Light Gloves: Polypropylene or fleece. Leather palms handle the fixed line better.
[ ]
Leather gloves or good abrasion resistant climbing glove for the rock sections.
[ ]
Stocking Hat: Wool or fleece stocking hat with ear protection.
[ ]
Neck Gaiter and/or a Buff (highly recommended).
[ ]
Baseball hat and Bandana.


Personal Accessories
[ ]
Eyewear: Bring good sunglasses with side protection. For contact lens wearers, ski goggles with light color lenses (for use at night) might be useful in windy conditions. The ski goggles are essential for all climbers in really stormy conditions and can serve as an emergency back up for broken or lost sunglasses.
[ ]
Vision correction: Bring extra prescription eyeglasses or contact lenses if you wear them. Lens solutions are not widely available in Nepal, bring enough for the duration.
[ ]
Wrist Watch: With alarm and night light. An altimeter watch is useful.
[ ]
Basic First Aid: Hand sanitizer (Purell), moleskin or Compede, athletic tape, aspirin (some climbers take a baby aspirin every day up high) and/or ibuprofen/acetaminophen, Imodium, Band-Aids, antacid, insect repellant, ear plugs, and two rolls of toilet paper in quart Ziploc bags (we will have a supply at Base Camp), small towel, soap/shampoo.
[ ]
Skin Care: Sunblock lotion (at least #30 protection factor — have at least one smaller tube (1 oz) that can fit in your pocket) and lip salve. Put your lip protection on a string and hang it from your neck. That way you'll use it. It also works great for your nose.
[ ]
Garbage Bags: 2 or 3 large plastic bags make great liners for your pack in wet weather.
[ ]
Personal Snack Food: The food is great on the trek but you might enjoy a few snacks (not more than 5 pounds) from home and also some drink mixes if you like these to add to your water bottle (let the iodine have 30 minutes contact time before adding). Summit climbers should bring some high altitude snacks they prefer for hard days, approximately 10 pounds including a drink mix like Cytomax. Include a number (10-20) of Gu, Power Gel or similar for the upper route.
[ ]
MP3 Player and Books. Plan on sharing books with the Base Camp Library we establish every year.
[ ]
Pee Bottle
[ ]
Chemical Hand Warmers (6)
[ ]
Prescription Medications:

Two regimens of antibiotic for respiratory and GI problems (azithromycin "Z-Pak")
Diamox (acetazolamide) for acclimatization (125 mg tabs recommended; enough for a week)
Sleeping pills for jet lag
Malaria Chemophrophylaxis, if needed based on travel plans (the climb/trek will not enter malaria likely zones)
Asthma medication, if any history.
For serious illness on high altitude expeditions, standard treatment protocol is:

Nifedipine (for pulmonary edema)
and Dexamethasome (for cerebral edema) in association with immediate descent.




Travel Items
[ ]
Duffel Bags: We normally pack all our equipment in two large duffel bags. Make sure they are well labeled with indelible ink as well as a travel tag. The duffels go on the trek/climb with you and will be carried by porters and yaks. Expect for them to get wet and muddy, so rugged, waterproof duffels are good. Bags with wheels are nice for the airport, but the porters and yaks don't like to carry them, so don't bring wheeled bags (or at least not two of them). You will also store some travel clothes at the hotel in Kathmandu while trekking, so a small additional bag with a lock might be handy. You'll want padlocks, but for flying out of the USA, it might be better to use plastic zip ties which can be cut by TSA staff if necessary (bring extra zip ties). Tip: Bring 5 large plastic garbage bags to pack gear inside duffels to protect gear from rain.
[ ]
Daypack: A smaller rucksack makes a great carry-on bag for your flight and is useful during the trek.
[ ]
Travel Wallet: Some type of secure travel wallet is a must. Remember a pen for travel documents.
[ ]
Passport (valid for at least 6 months after the trip ends with sufficient extra pages for visa stamps and in same name as airline ticket (or with endorsement-for women who changed name w/ marriage). It is easy to get your Nepal visa on arrival in Kathmandu at the airport... bring a passport photo. Bring a copy of the information pages and a couple of extra passport photographs. Carry these in a separate location. You'll be glad you did if you ever lose a passport.
[ ]
Camera: with spare batteries, and film or memory cards, but keep it reasonable in size and weight. Consider a small USB drive to make it easy to share photos with your teammates.
[ ]
Casual Clothes: For travel/meals in dining rooms. You'll want a shirt or two with a collar to wear on flights and for restaurants. A sweatshirt or light jacket might be nice in the evening. Tip: Keep your travel clothing modest, please do not wear short shorts and skimpy tops, the locals take offense.
[ ]
Bathing Suit: Some of the hotels have pools (eg, in Bangkok). Trekking Gear
[ ]
Trekking Poles: Poles come in handy for balance and easing impact to your knees. Get collapsible poles that can attach to your backpack and fit into your dufflel.
[ ]
Backpack: You may choose to bring a smaller "daypack" for your airline travel carry on, and this can be used on the trek if you want to carry a smaller (35 liter or so), light trekking pack. You need a pack big enough for your clothes, water, camera, food, etc during the day.
[ ]
Pack Cover: Waterproof rain cover for your trekking pack.
[ ]
Tip: Bring 5 large plastic garbage bags to pack gear inside duffels to protect gear from rain.
[ ]
Trekking Clothes: Light hiking pants and / or hiking shorts for warm weather down low- NOT cotton. Shirts for hiking on nice days (t-shirts OK, quick-drying synthetic fabric is better.) Don't overdo your trekking clothes. A pair of shorts, long pants and a couple of shirts will do. You can hand wash them during the trek as needed.
[ ]
Lightweight Approach Boots: Find a pair that fits and log some miles in them before your trip. A low-cut shoe is adequate, but some hikers will prefer more ankle support.
[ ]
Sleeping Bag: Climbers will make due with their expedition bag, trekkers only can get by with a lighter bag rated to 10°F.
[ ]
Sleeping Pad or Thermarest (one light one is sufficient, you will be provided a thick open cell foam "trekking mattress".