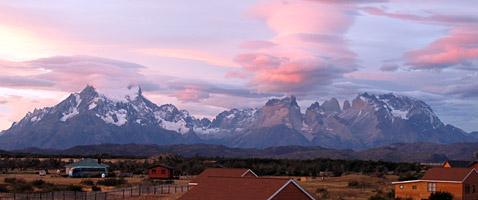 Patagonia Trek Frequently Asked Questions
This information should answer many of your initial questions and also guide you through the next stages of preparing for the expedition. If you have any questions, please feel free to contact us: This e-mail address is being protected from spam bots, you need javascript enabled to view it
What's the best way to train for this trek?
The best training for trekking is trekking (aka hiking). Get outside and log some miles in your boots while carrying a pack. Concentrate on your heart, legs and lungs. Climb or hike at any opportunity. You will enjoy the trip more if you are properly prepared. An aerobic program of running, swimming or bicycling, plus a conditioning program for the thigh muscles is strongly recommended. Running stairs, weight training or similar programs are excellent.
What is the weather like?
Seasons in the southern hemisphere are opposite of what we have here in the States. Spring is Fall, Summer is Winter and so on. In March we'll likely see high temperatures in the 60's and 70's and lows in the 40's, perfect trekking and sleeping temperatures. Keep in mind harsh weather is always a possibility in Patagonia and wind will likely accompany us on the trail.
How do I get there?
Seats can sometimes be in short supply to South America and flight schedules can change frequently. Because of this, we encourage you to make your reservations early and strongly urge you to contact Pirjo at CTT Destinations: 800 909 6647 or by email: This e-mail address is being protected from spam bots, you need javascript enabled to view it . This is an agency that specializes in group travel. We've worked with them for years and can highly recommend them to help make your travel arrangements. By knowing our programs, they can do a lot to facilitate your travel plans. It is also beneficial for us to have knowledge of everyone's travel arrangements.
Do I need travel insurance?
We strongly recommend that you consider purchasing a travel insurance policy for your trip. Please click here for complete details on travel insurance. Unanticipated cancellations on your part can be costly. We do not provide any type of trip interruption insurance for you.
What immunizations will I need?
No immunizations are currently required to enter Chile. It is recommended that you consider the following:
Tetanus/Diphtheria: There is no natural immunity to the tetanus toxin and since it is found throughout the world, immunization is a universal recommendation regardless of age. A combined tetanus/ diphtheria booster is available, good for ten years.


Hepatitis Vaccine: New vaccines are available for both hepatitis A and B.
Please consult your physician or local health department for their recommendations.
You should also ask your physician for a prescription for a course of the antibiotic Ciprofloxacin. Please consider this to be part of your required equipment.
We recommend that you visit the travel clinic at a major University Hospital or your local Public Health Department for the most up to date info on travel requirements, or check the Center for Disease Control Website at www.cdc.gov.
What's included in the trip cost?
Cost Includes:
Guide fees
double accommodations in hotels in Punta Arenas on Day 2 and in Puerto Natales on Day 3 and Day 11 (see itinerary for details)
shared accommodations in refugios (huts) while trekking
group transportation
group equipment (including tents, stoves, fuel, and cooking gear for our one camp night at Las Torres)
park entrance fees
penguin reserve entrance fee
a group first aid kit
emergency sat phone
breakfasts and dinners while trekking
Cost Does Not Include:
Airport taxes
restaurant meals while not trekking
beverages during meals
lunches while trekking
personal clothing and equipment (packs, sleeping bag, pad, boots etc.)
gratuities of any kind
additional nights in Punta Arenas
porter fees
single supplements (or any changes to hotel/refugio accommodations)