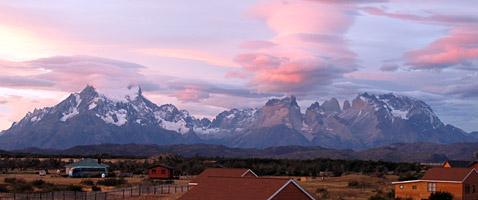 2015 Patagonia 'W' Trek Variation Itinerary
Day
Trip 1
Trip 2
Itinerary
Day 1
Dec 26
Feb 1
Depart home.
Day 2
Dec 27
Feb 2
Arrive Punta Arenas . Overnight in Punta Arenas. Group dinner.
Day 3
Dec 28
Feb 3
Private transfer from Punta Arenas to Puerto Natales with a stop at a local penguin reserve. We'll stay at a local 3 or 4 star hotel.
Day 4
Dec 29
Feb 4
We'll enjoy an early morning breakfast before our private transfer from Puerto Natales to Torres del Paine National Park where we begin our trek up the Ascencio Valley along the wild river (of the same name) making our way through a forest of Lenga trees. We'll check into Refugio Chileno and drop off some gear before continuing up the trail to the towers. We'll reach the towers in the early to later afternoon. The towers stay pretty well hidden throughout the day and eventually (weather permitting) appear right before our eyes as if they came from nowhere!. After taking in the towers we'll head back to the refugio for dinner. (Breakfast, Lunch and Dinner • Trekking: 7hrs • Distance: 15km • Refugio Chileno )
*Day 5
Dec 30
Feb 5
Day packs today! Today we'll wake up and head back up towards the towers but will continue past them and on up into the Silence Valley. The Silence Valley requires a special permit to trek in so it's quite common to have the entire valley to ourselves. As we make our way up above tree like we continue around the corner eventually finding the backsides of the towers. We can continue on as far as we like — once we're satisfied with the day we'll head back down to Chileno for our second night. Note that if we missed the towers yesterday due to weather we'll take the morning or afternoon opportunity to see them again, a nice insurance policy built into our itinerary. (Breakfast, Lunch and Dinner • Trekking: 8-9hrs • Distance: 20km • Refugio Chileno)
Day 6
Dec 31
Feb 6
After breakfast at Refugio Chileno we will trek down to and alongside Lake Nordenskjold (named after the Swedish geologist whose studies formed an important contribution to world glacial geology) and below the hanging glaciers of Mount Almirante Nieto, where we will reach the base of Los Cuernos. We'll stay at Refugio Los Cuernos for two nights. The refugio has a great location right on the lake and is a popular location for great sunrise and sunset photos. (Breakfast, Lunch and Dinner • Trekking: 6hrs • Distance: 14km • Refugio Los Cuernos)
*Day 7
Jan 1
Feb 7
Day packs today! After breakfast we'll head into Bader Valley . Bader Valley, also known as the Forgotten Valley, is one of last virgin areas in the park and is surrounded by the granite walls of Mascara (Mask — 2,300 meters), Hoja (Leaf — 2,200 meters) and Espada (Sword — 2,500 meters). Like the Silence Valley, the Bader Valley requires a special permit making our group likely the only people in the valley. The huge surrounding walls, and ever growing views is always a highlight for trekkers. Look up — condors are often circling in the thermals above. (Breakfast, Lunch and Dinner • Trekking: 8-9hrs • Distance: 12km • Refugio Los Cuernos)
Day 8
Jan 2
Feb 8
Today we'll trek to the famous French Valley . A lot of trekkers consider the French Valley the most beautiful in the park and one of the most unique in the world. It is surrounded by hanging glaciers (where you can see and hear the ice calving off at various times during the day) and an amphitheater of granite walls and spires. There are amazing views throughout this day and the further you trek into the valley the better they become! After the French Valley everybody notices the unique turquoise color of Lake Pehoe, where our next refugio awaits. We'll spend the night at Lodge Paine Grande where you can enjoy a Pisco Sour in the bar that overlooks Paine Grande and Los Cuernos. (Breakfast, Lunch and Dinner • Trekking: 8hrs • Distance: 20km • Refugio Paine Grande)
Day 9
Jan 3
Feb 9
Today is a relatively easy day. After breakfast we'll load up and trek alongside Lago Grey. The Grey Glacier comes into view after a couple hours on the trail and remains the prominent feature for the next few days. The Grey Glacier is as stunning as it is huge — 104 square miles — 17 miles long. We'll pull into Refugio Grey for lunch and spend the afternoon exploring the area. If it's a nice day we'll take advantage of the weather and take the optional ($100) 2-3 hour kayak tour – it's worth every penny! (Breakfast, Lunch and Dinner • Trekking: 4hrs • Distance: 11km • Refugio Grey)
*Day 10
Jan 4
Feb 10
Day packs today! We'll spend the day trekking along Grey Glacier. taking in the panoramic views of the glacier. We'll cross a couple bridges and maybe even a ladder or two to get to a few different viewpoints. If we missed the kayaking yesterday we'll jump in the kayaks in the morning or afternoon today, weather permitting of course. (Breakfast, Lunch and Dinner • Trekking: 6hrs • Distance: 10km • Refugio Grey)
Day 11
Jan 5
Feb 11
Early risers will wake up to take advantage of the morning light; others might sleep in a bit. No big agenda today. It's an opportunity to get packed up, kayak if we missed it the previous two days or head down to Iceberg Beach again. We'll meet back up for lunch then we'll hop on board the Grey II which will take us across Lago Grey not before swinging right up next to the calving glacier. We'll sip on our Pisco Sour as we recant the highlights of the trek... or take a nap. Our van awaits us on the other side of the lake. 2hrs in the van we're back in Puerto Natales for showers, some souvenir shopping and a farewell dinner. (Breakfast & Lunch • Trekking: 0hrs • Distance: 0km • Hotel in Puerto Natales)
Day 12
Jan 6
Feb 12
Puerto Natales to Punta Arenas airport via private transfer. Afternoon flight to Santiago.
Day 13
Jan 7
Feb 13
Arrival home.


*Notes for Days 5, 7 & 10: The hours and distances vary on weather and the group for these days. They're out and back to the refugio so we can hike as far as we like. These are also potential rest days for folks who might need a break during the trek.