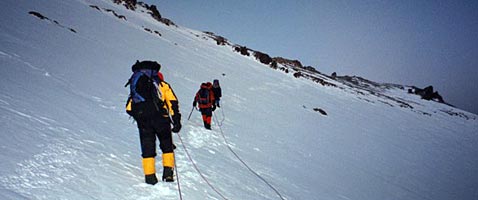 IMG Aconcagua Climb Itinerary
Most people normally rendezvous in Santiago. After arriving in Santiago, Chile you will fly to Mendoza, Argentina. Everyone needs to be on the morning Lan Chile flight. You will be met by private transportation, go to get our required permit and then have the afternoon to sort personal gear and relax.
Mules will be hired to carry group gear and food to base camp and members will carry only moderate loads to base camp. The approach takes three days. From here, we'll use standard McKinley tactics of climbing high and sleeping low in our attempt on Aconcagua. Several rest days are included. Following the climb, we'll travel back to Mendoza where we'll enjoy a celebratory team dinner, get some rest and be ready to fly for home the next day.
As of January 7th, 2013, US, Australian or Canadian citizens traveling to Argentina must pay the reciprocity fee online prior to entering Argentina through any of its airports. Please visit https://virtual.provinciapagos.com.ar/ArgentineTaxes/ to pay the reciprocity fee before you depart from home.
Day
Itinerary
Day 01
Depart the United States.
Day 02
Arrive in Santiago, fly to Mendoza, secure the permit and spend the rest of the day enjoying Mendoza and working a bit on individual gear. Hotel night included.
Day 03
Early departure for Los Penitentes. Day spent packing loads, resting and generally getting ready to start our approach.
Day 04
Drive to Punta del Vacas and begin approach march.
Day 05
Continue approach march.
Day 06
Reach base camp in the Guanacos Valley (13,000').
Day 07
Rest day at base camp.
Day 08
Carry to Camp 1 (14,500').
Day 09
Move to Camp 1.
Day 10
Carry to Camp II(17,800ft) via the Ameghino col and traverse to the Guanacos Helicopter camp (Guanacos route).
Day 11
Move to Camp II/Helicopter Camp(17,800ft).
Day 12
Carry to Camp III/High Camp(Piedras Blancas) at 19,500ft on the Guanacos route.
Day 13
Rest/acclimatization day at CampII(17,800ft)
Day 14
Move to High Camp(Piedras Blancas) at 19,500ft.
Day 15
First Potential summit day. Spend night at High Camp after summit.
Day 16
Contingency Summit Day
Day 17
Contingency Summit Day
Day 18
Descend to Plaza de Mulas base camp(Normal Route) from High Camp
Day 19
Hike out from Plaza de Mulas base camp to Penitentes
Day 20
Drive from Penitentes to Mendoza and go out for a Celebration Dinner
Day 21
Fly from Mendoza, Argentina
Day 22
Arrive home

Please Note: This is a probable but tentative Itinerary. Our exact schedule above Camp 2 will be determined on the trip itself. Depending on factors including weather and group, we may well put in a Camp 3 located at approx. 20,000'.