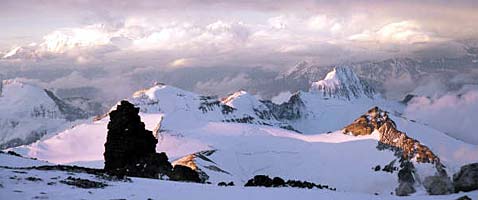 Aconcagua Climb Frequently Asked Questions
This information should answer many of your initial questions and also guide you through the next stages of preparing for the expedition. If you have any questions, please feel free to contact us: This e-mail address is being protected from spam bots, you need javascript enabled to view it
Why Should I Choose IMG for my Aconcagua Expedition?
Climbing Aconcagua is serious business. We are very proud of the way we conduct ourselves, and feel that we provide the best package available. We encourage you to contact us personally to discuss the details of our program. We know we are not the cheapest deal around, and we don't want to be. We spend more providing the best personnel, equipment, logistics, and safety measures — things that many lower-cost programs cannot afford and do not have. We don't cut corners. However, we feel we provide the best value on the mountain, without question. We invite you to shop around and compare the quality of service with the price. There is a difference between our expeditions and the expeditions of our competitors and an enormous difference between us and local outfitters. Please consider the following »
What is the route like?
Any climb of this altitude is a SERIOUS undertaking. The route is not difficult technically but does REQUIRE basic ice ax, cramponing and rope team skills. Base camp will be established at 13,400' with the help of mules. Two or possibly three additional camps will be established during the ascent. Reasonable time will be allowed for acclimatization and weather contingencies.
Please note, January trips use the Guanacos Route on Aconcagua while February teams will travel via the Polish Variation. A trip specific Guanacos Route itinerary will be sent to January participants.
How should I train?
You cannot over train for high altitude climbing. Concentrate on your heart, legs and lungs. If you are in a position to do any hiking or climbing at higher elevations, do so. An aerobic program of running hills, stair climbing, bicycling, etc. plus a conditioning program for the thigh muscles is necessary. Stair climbing and weight training or similar programs is recommended. You will be safer, increase your chances of success and enjoy the trip more if you are properly prepared. Summit day on Aconcagua is more demanding physically than the summit day on Mt. McKinley.
What skills do I need?
Prior knowledge of ice ax arrest, cramponing and rope team travel is REQUIRED. Past experience with cold weather camping and some altitude experience is also quite helpful. This climb is not overly difficult technically, but does require excellent physical conditioning.
Who will be guiding the climb?
At International Mountain Guides we have some of the most qualified and experienced guides in the world. They are all extremely enjoyable to work with and lead expeditions adhering to the highest American and International guiding standards. Most of our guides are American and all are extremely knowledgeable about client care and client satisfaction. We only hire guides that we have complete trust in. Most of our guides have long resumes of certifications beyond their even longer resumes of high altitude climbing experience. They are an integral part of our company and continued success on Aconcagua.
The expedition is organized by Phil Ershler. Phil was a member of the 1982 China-Everest Expedition, climbing leader of the Seven Summits Everest Expedition in 1983 and was the first American to climb the North Face of Everest on the 1984 China-Everest Expedition. Phil was also a member of the 1987 and 1990 K2 International Expeditions and climbed the North Face of Kangchenjunga on the 1989 American Kangchenjunga Expedition. He has also guided on Mt. Rainier for over 30 years. In addition, he has led countless trips to Alaska, Mexico, South America, Russia, Africa, Asia and Antarctica.
In May 2002, Phil and his wife, Susan, reached the summit of Mt. Everest making them the first couple ever to successfully complete the seven summits together. It also made Phil the first person to climb the Seven Summits twice.
Phil is a partner in International Mountain Guides, a Certified Alpine Guide with the American Mountain Guides Association and a member of the American Alpine Club.
Is a visa required?
Entry into Chile and Argentina no longer requires an advance visa. You will only be asked to fill out an embarkation/disembarkation card. Chile does have a fee for their entrance cards which is paid in Santiago and is currently $100. However, you will be in transit while you are in Chile and therefore are not required to pay this fee. An embarkation card and your passport are required for entry into Argentina.
As of January 7th, 2013, US, Australian or Canadian citizens traveling to Argentina must pay the reciprocity fee online prior to entering Argentina through any of its airports. Please visit reciprocidad.provincianet.com.ar to pay the reciprocity fee before you depart from home.
Again, please make sure your passport is current. We also suggest that you carry a photocopy of the front pages of your passport and a couple of extra passport photos. This simplifies replacement if a passport is lost. Carry these in a place separate from your passport.
How do I get there?
Seats can sometimes be in short supply to South America and flight schedules can change frequently.
International Mountain Guides has worked for many years with the staff at CTT Destinations to provide professional travel service for participants in our programs. For help with your plans, we urge you to contact Pirjo at CTT Destinations: 800-909-6647 or This e-mail address is being protected from spam bots, you need javascript enabled to view it
You can fly on Lan Chile from Miami or LA to Santiago and then with Lan Chile from Santiago to Mendoza. We'll take the morning Lan Chile flight from Santiago to Mendoza. Pirjo DeHart at CTT Destinations has the current flight numbers and times. We fly back to the U.S. from Mendoza via Santiago on Lan Chile. We'll arrive in Santiago in time to connect with all departures to the United States that same evening.
The group will meet be met upon your arrival in Mendoza. Our guides go down one day early to take care of last minute shopping and will be waiting for you with private ground transportation once you clear customs in Mendoza.
Remember, you are responsible for making all of your own flight arrangements.
What kind of insurance do I need?
We invest in insurance coverage for commercial liability and medical and disability insurance for our employees while participating on our programs. We cannot insure you for your personal needs, but we do expect you to be as fiscally responsible as we are. We require that you insure yourself against potentially expensive difficulties that may arise. First, Trip Cancellation Insurance may provide financial relief should you be forced to withdraw from the program before it even happens. Next, make sure you have adequate Travel Insurance for coverage should you have a problem during the trip. Medical care and evacuation in remote locations can be expensive. For more information, please see our page on Trip Cancellation and Travel Insurance.
We again remind you that no insurance of any kind is provided for trip participants.
What immunizations will I need?
No immunizations are currently required to enter Chile or Argentina. It is recommended that you consider the following:
Tetanus/Diphtheria: There is no natural immunity to the tetanus toxin and since it is found throughout the world, immunization is a universal recommendation regardless of age. A combined tetanus/ diphtheria booster is available, good for ten years.


Hepatitis Vaccine: New vaccines are available for both hepatitis A and B.
Please consult your physician or local health department for their recommendations.
You should also ask your physician for a prescription for two regimens of the antibiotic azithromycin ("Z-Pak"). Please consider this to be part of your required equipment.
We recommend that you visit the travel clinic at a major University Hospital or your local Public Health Department for the most up to date info on travel requirements, or check the Center for Disease Control Website at www.cdc.gov.
What's included in the expedition fee?
Costs Included in Trip Fee:
guide fees
double accommodations in hotels
shared accommodations in huts
group transportation
group equipment including stoves and fuel, ropes, cooking gear, group first aid kit, technical climbing equipment, radios, etc.
meals while climbing except for lunches (i.e. snacks.) We ask everyone to bring their own candy and granola bars and powdered drink mixes for their water bottles.
Costs Not Included in Trip Fee:
airport taxes
visa fees
meals while not climbing
personal clothing and climbing equipment such as boots, packs, sleeping bag and pad, crampons and ice ax
snack foods or items of a personal nature