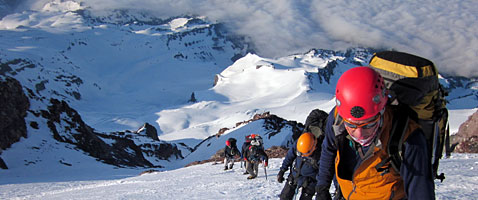 IMG Rainier Fuhrer Finger Route Itinerary
This itinerary is approximate and subject to change due to conditions.
Day 1: Meet in Ashford at IMG Headquarters (HQ) (directions) at 2:00pm for your pre-climb orientation. This orientation is instrumental in getting you outfitted, informed, packed and educated prior to departure the following morning. Topics to be covered include an introduction to your climbing team; an introduction to Mount Rainier National Park, its mission and ecology; a safety briefing; the examining, issuing and fitting of gear; and instruction on the proper use of safety equipment including helmets, harnesses and avalanche beacons. Lodging is not provided the night of Day 1.
Day 2: Meet at HQ at 8:00am for an early departure to the trailhead at Paradise (5420 ft.) in Mount Rainier National Park. Plan on a long day; hiking and climbing for roughly 6-8 hours and gaining about 5,000ft on your ascent to the Lower Castle Camp. Along the way, the guides will review efficient climbing techniques including pace, rest-stepping, breathing, break procedures, clothing layering systems, food and water intake requirements and other essential climbing skills.
Day 3: This day will be reserved for moving camp up to the base of the route, approximately 8,500 feet, and planning our strategy for the climb to come. One of the options includes an ascent of Fuhrer Thumb, an alternate route that joins the Fuhrer Finger route at 11,500 feet with a descent back down the lower Fuhrer Finger chute. The Fuhrer Thumb route provides an excellent training vehicle to work on rope team skills and efficient movement on steeper slopes.
Day 4: We may choose, depending on conditions to move camp up Fuhrer's Finger at first light and establish a new campsite at the top of the Finger, approximately 11,500 feet. Otherwise, the team will train, climb and acclimatize in the vicinity of camp. We'll have an early dinner and hold a team informational meeting to discuss our summit climb strategy.
Day 5: This is the primary summit day. If a high camp is established we will depart at first light for the summit. The round trip will take approximately 8 hours. If we climb from low camp, the team will depart well prior to first light and will take approximately 10-12 hours round trip. Throughout the day, the guides will be directing their rope teams, providing safety feedback and hands on training of safe climbing skills. We'll ascend glacier terrain to the very summit and spend an hour on top, weather permitting. The descent normally takes half the time of the ascent.
Day 6: The final day is reserved for descent to Paradise where the shuttle waits to bring us back to IMG's HQ facilities. Here we finally have an opportunity to celebrate our climb and the guides will award certificates of achievement.