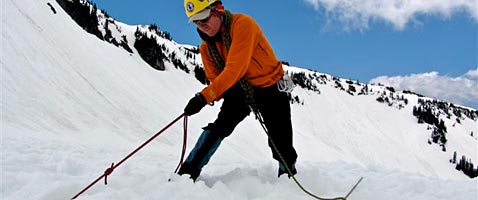 Rainier 2-Day Crevasse Rescue School Itinerary
We meet at the IMG Ashford facility at 8:00 a.m. on the morning of the first day.
The morning is spent in teaching important climbing knots and hitches, anchors and anchor systems, belaying and rappelling and other safety skills. We'll take a break for lunch before moving on to the practice of basic crevasse rescue systems and self rescue.
The following day we meet again in the morning at our Ashford facility and are shuttled up to Paradise where we'll train for the day. The hike to the training site generally takes about an hour. We spend the second day learning snow and ice anchors, briefly reviewing simple crevasse rescue systems in the field, going into depth on more advanced crevasse rescue systems and teaching crevasse self rescue techniques. After the day's training we descend to Paradise for the shuttle back to Ashford.
You are on your own for lodging during the program, but IMG offers a convenient and economical option with our onsite tent camping »