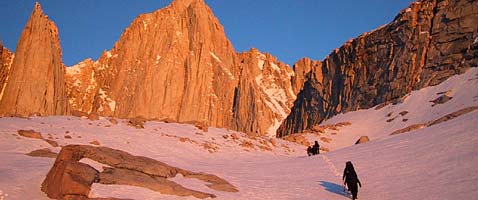 IMG Mt. Whitney Climb Gear List
This equipment list is meant to help you compile your personal gear for a mountaineering expedition. Most items are required. Please consider each item carefully and be sure you understand the function of each piece of equipment before you substitute or delete items. Keep in mind that this list has been carefully compiled by George Dunn, the expedition organizer. Don't cut corners on the quality of your gear.
Clothing:
[ ]
Long underwear top and bottom (light or medium weight)
[ ]
Expedition weight long underwear top
[ ]
Soft shell or fleece jacket
[ ]
Schoeller type climbing pant or light weight fleece pants
[ ]
Waterproof/ breathable shell with hood
[ ]
Waterproof/ breathable pants (full side zips preferred)
[ ]
Warm, roomy down or synthetic jacket with hood (*available for rent)
[ ]
Wool or fleece hat
[ ]
Neck gaiter or balaclava or Buff
[ ]
Heavy insulated gloves (those who get cold hands easily may want to add mitts with shell)
[ ]
Fleece or light weight climbing gloves
[ ]
Heavy wool or synthetic socks with liners (one extra change)
[ ]
Baseball or sun cap
[ ]
Synthetic T-shirt (preferably white for hot days)


Gear:
[ ]
Avalanche transceiver (*available for rent)
[ ]
Snowshoes with underfoot traction (*available for rent)
[ ]
Full size internal frame pack, 5000 to 6000 cubic inches
(*available for rent)
[ ]
Sleeping bag with stuff sack, rated to approximately 0°F
(*available for rent)
[ ]
Sleeping pad (*available for rent)
[ ]
Plastic mountaineering boots (highly recommended) or leather climbing boots- must be rigid soled and insulated, but on some climbs single boots will not be warm enough (*leather boots are available for rent from SMI, and a limited supply of plastic double boots are available for rent in Bishop. Please see note below.)
[ ]
Full length gaiters
[ ]
Crampons, fitted to your boots (*available for rent)
[ ]
Sunscreen and lip balm
[ ]
Ice Axe, 60 or 70 cm. in length, with wrist leash (*available for rent)
[ ]
Climbing harness (*available for rent)
[ ]
Climbing helmet (*available for rent)
[ ]
Two large pear shaped locking carabiners
[ ]
Two sewn webbing slings or tied 7mm Perlon accessory cord loops (approx. 24" in diameter)
[ ]
One mechanical ascender (*available for rent)
[ ]
Ski poles (*available for rent)
[ ]
Headlamp with spare pair of batteries (LED works great)
[ ]
Dark glasses, UV rated, wrap around or with side protection
[ ]
Double lens ski goggles or spare glasses
[ ]
Two wide-mouth plastic water bottles, 1 liter capacity, with insulating covers
[ ]
Pocket knife
[ ]
Plastic bowl, plastic insulated mug, spoon
[ ]
Compact camera with cord to hang around neck and inside insulating layers
[ ]
Personal lunch food for four days
[ ]
Light toiletries: toothbrush and paste, small roll of t.p., ear plugs for sleeping
[ ]
Personal FA kit to include moleskin or blister pads, a few Band-Aids, tape, aspirin, Advil, prescription medications, etc.



*select items are available for rent directly from Sierra Mountaineering International. Please contact the IMG office for a copy of the rental form.

Included in your fee are dinners and breakfasts for the 4-day climb and all group equipment including shared tents, stoves, climbing ropes and hardware. Not included is transportation to the trailhead, lodging the evening prior to the start of the climb or the last night of the trip, or meals other than breakfasts and dinners on the program.

Please note that plastic double boots are not available for rent, except in limited supply in the town of Bishop at Wilson's Eastside Sports. SMI does have single insulated boots for rental, the Montrail "Verglas", but supplies are limited, and these are marginal for a cold weather climb of Whitney. Best of all, invest in a good pair of plastic double boots. You won't be sorry!