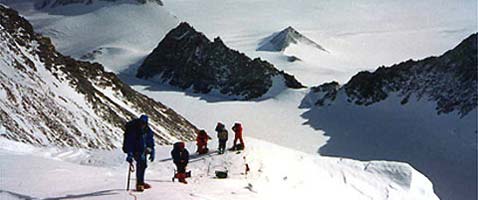 Vinson Massif Frequently Asked Questions
This information should answer many of your initial questions and also guide you through the next stages of preparing for the expedition. If you have any questions, please feel free to contact us: This e-mail address is being protected from spam bots, you need javascript enabled to view it
How do I get there?
International Mountain Guides has worked for many years with the staff at CTT Destinations to provide professional travel service for participants in our programs. For help with your plans, we urge you to contact Pirjo at CTT Destinations: 800-909-6647 or This e-mail address is being protected from spam bots, you need javascript enabled to view it
What kind of insurance do I need?
We invest in insurance coverage for commercial liability and medical and disability insurance for our employees while participating on our programs. We cannot insure you for your personal needs, but we do expect you to be as fiscally responsible as we are. We require that you insure yourself against potentially expensive difficulties that may arise. First, Trip Cancellation Insurance may provide financial relief should you be forced to withdraw from the program before it even happens. Next, make sure you have adequate Travel Insurance for coverage should you have a problem during the trip. Medical care and evacuation in remote locations can be expensive. For more information, please see our page on Trip Cancellation and Travel Insurance.
What medical info should I consider?
In addition to the first aid items listed on the equipment list, there are a few additional medications that you should consider. These should be discussed with your personal physician and will require his prescription. We suggest you discuss the use of azithromycin for prevention and/treatment of traveler's diarrhea with your physician, and you should have a course of this antibiotic with you. You also want to bring some Imodium for treatment of diarrhea. Please consider both of these medications as part of your required equipment list. A mild sleeping medication can also be discussed with your physician. We do not recommend the automatic use of Diamox for altitude sickness but you can also discuss this with your physician and he can make this available to you if you and he deem it appropriate. Any medication should be used only if necessary and use should be discussed thoroughly with your physician and with your guide before you take the medication.
Water purification is also very important. An efficient and effective and inexpensive method is the use of iodine crystals. These are available commercially at mountaineering stores as a product called 'Polar Pure'. Iodine tablets, such as 'Potable Agua' are also available and work well. Filters, such as those made by MSR, are also good. Either can be used or both can be used in combination.
There are some immunizations that you should consider. Your local health department is the best source of information. They are cheap insurance. Start preparations now so that these vaccinations can be spaced out. We STRONGLY suggest getting tetanus and hepatitis vaccinations. We would be current with these vaccinations regardless of whether we were traveling or not.
We also strongly recommend that each participant brings a small bottle of a hand disinfectant such as Purell. Do bring a bottle. Anything that we can do to stay healthy is worthwhile.
What's included in the expedition fee?
Costs Included in Trip Fee:
guide fees
flight from Chile to Vinson base camp and return
two hotel nights in Punta Arenas prior to the flight to Antarctica and one upon our return
all group ground transfers
all meals while climbing with the exception of snacks
all group equipment.
Costs Not Included in Trip Fee:
flights from the U.S. to Punta Arenas and the return
hotels nights required due to weather delays
restaurant meals
visa fees
personal equipment and items of a personal nature