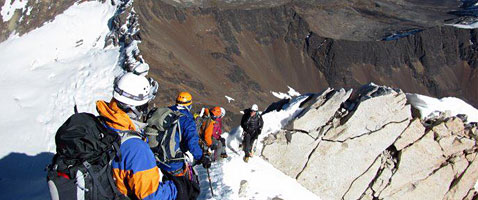 Bolivia Frequently Asked Questions
This information should answer many of your initial questions and also guide you through the next stages of preparing for the expedition. If you have any questions, please feel free to contact us: This e-mail address is being protected from spam bots, you need javascript enabled to view it
What is the climbing like?
IMG guide Ben Marshall describes the climbing in Bolivia:
"Huayna Potosi (HP) and Illimani (Illi) are certainly a notch or two up from Rainier. In my experience, quite a few people head to the peaks of South America to see what they're capable of on larger mountains. HP and Illi are both steep and heavily glaciated peaks. The nature of the climbing differs from that on Rainier in a couple of ways. HP and Illi do have massive glaciers yet, we spend little time on terrain that typifies glacier travel (crossing crevasses, dealing with ice falls, seracs... etc.). Much of the climbing sticks to ridge lines comprised of snow and ice. Never is the climbing so steep as to necessitate two ice tools but, on occasion there will be fixed line in place or running belays being used on the climbs. In terms of objective hazards (rock fall, ice fall... etc.) yes, these mountains do have them but, they are pretty user friendly compared to some other peaks I've guided (sticking predominately to ridges really helps). So, to summarize the route conditions... some steeper snow and ice, generally on ridge lines, at altitude, climbing in rope teams of three to five people, and using fixed lines and running belays when the exposure to a fall is unmanageable with a team arrest/self-arrest."
How do I get there?
International Mountain Guides has worked for many years with the staff at CTT Destinations to provide professional travel service for participants in our programs. For help with your plans, we urge you to contact Pirjo at CTT Destinations: 800-909-6647 or This e-mail address is being protected from spam bots, you need javascript enabled to view it
What kind of insurance do I need?
We invest in insurance coverage for commercial liability and medical and disability insurance for our employees while participating on our programs. We cannot insure you for your personal needs, but we do expect you to be as fiscally responsible as we are. We require that you insure yourself against potentially expensive difficulties that may arise. First, Trip Cancellation Insurance may provide financial relief should you be forced to withdraw from the program before it even happens. Next, make sure you have adequate Travel Insurance for coverage should you have a problem during the trip. Medical care and evacuation in remote locations can be expensive. For more information, please see our page on Trip Cancellation and Travel Insurance.
What immunizations will I need?
Tetanus-Diphtheria, Polio, MMR: You should already have these. Do you need a booster?
Meningitis, Hepatitis A and B: Recommended. Ask your physician/travel clinic for advice.
Yellow Fever: Recommended, you may need to show your shot record with the Yellow Fever endorsement.
Cholera: Not a very effective vaccine. Ask your physician/travel clinic for advice.
Rabies and Typhoid: Not a bad idea to be on the safe side, the new vaccines are easy.
Malaria: We are above the Malaria zone on the mountain, but bring long sleeves and bug juice for evenings in cities, chemoprophylaxis is especially a good idea if you plan to travel to lower elevations in Bolivia.
Please consult your physician or local health department for their recommendations.
You should also ask your physician for a prescription for a course of the antibiotic Ciprofloxacin. Please consider this to be part of your required equipment.
We recommend that you visit the travel clinic at a major University Hospital or your local Public Health Department for the most up to date info on travel requirements, or check the Center for Disease Control Website at www.cdc.gov.
What's included in the trip cost?
Cost Includes
Guides
Porters
Group equipment (kitchen, tents, etc.)
All climbing permit fees
Airport transfers, ground transportation and lodging starting with your arrival in La Paz until our return to La Paz
Welcome Dinner and continental breakfasts in La Paz
Cost Does Not Include
International airfare to/from Bolivia
Taxis
Food and lodging should you arrive in La Paz early
Alcoholic beverages during the trip, personal shopping and snacks.
Lunch and dinner in La Paz not included except for Welcome Dinner
costs incurred as a result of delays or events beyond the control of IMG
required travel insurance policy (for trip cancellation, medical treatment, evacuation etc.)
and customary but optional tips for IMG guides