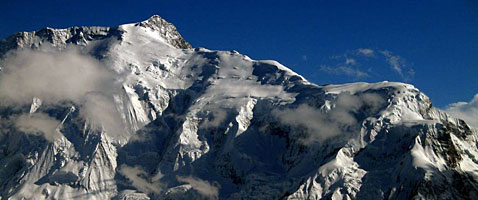 Annapurna IV Climbing Expedition with International Mountain Guides
Do you want to go climb a big Himalayan Peak but you don't want to break the bank? Well, give Annapurna 4 a shot! I tried to climb this gorgeous mountain back in autumn 1987. We had a great trip right up until we got creamed by one of the all-time big autumn snowstorms to hit the Himalayas, but I always wanted to try it again. This time, though, we are going to try it in the spring season, when there is a bit less chance of the big snow event.
Leading the 2012 Annapurna 4 expedition will be IMG senior guide Eben Reckord. Eben has summits of Everest and Cho Oyu under his belt and many other climbs and expeditions all over the world. This will be Eben's third trip into the Annapurna area in the last three years, so he knows the area very well.
Eben will be joined by a cadre of our IMG Sherpa A-Team to lend a hand with the camps and route. This climb will require three camps above Base Camp. There is a combination of snow and a bit of rock getting up to Camp 1, then snow to Camp 2 up on the ridge. Higher, we will put a Camp 3. We are not planning to use oxygen, but we will bring oxygen along for emergencies. For climbers that do want to use oxygen, we have our personal sherpa and extra oxygen option (they go together).
Going abroad is half the fun of international climbing. Though the climbing itself is brilliant, there is nothing like landing in Kathmandu and experiencing the hustle and bustle of one of the most interesting cities in the world. Then, we are off to sleepy Pokhara, and onto the famous Annapurna circuit trail, considered one of the most beautiful treks on the planet.
Eben and our IMG staff will work with you on your technical climbing skills, as well as teaching you the tricks for going to high altitude. This is a fun climb, perfect for climbers with Denali, Cotopaxi, or Aconcagua under their belts who are ready for a real Himalayan expedition.
After the climb ends, for people in a hurry, you have the option of flying straight back to Kathmandu. Or, if you can spare a few days, trek on around the Annapurna Trek to Jomsom via the Thorung La, one of the world's classic high trekking passes (17,873 ft; 5416 meters). From there you can fly back to Kathmandu.
Hope you can join us!
—Eric Simonson
IMG Himalayan Program Director
Expedition Organization and Leadership
International Mountain Guides ("IMG")
IMG is the oldest and most respected high-altitude climbing service in the world and its three principals, Eric Simonson, Phil Ershler, and George Dunn, have led and organized hundreds of expeditions worldwide since 1975. Each is an AMGA Certified Alpine Guide with Himalayan expedition experience including Everest, K2, Kangchenjunga, Shishapangma, and Cho Oyu. IMG's Himalayan mountaineering programs are organized and directed by Eric Simonson, one of the world's premiere expedition organizers. Under his direction IMG has conducted over forty Himalayan expeditions. His teams include a group of professionals and Sherpas who are the best in the business. Since 1990, over 600 IMG team members have summited the world's classic 8,000-meter peaks, including Everest, Lhotse, Cho Oyu and Shishapangma.
IMG's Philosophy
Our goal is to minimize risk while helping as many team members as possible reach their goal, and we invest in the people and equipment that will make this happen. We value our reputation as the premiere international climbing company, and we only put programs in place that measure up to our own high standards. If you would like to join a world-class team, we encourage you to contact us to discuss your goals and qualifications and secure an exciting role for yourself on our expedition!
Ang Jangbu and the IMG Sherpa Team
A veteran of dozens of expeditions and an Everest summiter, Ang Jangbu has worked with Eric Simonson on every IMG Himalayan program since 1991 and is a very popular leader. Ang Jangbu Sherpa and his staff put together one of the very best Sherpa teams for IMG. We are proud to have a group of Sherpas working for us who are among the best paid, best led, best equipped, and best trained in the business.
References
Joining a high-altitude trek or expedition is a serious decision. You should be completely confident in the organization and leadership before you make that decision. Many of you have climbed with us before, and because your experience with us was good, you're considering another climb with us. For those of you who haven't climbed with us before, we strongly encourage you to interview us thoroughly and also talk to our past clients. When you're ready to make the decision, we'll be happy to provide you with a complete list of references. Please also browse comments online from our trekkers and climbers.