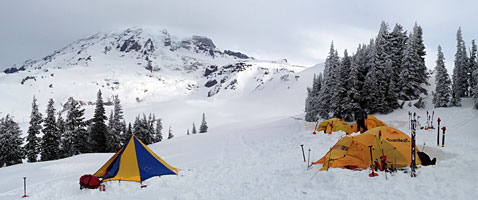 Rainier Winter Expedition Ascent Itinerary
One fundamental aspect of the Winter Expedition Climb and all of IMG's training seminars is that the itinerary varies from course to course. The guides will determine the route prior to the seminar depending upon the weather, conditions, ability of the group, and skills they want to highlight. The weather and snow pack will play a major role in where the team will camp and move to each day, just as on any cold weather high altitude expedition climb. The seminar progresses up the mountain, putting the team in position for a summit attempt. Trip emphasis will be on safety, route and hazard assessment, winter camps and snow shelters, training in winter expedition skills and attempting to summit if possible.
Summits of Mt. Rainier in the winter are much more infrequent than in the summer season. If our team does manage to summit the mountain it will be a cause for celebration. If we are forced to turn back at 10,000 feet, 12,000 feet or higher, it will be a decision made by the guides but understood by the entire team and one made based on the assessment skills we have learned and practiced during the program. Most days will be centered on training and skill exercises, lectures, and informal discussions at camp, but camp will be moved to give participants hands on experience in establishing safe, sheltered and well constructed camps as well as experience in the day to day skills required for extended expedition camp life.
Proposed Itinerary
Day 1 — Meet at IMG Ashford Headquarters (directions) at 2:00 p.m. This pre-climb meeting of 4-5 hours is instrumental in getting the team outfitted, informed, packed and educated prior to departure the following morning. Topics to be covered include an introduction of the entire team, an introduction to Mt. Rainier National Park, its mission and ecology, and a safety briefing. Review personal clothing and equipment. Review group food and gear and sort loads. Demonstration of rigging and loading sleds and expedition packs. Practice basic knots and construct prussik slings. Learn standard operation of avalanche transceivers and other essential information.
Bunk space is provided to all participants at Headquarters this first night. IMG will provide a quick breakfast (muffins, instant oatmeal, coffee or tea) as well. Some participants may prefer to stay at a nearby B&B or motel at their own expense.
Day 2 — Meet at IMG Headquarters at 8:00 a.m. Load up the IMG van and depart for Paradise (5,400 ft.). The group will don snowshoes, full packs, and share in hauling sleds up to the first camp site, typically located at or below 7,000 feet. The team will learn to set up a winter camp with tents and cook kitchen. As time allows the group will practice use of avalanche transceivers and make field observations.
Day 3 —As weather and conditions allow, the team will attempt a move up to Camp Muir at 10,000 feet. If not, training will continue with an introduction of mountaineering skills and construction of snow shelters.
Day 4 — Glacier training day in the vicinity of Camp Muir. Anchor construction, glacier travel and rescue skills, fixed rope ascension.
Day 5 — The team normally uses this day to scout the intended route and assess conditions. If conditions are very good, it is also a possible summit attempt day, weather and conditions permitting. During the ascent there will be hands on training in route finding, avalanche hazard assessment, cold weather survival and glacier travel. If no ascent is attempted, the team will continue with training after scouting the route for the following day.
Day 6 — Final summit attempt day.
Day 7 — Pack and descend to Paradise. During the descent the group will practice navigation including map and compass and gps. The party will hope to return to Ashford Headquarters by 2-4:00 p.m. but weather and snow conditions may effect our return time.