IMG's 2017 Mt. Everest Expedition Coverage
Led by Eric Simonson, Ang Jangbu Sherpa, Greg Vernovage, Emily Johnston, Josh McDowell, Phunuru Sherpa, Luke Reilly, Dallas Glass and Jonathan Schrock

First Team Packed and Ready for Flight to Lukla
March 26, 2017
The entire Team 1 is together now in Kathmandu! We have finished all their gear checks, and the duffels are ready to be sent into the Khumbu Valley. The rooftop meeting took place this morning, and it was the first time everyone had the chance to shake hands and start getting to know each other. We covered many details about the next couple weeks of trekking up the Khumbu.
After the rooftop meeting, we went to the Department of Tourism and got our Everest 2017 climbing permit. We are the first Everest team for 2017 to have their permit issued!
Tonight was for celebration! The welcome dinner is for celebrating the beginning of the climbing season and also the end of training for our trek and climb. After a great dinner and then a good night's sleep, we will be up early tomorrow morning for the first flight out of Kathmandu to Lukla. It will feel good to stretch our legs and get on the trail. We are hoping for great weather in the morning so we can get into Lukla!
Up at EBC, the Advanced Sherpa Team is making great progress. They now have most of the big tents up including the member dining tents. The other reports from EBC are that the Icefall Doctors are making good progress, are now above the popcorn section and approaching the football field. Our Base Camp Sirdar, Ang Pasang, is also on the move. He called on his way back down the valley from his third round trip to Everest Base Camp already; we can call it the Ang Pasang Ultra Marathon!
—Greg Vernovage, Expedition Leader
IMG's First Team Getting Organized in Kathmandu
March 25, 2017
Dallas and I hit the ground running when we got into KTM last night. We welcomed half of the first team and sent them straight to their rooms for a well-deserved shower and a good night's sleep.
This morning we started with gear checks. We're very happy with how dialed everyone is for the trek and climb. Base Camp duffels and Trekking duffels are being collected and will be sent on their way soon. During our down time, Dallas checked on our Adventure Medical Kits to make sure we had all necessary pieces then got them organized and ready to go!
Tomorrow is a big day. It starts with an early breakfast, followed by the rooftop meeting where Team 1 will get together for the first time in one place. We'll talk big picture logistics and go over departure times. After the meeting I'll head over to the ministry to sign the Everest Permit while the rest of the team takes care of any necessary errands. Tonight is the official Welcome Dinner on the roof at the Yeti Bar! I like to make this as casual as possible, toasting the official start of the season and giving everyone the chance to meet each other and celebrate their arrival to Nepal.
It has been a beautiful day in Kathmandu!
—Greg Vernovage, Expedition Leader
IMG Guides in Kathmandu
March 24, 2017
Things are really starting to pick up in Nepal. The first wave of Everest guides, climbers and trekkers are arriving in Kathmandu today. IMG Expedition Leader, Greg Vernovage, and IMG Guide, Dallas Glass, arrived earlier this morning (PST)... with all of their duffels — always a great way to start an expedition. Their primary objective is to get to bed and start the process of getting their internal clocks on the right time zone. Kathmandu is +12hrs 45min from local time here in Washington State, so it's an adjustment to say the least!
Over the weekend they'll take care of some logistical odds and ends, then jump into gear checks as additional climbers and trekkers arrive. If all goes as planned, Team 1 will fly from Kathmandu to Lukla on Monday to start their trek to Everest Base Camp.
—Tye Chapman
On a Jet Plane to Kathmandu
March 22, 2017
Today is the day! Greg Vernovage here to let everyone know that I am jumping on a plane this afternoon on my way to Kathmandu for the 2017 Everest Expedition. I know that all of our climbers and trekkers are equally as excited as I am to get to Nepal. I will be traveling for a couple days and look forward to hitting the ground running in Kathmandu.
After a couple days of gear checks and logistical odds and ends, we will head up the Khumbu Valley where we will finally get a chance to catch up with the IMG Sherpa Team. We said goodbye last May, but we always pick things back up as if no time has passed — a good measuring stick of friendship if you ask me.
Our Sherpa Team is already working hard to help us succeed in our goals, and I look forward to shaking hands with all of them.
Finally, I wanted to send a quick thank you to everyone who has been, and will be, following along this year's Everest and Lhotse Expedition. Keep sending us those great thoughts; your support means a lot to us in Nepal.
More in a couple days.
—Greg Vernovage, Expedition Leader
Last of IMG Gear Now in the Khumbu;
Sherpa Advance Team Puja
March 21, 2017
We received reports from Kathmandu, Pangboche and Everest Base Camp overnight.
Jangbu let us know that our last load of cargo has been flown to Shyangboche. Ang Pasang, Kusang Thsering and Ang Nima have received the loads and will transfer them to Yaks for the trip to EBC.
Phunuru checked in from Pangboche where our Sherpa Advance Team had their Puja. It was a cool day in Pangboche, and the Puja Ceremony went great. Phunuru had just come back from another successful training session with the Icefall doctors who had their Puja Ceremony and also worked with ladders and fixed lines in preparation for fixing the route through the Icefall.
Nuru Gyalzen called from Everest Base Camp yesterday afternoon to update that they now have the Sherpa kitchen tent, dining tent, and the Eureka Army food storage tent up and in place. Nuru Gyalzen reported that there are other teams now arriving in EBC to begin building their own camps.
Everything is moving right along!
—Greg Vernovage, Expedition Leader
More Loads to Shyangboche; Fixing Gear Preparations
March 16, 2017
Ang Jangbu reports from Kathmandu that 57 more loads got flown to Shyangboche today. They were met by Kusang Tshering Sherpa, who sent some photos of unloading the helicopter and loading the yaks for the trip up to Base Camp.
Back in Kathmandu, the staffs of IMG and Himex have been busy preparing the EOA rope fixing gear on behalf of all the Everest teams this season. They took 10,000 meters of fixed rope off the spools and packed it into 40x250m bags, and painted 100 ice screws, 100 caribiners, 200 pickets, and some ladders. All total it is 16 porter-loads which will be sent to the Khumbu soon.
Back home in Washington state, Everest leader Greg Vernovage and the guide team are putting the finishing touches on the final loads of food and gear. It's almost go time!
—Eric Simonson, IMG Partner
IMG Gear and Advance Team Moving Up the Khumbu
March 15, 2017
Jangbu checked in overnight to let us know that 103 of our 223 yak/porter loads have now been flown up to Shyangboche on the MI-17 helicopter. Ang Pasang was on hand to receive the cargo and will transfer it to the next mode of transportation, yaks! Purna is hanging tight in Phaplu to get the rest of the cargo on another flight over the next couple days.
When we talk about packing and repacking gear for an expedition before you leave home, this is similar, just on a slightly larger scale! Ang Pasang is a veteran of moving gear to Everest Base Camp. By the time I arrive, he will likely have been back and forth between EBC and Shyangboche 8-10 times already.
Higher up in the Khumbu Valley is our Sherpa Advance Team. They'll be rolling into EBC in the next couple days to start the big job of putting together the IMG Everest Base Camp.
Bottom-line — we have a lot of pieces in motion, and everything is moving right along!
—Greg Vernovage, Expedition Leader
IMG Advance Team on the Move
March 13, 2017
IMG Climbing Sirdar, Phunuru Sherpa, checked in over the weekend to let us know that it stopped snowing and that the IMG Advance Team is heading to Everest Base Camp. They are in Pheriche today and will be heading up to Gorakshep in the morning. The Khumbu Valley looks great with a fresh coat of snow and blue skies!
Further down valley, our cargo has also been on the move and has made it to Phaplu where it will be loaded onto the MI 17 helicopter and flown to Shyangboche. From Shyangboche, it'll be loaded on yaks for the final leg of its journey to Everest Base Camp. We have one of our EBC Cooks, Purna, looking after the gear for the flight.
It's starting to come together.
—Greg Vernovage, Expedition Leader
Snow in the Khumbu; Icefall Doctors' Training to Begin
March 11, 2017
Ang Jangbu reports that the SPCC Icefall Doctors reached Everest BC this week, have been working to get their camp set up, and making preparations for starting to build the route up the Icefall. In the meantime, the weather has been a bit iffy with snowfall in the Khumbu.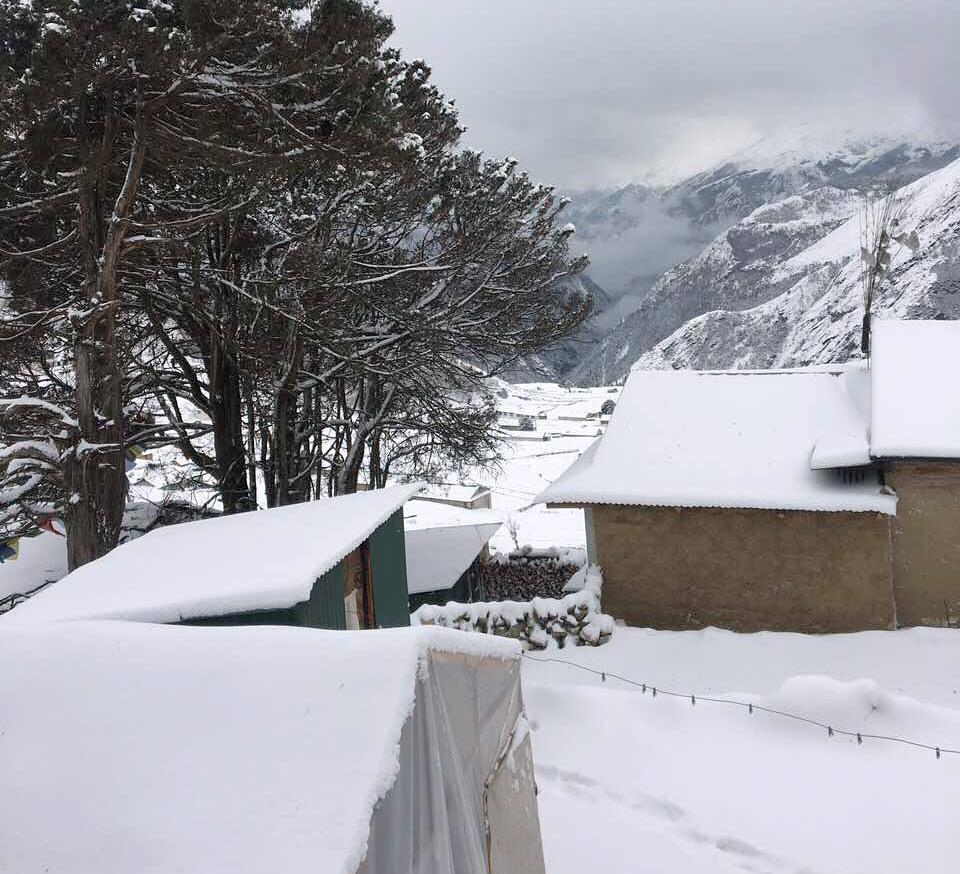 Mingma Tenzing reports six inches on the ground in Phortse overnight. Tomorrow, Mingma and Phunuru are moving up to Everest BC to conduct a week-long training course for the Icefall Doctors. Our IMG Base Camp construction crew will also be starting work this next week.
IMG's BC Sirdar, Ang Pasang, will arrive on the 16th to get our ten-person EBC construction crew started. This team will spend the next couple weeks building the many dozens of tent platforms we will need for the various kitchen, dining, storage and sleeping tents. It's a lot of work, but by the time our climbers arrive, the place will be looking good!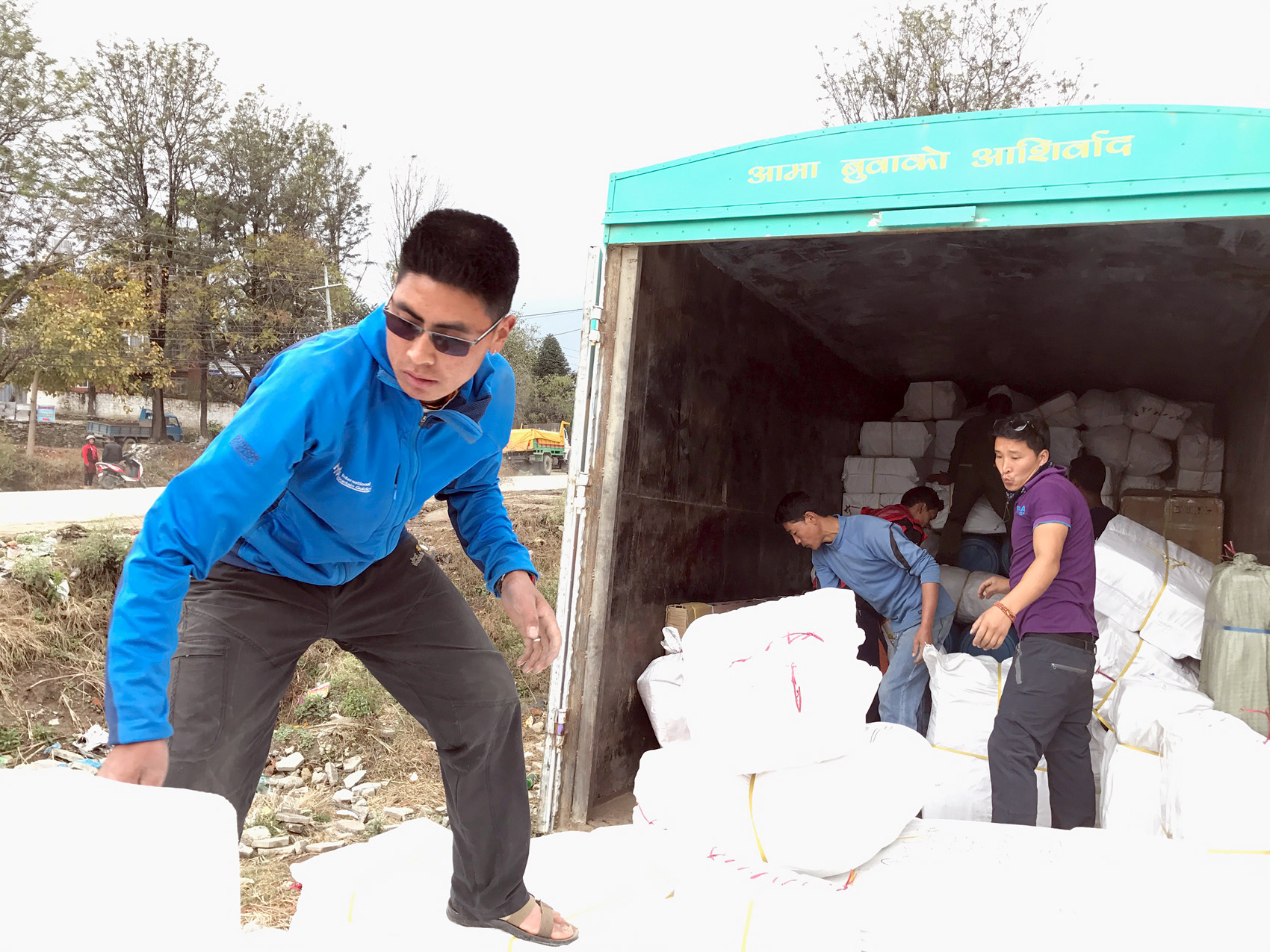 Back in Kathmandu, Jangbu reports that it has been raining. Today the team loaded a big container truck with all our food, oxygen and equipment, and it is now on the way to Phaplu accompanied by Purna our cook. Hopefully it will get flown by the MI 17 helicopter to Shyangboche in the next few days.
—Eric Simonson, IMG Partner