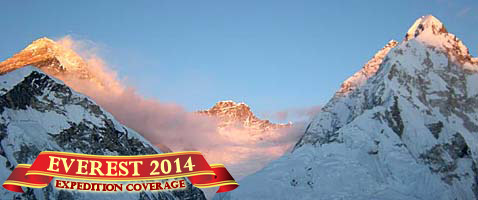 IMG's 2014 Mt. Everest Expedition Coverage
Led by Eric Simonson, Greg Vernovage, Ang Jangbu, Jenni Fogle, Mike Hamill, Justin Merle, Andy Polloczek, Aaron Mainer, Max Bunce, Austin Shannon, and Luke Reilly

The Everest-sized Costco Run
February 28, 2014
Everest guides Greg Vernovage, Luke Reilly, and Austin Shannon did a big food shopping spree this week to Costco, for all the staples like coffee, sriracha, oreos, bacon, and ranch dressing. Yum! Everything is now packed, shipped, and on the way across the Pacific to Nepal.
—Eric Simonson, IMG Partner
IMG Oxygen Moving up the Hill
February 27, 2014
Ang Jangbu reports that our big shipment of oxygen cylinders has arrived in Nepal, cleared customs, and has now been re-packed for the journey to base camp.
Next up is our big food shipment, heading out the door later this week.
—Eric Simonson, IMG Partner
More Gear Heading for Shyangboche by Helicopter
February 14, 2014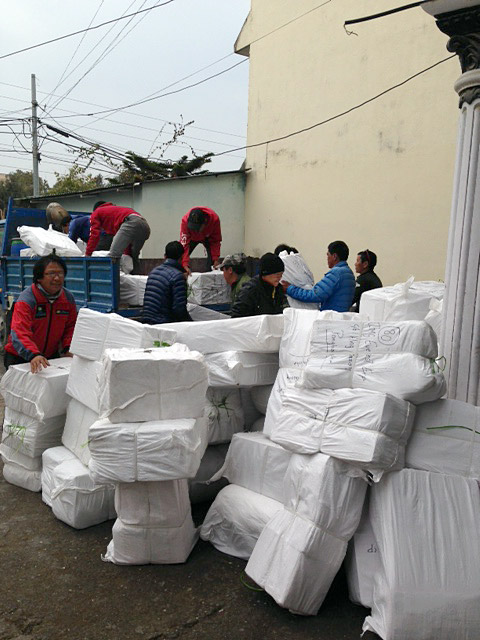 The Sherpas finished packing up another batch of supplies, and today they loaded up the truck to drive it all to Jiri. All total we have 143 porter/yak loads (3,626kg) of food and gear all packed and ready. The plan is that it will get flown by helicopter from Jiri to Shyangboche in the next few days.
—Ang Jangbu, Expedition Leader
IMG Base Camp Site Looking Good
January 30, 2014
Ang Jangbu reports that he sent Kami and Mingma Tshering to base camp this past week to claim our IMG campsite. Since Everest Base Camp (EBC) is situated on rocky material underlain by active glacier, the site changes every year. They report that the base camp looks better than last year, with more flat space for tents and good water nearby.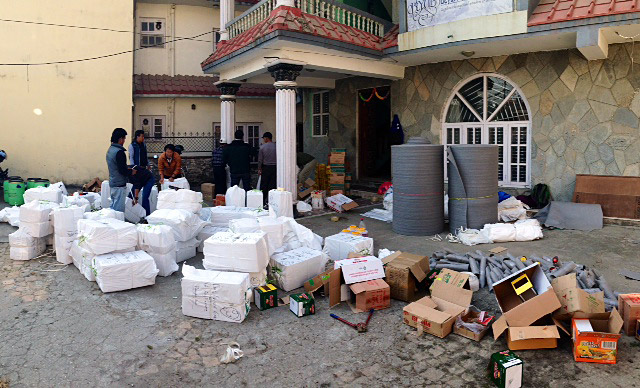 Back in Kathmandu our sherpas have now taken delivery of another large load of food and are busy packing this up into yak/porter loads which will be trucked to Jiri (a one-day drive by truck east from Kathmandu which shortens the heli flight time for the cargo loads).
—Eric Simonson, IMG Partner
First Loads Heading to Khumbu
January 21, 2014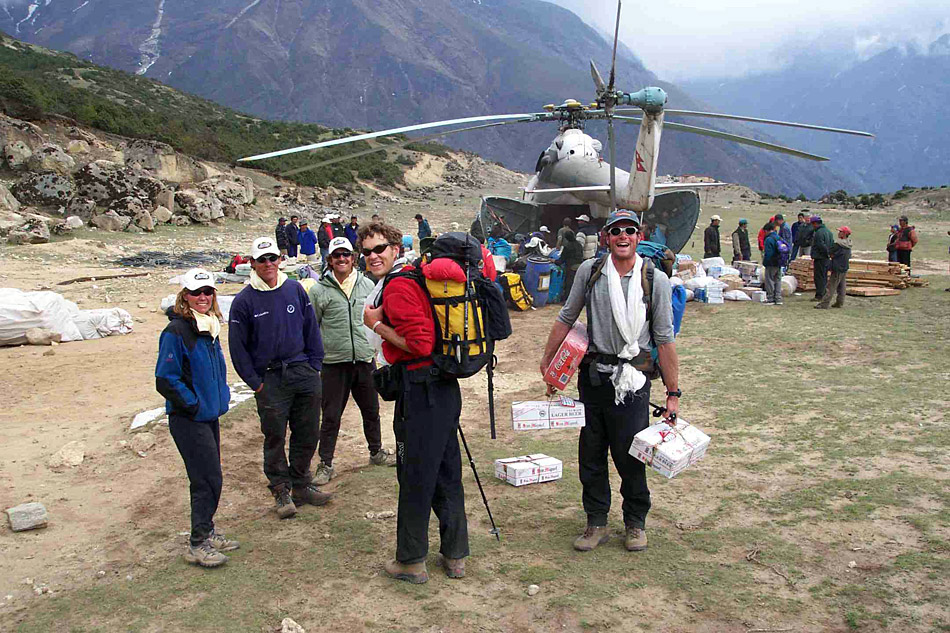 Ang Jangbu reports from Kathmandu that they have now sent the first 46 loads of expedition gear (1124 kg) by helicopter to Shyangboche, where it was received by Ang Tshering and Purna and stored. This included a lot of tents, generators, and camp gear. We have another load of cargo (mainly food) heading up next week with Ang Pasang and Phunuru, and they will then start moving the gear further up the valley.
—Eric Simonson, IMG Partner
Welcome to the IMG Everest 2014 Expedition Coverage
December 20, 2013
We are looking to another great year on Everest. This upcoming 2014 expedition will be our 22nd one that we have conducted to the world's highest peak. So far we have led 381 people from 22 countries and 21 expeditions to the summit.
We have a good looking team shaping up for spring 2014, representing 8 different countries. We are looking forward to sharing expedition news with you.
Currently we are assembling food and equipment in the US for shipment to Nepal. The first loads of gear and fuel will be sent into the Khumbu starting in January.
—Eric Simonson, IMG Partner