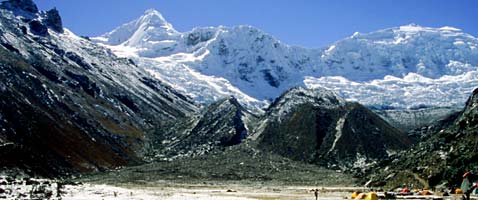 IMG Cordillera Blanca, Peru Itinerary
Day
Itinerary
Day 1
Leave USA late and arrive in Lima early Day 2 (0600hrs) (IMG's preference) [OR] depart USA early and arrive late Day 1 (2200hrs) in Lima and overnight in hotel (at additional expense). Please coordinate with IMG prior to booking your flight. Our staff will meet you upon arrival.
Day 2
Depart Lima early, private van/bus ride with driver to Huaraz. A full day's drive, about 7-8 hours. Overnight and dinner in Hotel Andino.
Day 3
Today we'll hike from the hotel, through the highlands and villages above Huaraz. This is a critical acclimatization day for many people, before we leave for the mountains. It'll establish a healthy acclimatization period for the entire group. Afternoon will be spent resting, and organizing personal gear. Dinner in town.
Day 4
Up early for an all day acclimatization hike to Lake Churup, 4600m., a 900m training hike that will take 8 hours round trip from Huaraz. Return to hotel in the afternoon. Dinner in town. In the early evening, the group will make final preparations for the trek and leaders will do a group gear check and briefing.
Day 5
Drive from Huaraz to the trailhead (3800m). A hike of 4-5 hours up valley brings us to a meadow camp with spectacular views at 4200m.
Day 6
An acclimatization day. We'll hike up to the glacier for some light exercise, and enjoy the views, and make our plan for the summit ascent.
Day 7
Up EARLY today for our first ascent of Maparju, 5326m. A hiking path brings us up to the col (Abra Villon) at 5000m. Straight forward roped glacier travel leads us to the summit. Return to same camp after climb.
Day 8
Leisurely wake up after the previous day's efforts. After breakfast, we hike to our next destination, Laguna Palccocha, base camp for our next objective.
Day 9
Summit day for our second peak of the trip: Huapi, 5415m. We climb up steep grass and scree to the glaciated SW ridge. We follow the ridge on snow to the summit with spectacular views. Return to camp.
Day 10
Trek to Laguna Perolcocha and camp at the lake.
Day 11
Climb Ishinca (5530m.), and then descend to Ishinca Valley. By doing this, we completely traverse over into another valley…making the trip a fantastic "gran traverse." All gear will be carried up on summit morning and then left at the col on Ishinca, so it won't have to be carried to the summit. Porters will assist with carrying gear up and over.
Day 12
Optional weather/rest day. Could be used before Ishinca, or before Urus.
Day 13
Climb Nevado Urus, 5423m., from our Ishinca Valley base camp. Return to base camp. If possible, we will try to descend this day to Huaraz, which will give everyone a full rest day there, relaxing before our trip home. If we are able to do this, those climbing Chopi will leave for the mountain one day earlier, which will also provide a little cushion time at the end of the trip in a similar fashion. We'll make this decision based upon the ability of the group, weather, and other factors.
Day 14
Hike out to trailhead to our waiting transportation and return to Huaraz. Sort gear, clean up and relax. Free day in Huaraz. In the evening we will be treated to a traditional Peruvian dinner and dancing. Dinner will be the typical Pachamancha dinner fiesta complete with Maximo's extended family, music, and fun! It's a special event with lots of food, drink and a band. You'll enjoy the experience as a way to end our trip for some, and recharge for the next part of the trip!
Day 15

For those leaving Peru this day: Morning shopping; leave mid-morning for Lima. Depart Lima late this day.

For those staying on for Chopicalqui (6345m): we'll take this as a reorganization and rest day. Take it easy!

Day 16

For those who left for the USA the day before: Arrive mid-day at home after a great trip to Peru!

For those climbing "Chopi": Drive to trailhead, about 1 hour from Huaraz. Organize gear, and then carry full packs for 1-2 hours to Chopi Basecamp, at 4,200 meters. Like our Gran Traverse, we'll have porter assistance, which will help make our loads more manageable.

Day 17
We'll leave by 8 AM, and make our way through brush and meadows, to a small ridge. Camp (Moraine Camp) will be placed on a moraine, around 4,800 m, after our 5-6 hour effort.
Day 18
Our climb to Camp I will first take us along a moraine to the glacier, and we'll then rope up and walk up the glacier, which is up to 45 degrees in some places. It's a reasonable 5-6 hour ascent and a good warm-up for the next day. Camp will be made just before the start of the summit ridge. Prepare for the summit day, and get to bed early.
Day 19
We'll get up well before midnight, and leave by 12:30 or so in the cold. Our route will first take us to the summit ridge, and then along it for 7-9 hours. The slopes vary in steepness, and weaves around crevasses on the ridge. The summit is usually guarded by a large bergshrund, or a crevasse, and once we negotiate that, a 60 degree steep pitch leads us to the summit. It's possible we may fix a rope to the summit, to assist with the ascent and descent, which is usually made by a rappel. We'll spend no more than an hour on the summit, resting and taking hero shots and pictures of the area. Our descent back to Camp I will take us about half our uptime, or around 3-5 hours. It'll be our longest day yet, probably around 14-18 hours. Descend lower if possible. Eat a quick dinner, and drop into bed!
Day 20
We'll get up early this day, descend from Camp I to our moraine camp, and then onward to Chopicalqui base camp, and then the trailhead. We'll bus back to Huaraz, for some well deserved showers, an end of trip meal, and a real bed in our hotel!
Day 21
Leave around 8-9 AM for Lima, and depart Lima late. A long day of travel, so be prepared with snacks et al. It's an "overnight flight," so plan to sleep on the flight if you can.
Day 22
Flights arrive in Miami/Dallas about 5 AM, which leaves plenty of time to make connections for flight home. Arrive home by mid-afternoon. Crash hard and rest. Reacquaint yourself with friends and family. Celebrate life!