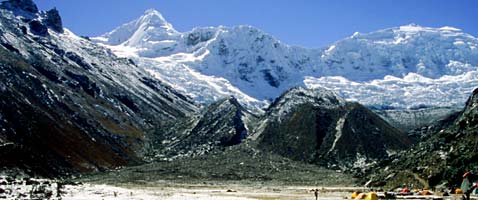 IMG "Gran Traverse" Cordillera Blanca, Peru Frequently Asked Questions
This information should answer many of your initial questions and also guide you through the next stages of preparing for the expedition. If you have any questions, please feel free to contact us: This e-mail address is being protected from spam bots, you need javascript enabled to view it
How fit do I need to be?
Most of the trek days typically require 4-8 hours of effort, with the bulk of our gear carried by mules and/or porters. Because of the trekking portion of this trip and the general high altitude of the area (10-15,000 feet), we recommend that all participants engage in a physical training program for several months prior to trip departure. All participants must consult with their family physician regarding their personal health and the additional demands of high altitude well in advance of the trip.
What kind of previous experience is required?
Participants should have extensive hiking experience and be confident on rugged terrain. Overnight backpacking or trekking experience is helpful. High altitude experience is also beneficial, to confirm that your body can reasonably tolerate visits to 10,000 feet and higher.
For the climbing portions of the trip, basic glacier travel experience is recommended; trekkers will use an ice axe, crampons, and rope-up for glacier travel. Training will be reviewed during the program. For the Chopicalqui extension, previous glacier experience is required at elevations over 4,000 meters. This climb is much like a 'mini-Mt. McKinley climb' in many respects (altitude, cold, expedition camping, etc), so it is recommended that climbers have similar skills, such as learned through one of IMG's training seminars.
How do I get there?
International Mountain Guides has worked for many years with the staff at CTT Destinations to provide professional travel service for participants in our programs. For help with your plans, we urge you to contact Pirjo at CTT Destinations: 800-909-6647 or This e-mail address is being protected from spam bots, you need javascript enabled to view it
What immunizations will I need?
The following may be recommended for travel to Peru. Consult a travel clinic, and check out the Center for Disease Control Website at
www.cdc.gov
Tetanus-Diphtheria, Polio, MMR: You should already have these. Do you need a booster?
Meningitis, Hepatitis A and B: Recommended. Ask your physician/travel clinic for advice.
Yellow Fever: Recommended, you may need to show your shot record with the Yellow Fever endorsement.
Cholera: Not a very effective vaccine. Ask your physician/travel clinic for advice.
Rabies and Typhoid: Not a bad idea to be on the safe side, the new vaccines are easy.
Malaria: We are above the Malaria zone on the mountain, but bring long sleeves and bug juice for evenings in cities; chemoprophylaxis is especially a good idea if you plan to travel to lower elevations in Peru.
What's included in the trip cost?
Cost Includes:
IMG leader, Peruvian leader and local staff including porters, mules; private tours as described in itinerary; transfers to/from Lima airport and return; hotel accommodations in three-star hotels with continental breakfast; group camping gear (tents, cooking gear, porter gear, stoves, lights, dining tent, bathroom tent; cook and trekking food and meals (3 meals per day, while hiking).
Cost Does Not Include:
Airline tickets of any kind; airport taxes; meals in towns or restaurants as indicated on the itinerary; trail snacks or bottled water; staff/guide tips.