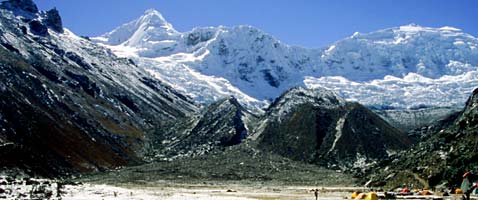 IMG Cordillera Blanca, Peru Gear List
This equipment list is meant to help you compile your personal gear for a mountaineering expedition. Most items are required. Please consider each item carefully and be sure you understand the function of each piece of equipment before you substitute or delete items. Keep in mind that this list has been carefully compiled by the expedition organizer. Don't cut corners on the quality of your gear.
FOR THE TREK
FEET:
[ ]
Medium to medium heavy weight waterproof hiking boots - with suitable ankle support; make sure whatever you wear is broken in and very comfortable; if leather, treat the boot multiple times with waterproofing. A traditional leather hiking boot will work well here, or use something like the La Sportiva EVO GTX boot)
[ ]
Wool or synthetic socks (2-3 complete changes)


LOWER BODY:
[ ]
Underwear (2-3 pair for trail use)
[ ]
Long johns (1 pair, lightweight synthetic)
[ ]
Lightweight nylon trekking pants. Best of all are the nylon zip-off leg pants.
[ ]
Waterproof/breathable pants (preferable with leg zips)


UPPER BODY:
[ ]
Long john top (1 lightweight-zip neck is best)
[ ]
Expedition long john/fleece top (around 100 weight), or a warmer puffy/fleece vest
[ ]
Soft shell, Primaloft or fleece jacket (200-300 weight; consider a hooded garment)
[ ]
Waterproof/breathable jacket with hood
[ ]
Down or synthetic parka with hood (REQUIRED, but reasonably light in weight)
[ ]
T-shirt (synthetic is best)


HEAD AND HANDWEAR:
[ ]
Fleece or wool hat
[ ]
Sun hat or baseball cap
[ ]
Lightweight wool or fleece gloves
[ ]
Warmer gloves (fleece or synthetic insulated Gore-Tex climbing gloves)
[ ]
Gore-Tex mitts with thick fleece or synthetic liners
[ ]
Bandanna
[ ]
Chemical hand warmers (4 for trek, plus 1 more for Chopi)


SLEEPING:
[ ]
Sleeping bag (down or synthetic, down to 0 degrees F., lightweight compression bag)
[ ]
Therm-a-Rest (or) Thick closed cell full-length foam pad (or both, for supreme sleeping comfort!)


MISCELLANEOUS:
[ ]
Pack (large size, internal frame, in the range of 5,000 cu. in.; Note: test prior to use! Try to keep the weight of the pack down, less than 4-5 pounds. Top loading works best)
[ ]
Pack rain cover to protect from mist…and mud! (or bring 2-3 large garbage bags)
[ ]
Adjustable ski poles
[ ]
Extra large stuff sacks (2; for packing clothes and bulk of personal lunch; to keep things organized and dry)
[ ]
Medium stuff bag (for daily lunch)
[ ]
Sunglasses (1 pair dark pair; plus retainers, i.e. Chums)
[ ]
Suncream (1 full bottle; 35-50 SPF protection; consider taking a small bottle for summit climbs)
[ ]
Lip protection (with high SPF)
[ ]
Water bottles (2; wide mouth 1 qt. Nalgene type bottles [be sure to mark with your name with a thick Sharpie pen]; A water hydration system can substitute for one bottle. Leave water bottle covers at home.)
[ ]
Toilet paper (2 large rolls in zip-lock bag; plus personal hygiene wipes)
[ ]
Garbage bags (5-6 large, heavy duty; 30+ gal; use these to line your pack and all of your large stuff bags; it's an excellent way to keep your gear dry. At camps, put your boots in one. Extra bags are ALWAYS GOOD!)
[ ]
Headlight (Petzel LED is best; fresh batteries, plus 1 spare set).
[ ]
First aid kit (Personal needs only, Bandaids, athletic tape, moleskin, non-prescription pain meds and anti inflammatory drugs such as Advil. Pepto Bismol tablets are helpful for dealing with minor stomach distress. Consult with you doctor about the trip and travel at altitude and bring any recommended prescription drugs in original prescription bottles.
[ ]
Potable Agua tablets for water purification (1 bottle of 50 tablets, or, lightweight personal water purification device-make sure you know how to use it, and what it filters; must filter viruses and use iodine to be 100% effective.)
[ ]
Insect repellant (DEET is most effective. The bugs, in general, are not too bad, but best to be safe!)
[ ]
Toothbrush & paste
[ ]
Day pack (highly recommended for air travel & general touring-lightweight with few frills, top loading is best)
[ ]

Lunch (for on and off mountain, to supplement provided lunches). Please bring a variety of foods weighing in total no more than 5 lbs. You can supplement this some with local foods, candies, and fresh fruits.

Lunch ideas include: String cheese, beef jerky, dried fruit, candy bars, energy bars, hard candies, nuts, electrolyte replacement drink mix (something lightweight, several quarts repackaged into a Ziploc bag, or get some of those lightweight flavored water drink mixes), 2-5 quarts worth of powdered power drink mix for your harder days (like Cytomax). Salty snacks are often appreciated. Include 4-6 gel energy packets (like GU) for the harder summit days.

CLIMBING GEAR
[ ]
Stretch nylon climbing pants, Schoeller type fabric. Or lightweight fleece pants.
[ ]
Climbing helmet
[ ]
Adjustable lightweight climbing harness
[ ]
Reasonably sharp 12 point crampons fit to your boots (avoid aluminum)
[ ]
Plastic double boots or newer style double synthetic/leather double boots (Asolo, Boreal, La Sportiva)
[ ]
Heavy weight socks to fit your climbing boots (You'll need a total of 2-3 changes of socks for the entire trip, to fit both your trekking and climbing boots. Bring an extra pair or two if you need special socks to fit your climbing boots?)
[ ]
Minimum 2 locking pear shaped carabiners, 3-4 regular carabiners
[ ]
Belay device (such as Black Diamond ATC)
[ ]
Mechanical ascender, with slings/Perlon cord for attaching to harness (bring one ascender IF you are on the Chopi climb, plus two prussiks; just bring prussik slings for the trek)
[ ]
20 feet of 6mm Perlon accessory cord (for ascenders/prussik slings). Or bring your already constructed prussik loops/ascender loop.
[ ]
60-70 cm Ice axe with wrist leash
[ ]
Knee length gaiters


OPTIONAL
[ ]
Lightweight balaclava
[ ]
Diary, pen & pencil
[ ]
IPod or MP3 player - bring one you are willing to risk losing. Best if it runs on batteries. If you bring a charger (to use in town) add an electric plug adapter suitable for Peru.
[ ]
Camera(s), extra storage media cards and extra batteries
[ ]
Binoculars, smaller style (maybe share some; 1-2 pair for the group?)
[ ]
Book, vitamins, ear plugs


FOR THE CHOPICALQUI EXTENSION
[ ]
Consider adding warmer fleece pants if you get cold easily (full side zips preferred)
[ ]
Add an additional set of headlamp batteries
[ ]
Add 2-3 additional pounds lunch food including 4-5 additional gel packets
[ ]
Drink mix for 3-4 days (bring some hydration drinks (like Cytomax), along with some lightweight drink mix to flavor your water


IN TOWN
[ ]
Passport/Visa/Airline tickets
[ ]
Money ($100-150 for the local staff tips, plus $500+ for misc: drinks, some meals, travel, and gifts, and your departure taxes, when flying into/out of Peruvian airports (not included in your airline ticket). Bring some smaller bills, like $5's and $10's) ATM's are available in Lima and (limited) in Huaraz.
[ ]
Credit cards
[ ]
Travelers checks (not as useful; could be hard to exchange)
[ ]
Money belt/neck pouch
[ ]
Running/tennis shoes (use as camp shoes)
[ ]
Socks; cotton or synthetic, for travel (3)
[ ]
Small bag of liquid biodegradable soap (for clothes)
[ ]
Underwear (3-4)
[ ]
Toiletries (be sure to keep it light here)
[ ]
Toilet paper (1 roll)
[ ]
Cotton pants or synthetic travel pants (2)
[ ]
Dress shirts (1-2)
[ ]
T-shirts or short sleeve travel shirts (2-3)
[ ]
Cheap watch
[ ]
Large tough duffel bag (to fit pack; for air travel and porter carry. Make sure your bags doesn't exceed airlines baggage size and weight restrictions; extra luggage fees are expensive!).
[ ]
Second large duffel bag or suitcase (for air travel and to store gear at hotel)
[ ]
TSA locks: Consider using the new TSA locks for your bags when flying (can work for hotel and on trek, too)
[ ]
Ear plugs



Easy-wash travel clothing is convenient, as are jeans and non flashy shirts. Avoid bright colors or logos that mark you as a tourist. The town of Huaraz and the trek are "tourist friendly," so being a tourist doesn't create any problems-but it's a good idea to dress-down, nonetheless. Cotton for trail use, however, is generally DISCOURAGED.
Gear Donations
Gear Donations: We like to encourage our Peru trekkers to bring along some of their used and close-to-worn-out-gear and clothing on this trip. This gear can then be donated to our local guides and staff after the trek-and make your bag lighter for your flight home. Appropriate items include long underwear tops and bottoms, pile clothing, socks, gloves and mittens, outerwear, gaiters, and other clothing items that you've used during your trip but you no longer need-or want. This token is not expected by us or our local staff, but it is a good way to "unload" some of your older gear that you no longer need or want and help out someone who can put it to good use. Extra trek food can also be left for the Peruvian staff after the trek.
We certainly don't want to overwhelm our local staff, and your guides will help coordinate the donation so that all are treated fairly. Our local contacts certainly appreciate anything you can give them, but please don't make any promises along the way.
Lastly mark all personal gear including water bottles clearly in indelible ink with your name. Check the condition of your gear and be sure to test new pieces of equipment thoroughly.