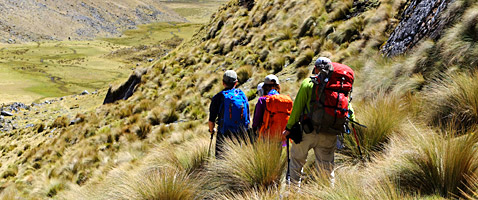 Peru Trek with Chopicalqui Extension Itinerary
Day 1
Overnight flight from USA to Lima; arrive early morning the next day in Lima. Depending on your flight plans, you may want or need to overnight in Lima.
Day 2
We'll pick most trekkers and climbers up at the airport after their early-morning arrival, and then travel from Lima to Huaraz. There's a modest place for breakfast just out of town if you're hungry for breakfast. After a drive through the pacific desert, we'll stop in Barranca near the beach for a fresh seafood lunch. During our 7-8 hour drive, other stops will include a visit to a fresh fruit stand where it's possible to purchase some exotic treats for the day. Our travels will take us over a 13,000'+ pass, and back down again to Huaraz (10,000'), our base of operations for the trip. After a short rest, we'll have dinner and a quick orientation for our next day. Overnight in Huaraz.
Day 3
An acclimatization and sightseeing day. After breakfast in our hotel, we'll travel by van into the Cordillera Negra, the 'black' mountain range that sits opposite of the Cordillera Blanca, the 'white' mountain range.
From the Negra, there is an awesome overview of the Blanca and all its grandeur. There are a couple of hiking options in the Negra, so we'll decide while in Huaraz what fits best for our group. If we do the longer option, we'll start from the trailhead at Punta Callan (13,100'), where we'll walk down to Huaraz for 3 to 4 hours on an ancient Incan trail. Prior to dinner, we'll organize our gear for the trek, and prepare for our departure in the morning. Overnight in Huaraz.
Day 4
After breakfast, we'll do some more packing in preparation for the trek, and also pack for another day hike. Like the day before, there are many options. One option is a hike to Lago (Lake) Churup, which starts with transport in cars/van to Pitec, at 12,467', and then hike for 3-4 hours to the lake, an incredibly beautiful area located at 15,091'. There are other worthy options, and we'll decide the night before what's best for our group. After lunch during the trek, our group will descend and return to Huaraz to further help our acclimatization. We'll relax here, have dinner, and then prepare for our Alpamayo trek, which will start the next day.
Day 5: Trek day 1
After an early rise and breakfast, we will depart around 7a.m., traveling by bus from our hotel to the Llanganuco Valley. Spectacular views of incredibly high peaks abound, as the highest ice-clad peak in Peru, Huascaran, looms above all. Other high peaks include Huandoy and Chopicalqui. For our climbers on the extension, we'll pass by the trailheads for Pisco and Chopi; your guides will point these out. Our drive will continue through Portachuelo Pass at 15,583'. The drive to here and a bit beyond is simply spectacular. After some photo ops at the pass we'll continue onward to Vaqueria. We will meet our team of mule drivers and mules here and begin our trek towards the Huaripampa Valley. Along the way we have a chance to observe the local Quechan people, their homes, and observe their customs and lifestyle. Terrain will be alpine in nature. In the afternoon we'll arrive at the head of Quebrada Paria at 12,795', our camping site for the night. Quebrada means valley or ravine, and this is a popular camping spot for a couple of different treks. Time on the trail today will be around 5 hours. With the drive, it is somewhat of a long day. You'll be ready for a hearty meal and some good rest!
Once on the trail, we will adjust quickly into a comfortable trekking routine. A full camp will be set up prior to our arrival at camp each day, complete with twin sleeping tents, dining and cook tents, and a private bathroom tent. Tea is commonly served upon arrival at camp. Those that venture out at night will likely be greeted by a sky full of incredible stars and the famed "Southern Cross," a unique celestial feature in the Southern Hemisphere, which is used for navigation, much like the Big Dipper and North Star in the Northern Hemisphere.
We'll awake around 6:30 AM each day with some tea and wash water to get a fresh start prior to our day of trekking. Breakfast will be served in our dining tent, complete with drip coffee, a selection of teas, hot chocolate, and other refreshments. The main breakfast course typically includes toast, hot or cold cereal, eggs, fruit or yogurt to provide good energy for our trekking days.
Day 6: Trek day 2
Our trek will continue today from Quebrada Paria to Alto Pucahirca Pass, at 15,354', where we will have spectacular views of many Cordilleran high summits, including Chacraraju, Chopicalqui, Taulliraju, and more. We'll see Huascaran again, the highest peak in Peru, standing at 22,205'. From the pass, the route descents to our camp in Huecrococha, near a lake at 13,100'. Like our other days, this day will be around 6-7 hours of hiking. We'll relax in the afternoon, take in the views, visit, do a little wash, and enjoy life. If there's interest, trekkers can take a bath alongside the lake. A snack and tea will be served in the dining tent before dinner.
Day 7: Trek day 3
From the lake near Huecrococha, our group will pass through the small village of Quisuar, where we can observe the locals and see the diverse ecosystem of this part of the Cordillera de Los Andes. They have a fascinating fish-farm near the village. By mid-day, we reach the Pass of Tupa Tupa (14,530'), admire the views, and have lunch complete with hot drinks.
During the trek, lunches are varied, and include small sandwiches, some cheese, chocolate, hard-boiled eggs, and other treats. We encourage trekkers to bring along a small bag of their favorite lunch snacks to supplement what we provide to round out their lunchtime meal selection.
From the pass, we'll descend and finish our 6 hour trekking day. Camp will be near Jancapampa, at 11,483', where we will find beautiful farmlands and inquisitive locals who will welcome us. Beverages are available to purchase for those looking to quench their thirst. At the head of the valley, the impressive face of Pucajirca can be seen, complete with massive glaciers, ice cliff, and waterfalls. There are simply no words to truly express the beauty and complexity of Pucajirca as we encircle a good part of the mountain during our trek.
Day 8: Trek day 4
A shorter day of 4-5 hours of trekking will reward our past efforts. From Jancapampa, we'll ascend Yanajanca Valley, a very diverse area in terms of vegetation. We'll camp at Sactaycocha (sactay = rest, cocha = lagoon), at 13,450'. This is an active rest day, with a modest walk to camp, rest, and recovery in preparation for the trek over our highest pass the next day.
There is an optional short walk from camp to an overlook where we can get an incredible overview of the lake and a view of the huge glacier carved valley that holds our camp. With all the green grass and smooth granite walls around camp, the word 'spectacular' will likely permeate conversations.
Dinners usually start with a nice selection of hot and cold drinks, followed by soup, and then a main dish of pastas, fresh local trout, or one of Peru's specialty dishes, like lomo saltado, a hearty beef meal complete with vegetables and rice. More hot drinks follow the main meal, leading to pleasant conversation or perhaps a game of cards into the evening.
Day 9: Trek day 5
Another modest day of trekking (5-6 hours). From our camp above Laguna Sactaycocha, we'll climb through Yanayacu Pass (Yana=Black, yacu=water), at 15,680', the second highest pass of our trip. The pass is very alpine in nature, with incredible views of Pucajirca. After climbing over Yanayacu Pass, we will descend to Willcapampa, where are there are more surprises in store for the group. We'll take a long break here-at the confluence of serval valleys, then ascend for a short distance to our camp at Huillcapampa (13,123'). From this camp we will see the North faces of the Alpamayo and Pucahirca group, some of the most spectacular peaks in the range.
Afternoons on our shorter days allow us to recharge for the remaining part of the trek, and provide time to soak in this wonderful trekking experience. Some trekkers may want to wash a few clothes, or take the opportunity to clean up a bit with the extra time. There's a natural rock garden around this camp, so it's common to take a short walk taking in the views. Some trekkers may also want to stray out into the darkness to take in sunset pictures of Alpamayo and the incredible star laden sky.
Day 10: Trek day 6
A longer day of hiking, around 7-8 hours, will lead us from our camp at Huillcapampa, with a climb over Paso Moyobamba (14,435'). There is a long walk to the head of the Cedros Valley, a slow ascent to the base of the pass where we'll take a short but well-earned break. The ascent to the pass above is on scree, and feels more alpine with each step.
More views as we climb through Paso Cara Cara (15,912'), the highest pass of our trip. Each of our passes will provide a nice challenge and resulting rewards. The views of Alpamayo and the surrounding peaks is simply indescribable. It's usually windy here, and there is time to enjoy the pass and the views, take pictures, and rest a bit before heading down into the next valley.
A descent down a softer trail at times will lead us past some high alpine tarns (lakes), then down through some huge grassy slopes to our camp at Jancarurish (Alpamayo Valley; 13,780'). The views of Alpamayo and the other mountains around this camp are spectacular. This is one of the classic views of Alpamayo; an unforgettable camp placed on pampa, a grassy-like pasture, with a stream nearby for bathing and clothes washing.
Day 11: Trek day 7
Another longer day of trekking today (6-7 hours), will start from our camp at Jancarurish with a descent to Ruinapampa in Alpamyo Valley. Pre-Incan ruins can be seen here, and we'll take a quick break and rest in preparation for the climb to our next pass. We will then zig-zag up scree switchbacks and over Paso Vientuna (15,584'). More stunning views here of other 5,000 and 6,000 meter peaks. From the pass, we will descend down to a very pleasant but compact camp at 14,763' called Osorui, or Bear Camp, the highest camp of our trek.
Day 12: Trek day 8
From Osoruri, our group will trek over a couple of smaller passes, and then over Paso Cullicocha, at 15,748', our last high pass of the 100 mile'ish trek. From this pass, there are incredible views of the Santa Cruz group, peaks ranging in height from 5-6,000 meters. Another simply stunning day. A steep descent through rock will take us down to Cullicocha Lake and a control dam; we'll take a break on the comfortable glacier-smoothed slabs for lunch and take in the views. The trail from the dam then contours along the slope, at times with breath-taking views below. Eventually we'll round a corner, and begin our descent to camp, about an hour below. We will appreciate another stellar camp with lots of opportunities for photos and mountain enjoyment here, known as Wishcash (13,123'), our last camp of the trip. From this camp we will see spectacular views of the Cordillera Negra-which we visited at the beginning of our trip. Trekking time will be around 5-6 hours.
Day 13: Trek day 9
Leaving Wishcash early, we will descend for around 4 hours to the small village of Hualcayan (10,368'). The lower altitude will feel like thick air after our days of travel in the higher reaches of the Cordillera Blanca. Here, we say farewell to our helpful mule drivers and then pack-up our bus and drive for 5 hours to Huaraz, where we will return to our hotel. We will enjoy well-earned showers and a nice meal in Huaraz. Of course, time to connect with family again via the Internet, then a good night's rest in a real bed. While visions of 'home' will be on our minds, the reality of an incredible dream-like trek and achievement will continue to buoy the team's spirit.
Day 14: Huaraz (or trek backup day)
Today, is our last day in Huaraz, and will be used by most participants as a day of clean-up, shopping in town, and relaxation on the hotel terrace. We'll have a final group meal, a famed Pachamanca, hosted by our local guides. Our meal will be started early in the day, cooked in the ground, and will feature local vegetables and meats. There will be music and traditional Pisco Sours, and beer will be available to enhance our trek celebration and festive spirit. Overnight in our Huaraz hotel.
Should we need an extra day on our trek, we can use this day to accommodate acclimatization, extra rest, or poor weather. While we will do our best to keep on schedule, this day can add a bit of cushion and flexibility if needed.
Day 15: Drive from Huaraz to Lima, and flights home
There may be some time in the early morning before our departure for Lima for some shopping, then our 8 hour drive to the coast for flights home. There is lots of time to sit back and remember our time trekking through the Cordillera Blanca during the drive, listen to music, read, and sleep. We'll stop by the beach again for lunch, and then make our way to the airport for late flights home.
Chopicalqui Climbers: For those trekkers who are staying over for our add-on Chopicalqui climb, this will be a well-earned rest day in Huaraz. We will also need to pack up for the climb and make preparations for our departure the next morning. With 12 days of high-altitude trekking and 2 full rest days, climbers will be ready for our "Chopi" ascent.
Day 16: Trekkers return home!
Our trekkers will arrive home and celebrate their reunion with friends and family.
—— End of Itinerary for Trekkers ——
Continuation of Itinerary for Climbers
NOTE: There are two itineraries presented below. The primary goal will be Chopicalqui. If "Chopi" is not in good condition, your trip leader will discuss the best options with your group that will present the highest chances of success and trip enjoyment. Factors will include Alpamayo Circuit trek performance and acclimatization, climber skills and experience, and most importantly, mountain and route conditions, in addition to current and predicted weather.
Peru Climbing Extension
Day
Chopicalqui Itinerary
Pisco Itinerary
Day 16
Up early and travel by private bus for 3 hours to the Chopicalqui trailhead, at approximately 13,000'. From there, we will use porters to assist our carry up the trail through a high alpine area to our basecamp, which is located at approx.. 14,000'. It's a short hike of about an hour or two, and that will leave us time to sort gear for the next day, rest and relax.
Same departure plan as Chopi, with a 2.5 hour trip to basecamp and the trail head, at approximately 13,000'. We'll unload the gear and trek to camp 1, carrying small daypacks while the mules carry our overnight gear and group supplies. Our ascent is a traversing trail through tundra-like terrain to our basecamp, situated near an updated climbers hut at 15,700'. If our group is smaller, we will utilize the Euro-style hut, otherwise, we will have a full-service basecamp, similar to our trek in the Northern Cordillera Blanca the week before.
Day 17
From Chopicalqui base camp, we'll travel up and over the moraine above camp, then traverse across a large terminal moraine, then ascend a steep lateral moraine which takes us to our Moraine Camp, located at 15,800'. Ascent time will take 4-6 hours.
From our camp or the hut, our ascent will take us up through a moraine, with some occasional descents, then a traverse through the boulder-laced moraine to a high camp near 16,100'. We'll set-up and established high camp here, the base our operations for the Pisco summit ascent.
Day 18
We'll take this day as an acclimatization day, while porters and guides carry a load and a tent to our high camp, at around 18,400'. This effort will reduce our load to our highest camp, and save some energy for the summit climb. Guides and porters return to moraine camp for evening.
After breakfast, we'll hike up to the glacier for some basic snow and ice training and review the skills necessary for our ascent of Pisco. Ice axe, crampons, harness, helmets, and ropes will be used during our training, as we review how they will be used during the climb. After our morning training, we'll return to high camp and prepare for the next day's summit climb.
Day 19
Climbers will ascend to high camp in 4-6 hours and prepare for the summit climb the next day. The climb to camp is up some moraine rubble, and after roping up, the team will climb glacier, at times 45 degrees. We will need to take some long end-runs around large crevasses. This will take us to a camp on the glacier. Any extra time at this camp will be spent resting in preparation for the summit. We'll hit the sack early!
Awaking early, we will trek to the glacier, and then ascend towards the South-West ridge. There is often an ice wall here that we'll climb directly up, using a belay to safeguard the passage. Once past this obstacle, the ridge becomes broader and weaves between crevasses and climbs an occasional steeper part as we climb closer to the summit. From the 18,871' summit, the views are spectacular, with the large expanse of the Cordillera Blanca icy summits stretching in all directions. After returning to high camp, we'll descend that same day to our base camp at 15,700' for a hearty dinner and rest.
Day 20
Today our team will awake early, dress, and eat a quick breakfast, and then rope-up and begin our climb. The climb is primarily up glacier, end-running crevasses, and then finishing with a climb along a ridge. Along the ridge we may use running belays, or perhaps belay climbers as needed. Slopes vary in terms of steepness. The final ascent to the summit may be over a large crevasse, demanding a steep 60 degree snow and ice climb to the summit. Climb time to the summit will be around 7-9 hours.

We'll spend no more than an hour on the summit, resting and taking hero shots, and taking in the expansive Cordillera Blanca range.

On the descent, we may rappel to descend to more walkable terrain. We'll descend to high camp, and then down to our moraine camp in about 4-6 hours (or about half of our ascent time). This will be the longest day of our trip, about 14-18 hours.

Eat a quick dinner and then drop into bed!
In the morning, we'll return to the trailhead and then transfer from there back to Huaraz. The afternoon is free, with climbers usually resting, cleaning gear, and catching up with family and friends on the Internet.
Day 21
From moraine camp, our team will descend to base camp, pack up, and then take the short walk back to the road. Our transportation will show up shortly afterwards, and we'll make the drive back to Huaraz. Time to the trailhead will be around 4-6 hours.

We'll wrap up our mini-climbing expedition with a final dinner in town, and prepare for our drive to Lima the next day. Celebrate and connect with loved ones back home!
There is an extra day in the itinerary here that could be used for acclimatization on Pisco, or used as a weather day, or perhaps could also be used to split the load carry to our high-camp. We may also want to spend another night at high camp after the climb. In summary, with this extra day, we'll have more options on the mountain, which will be helpful to craft the most successful and fun experience.

Yannapaccha is also an option as a continuation, if we end up doing Pisco. It will all depend on conditions, weather, interest, fitness, and team experience.

Return to Huaraz; celebrate with a group dinner and pack for our trip homeward bound.
NOTE about Day 20-21: If we happen to return to Huaraz on Day 20/21, there is an option to tour ancient Inca sites above town and then do some last minute shopping in town. In the evening, we'll have a celebration dinner in a local restaurant and put the finishing touches on a fantastic experience in Peru.
Day 22
Like the trekkers who left Huaraz earlier in the trip, we will have some time for some early morning shopping before our departure for Lima, drive 8 hours+ to the airport. We'll stop by the beach again for lunch, then make our way to the airport for late flights home.
Day 23
Our climbing team arrives home this day, with reunions with family and friends. Celebrate life!