April 8, 2009
On Monday we summitted Mt. Whitney.
Day 1: Ten virtual strangers met in the Mt. Whitney Cafe in Lone Pine, CA for breakfast on Friday… after some bacon and eggs we sorted our gear, repacked and made the 16 mile drive up the Whitney Portal Road.  Once at the trailhead we loaded up our packs and started the climb… and getting to know each other.
The summer route is quite different than the conditions we were climbing in… On a typical day in the summer it's not uncommon to find a couple hundred hikers to be making their way up Mt. Whitney… but on a cold Spring snow covered day we saw nobody. Snowshoes are almost standard for the Sierras this time of year but luckily we were able to go without… Four hours and we were at camp (Lower Boy Scout Lake 10,000ft). We set up our tents and Bernd and Chris fired up the stoves for some "hots" or hot drinks. After we settled-in, we enjoyed some spicy noodles in a peanut sauce for dinner. An hour or two of getting to know each other quickly faded as the temperature dropped.
Day 2: After a cold night's sleep, a warm cup of cocoa lifts anybody's spirits! Day two has begun. It isn't a big day 10,000ft to 12,000ft, but it's a great way to gain some more altitude and continue acclimatizing. We pulled into our second camp (Upper Boy Scout Lake) around 2:00pm – plenty of time to set up the tents, get settled, and relax. The weather was perfect! The sun drops behind the ridge at about 5:00 so we had an early dinner of tortellini's and a quick summit meeting to discuss the plan of attack the following morning.
Day 3: Summit Day. Up at 3:30am, "hots" and breakfast at 4:00 and walking at about 4:30 – a pretty efficient team! The first part of the climb was standard snow travel – some traversing and some switchbacks… Once we reached our first break it was time to rope-up. After an hour or so of some steep climbing up the gully we reached our first big objective of the day: The Notch. We took a good break at The Notch while the Chris, Bernd and George established the fixed lines from The Notch to the summit. The last 200 meters is steep enough to use ascenders on the fixed lines to safely reach the summit…on this route…this time of year
.
The Summit: 10 for 10 on top! Not a breath of wind, warm and sunny! Absolutely spectacular. After an hour or so of sharing stories and taking pictures we made our way back to camp for some time in the sun and a nice hot dinner. We slept well!
Day 4: 6:30am – an early start to get back to Lone Pine for a beer and some pzza. By noon we were in Lone Pine with 3 large pizzas and a pitcher of beer (Sierra Nevada of course) in front of us…by 12:30 they were gone. Ten strangers now friends.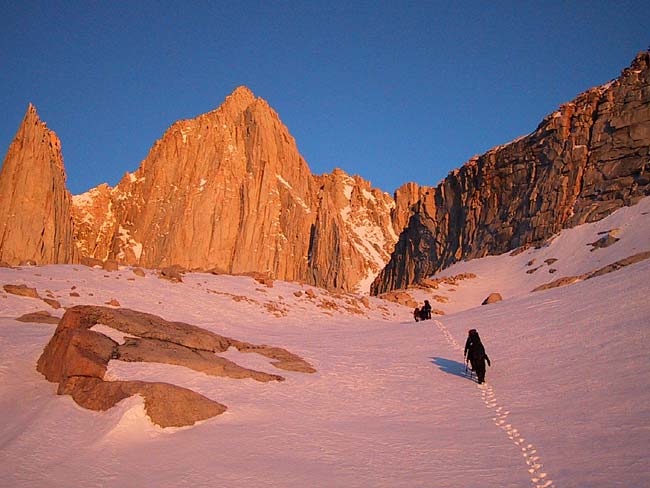 Guides: George Dunn, Bernd Zeugswetter, Chris Werner
Climbers: Catherine, Jeff, Paul, Sam, Scott, Tim and me tagging along.
—-
Tye Chapman
Operations Manager