November 6, 2009
Our Winter Expeditions take place in mid-winter: January and February. It's a great opportunity to climb Rainier when conditions can be quite extreme, providing valuable experience in cold weather, high altitude conditions. IMG Partners Eric Simonson and George Dunn developed the Winter Expedition Seminar as guides on Mt. Rainier in the mid-eighties and have refined it into the program it is today.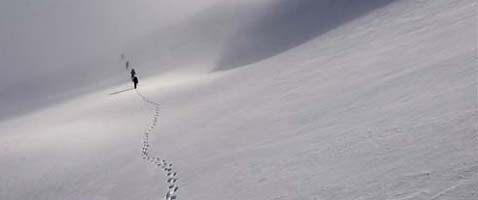 Mt. Rainer is the ultimate winter challenge with its world record snowfall and rules supreme as the premiere training ground for North American climbers. This program ascends Mt. Rainier in expedition fashion using two or more camps along the way at progressively higher altitudes. We incorporate avalanche level 1 training material into the climb to offer in depth snow training and avalanche risk assessment. This program has two primary goals: to attempt to climb, survive and summit the mountain, and to spend a significant amount of time learning skills and training. Weather can potentially limit our ability to climb higher at any step of the way, but this allows for more time spent training and learning skills to survive what the mountain throws at us. Winter Expedition Climbs ascend through the Muir Corridor (Ingraham Glacier, Disappointment Cleaver, and Gibraltar Ledges routes), but the selected route is weather and snow pack dependent. Camp Muir is always used as the high base for our summit attempts.
Think you've got what it takes?
—
Tye Chapman
Operations Manager