March 30, 2010
A big weather system settled in the Pacific Northwest these past few days and has dumped several feet of snow in the Cascades! Great for the skiers but not so great for the first day of our Denali Prep Seminar which was scheduled to get started yesterday.
With the roads inside Mt. Rainier National Park locked down for the day, our guides and climbers made the most of the day by training here at IMG yesterday. Over the course of the day the team worked on crevasse rescue techniques, self extraction from a crevasse (prussiking out) and some avalanche beacon fundamentals. They ended the training day with an obstacle course which put some of the skills they talked about and practiced earlier in the day to use.
The obstacle course events were:
1.) Prussiking up a rope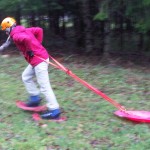 2.) Dragging a sled 50 yards in snowshoes
3.) Putting on crampons for inspection
4.) Tying 4 knots: overhand, figure eight, clove hitch and a butterfly
5.) And some bouldering on our rock wall in their double boots.
Congratulations to our winner Dave who walked away with an IMG t-shirt for his efforts!
The guides wrapped up the evening by whipping up some chicken curry and rice noodles for everybody up in the guide lounge.
Everybody's good spirits yesterday paid off today when the park opened the gates at 11:00am this morning!
UPDATE: Lead guide Erica Engle just called in from their camp at 6500ft – all is well! It's snowing but that's a good thing!
Tye Chapman