August 20, 2010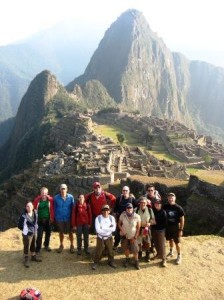 The team is slowly integrating back to their daily lives after an amazing trip to the Inca ruins of Machu Picchu. After a baggage debacle at the Lima airport, where the McShea family patiently held out without baggage for a couple days, the trek proceeded smoothly. A pleasant drive though the sacred valley into Ollantaytambo left us resting and feasting at a beautiful Franciscan monetary converted into a hotel. Here we enjoyed our last night in a hotel before the start of our trek, where the team traded the comfort of beds and showers for sleeping bags and hot basin baths.
Once on the trek, we witnessed amazing starry nights, were fed tasty meals by the cook staff, and humbly walked in awe along the Inca trail. The weather on the fourth day could not have been nicer as the team approached the Sun Gate just after dawn to witness the illumination of Machu Picchu. We were reunited with Dave, who hiked the Salkantay trail, and we enjoyed a thorough tour from our local guide, Jaime Vasquez.
The team was bussed down to Agua Calientes where we were welcomed by beds, showers, and beers! The following day we were in Cuzco and enjoying a pleasant celebration dinner, reminiscing on the past week of adventure, laughter, and friendship.
Eric Stevenson