July 27, 2010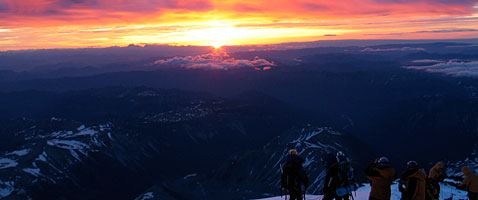 IMG Guide Greg Vernovage reported in from the Inter Glacier this afternoon reporting all is well with the team. They'll wake up in the morning and head up to Camp Schurman and if all goes as planned they'll make their way up the Emmons Glacier on Thursday.
Over on the Kautz, Peter Anderson reports the team is making good progress to their camp near Lower Castle. They'll make their way up to their High Camp tomorrow and theoretically summit the same day as our Emmons team
And on the DC Route, IMG Guide Josh Tapp reports from Camp Muir that all is well and the team made it to Muir in good form. They'll move up to the Flats tomorrow and summit on Thursday – the same day IMG Partner George Dunn departs on what should be his 500th summit of Mt. Rainier.
All is well on Mt. Rainier!
Tye Chapman