May 7, 2010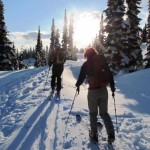 After several days of some pretty miserable weather here in Ashford the clouds finally parted long enough for guides Tyler Gimenez and Austin Shannon along with myself and apprentice guide Dan Zokaites to grab some skis and head into Mt. Rainier National Park for a quick "after work ski tour".
At Paradise with skins and skis on by 7:00pm we made our way to the base of Panorama Point and called it our "high point"  for the evening. Several reasons led to this decision – snow stability, darkness and general competence on skis – for me and Tyler anyways.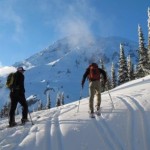 After a quick snack and some much needed pointers from Austin and Dan, we made our way down to the parking lot, some quicker and more graceful than others… Nevertheless we all had fun and got a dose of some much needed Vitamin D!
Tye Chapman