October 3, 2009
Another morning here in Seattle and another update from John Colver, leading the IMG team currently on Kilimanjaro.  Karanga Camp is the current location.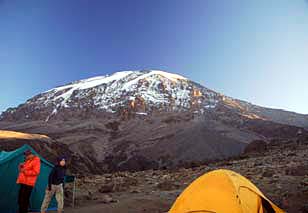 They'll spend a nice evening at 13,500 ft and wake up ready to head for high camp at Barafu.  It's a short day to Barafu, 3 hours going slow.  That allows the team to have an easy day going to high camp and arrive early, around noon.  Then it's time to pack, eat, drink and prep for the summit climb.  The climb's going to start before their day even ends.  Wake up around 11 pm, quick breakfast with hot drinks and then it's time to start walking.  Up, up, up.  That then it's only down, down, down. 
Team is well, strong and ready for the big push.  A little luck with the weather and they'll knock it off.
Phil Ershler