Master of the Mountain Goes for 500th Rainier Summit
by Craig Hill, The News Tribune
Singular feat: 'No words to describe that much effort'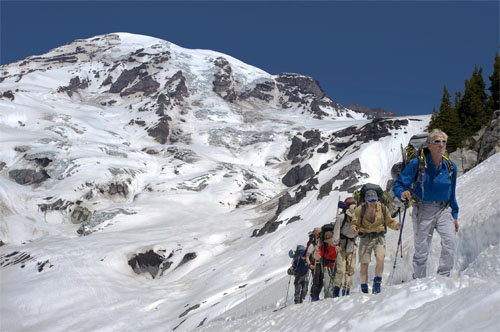 George Dunn guiding his 498th climb of Mt. Rainier (Peter Haley)
One morning this week George Dunn, his crampons crunching through the snow atop Mount Rainier, likely will make history and it won't even be the highlight of his day.
The 56-year-old guide plans to climb Rainier on Friday with friends and family and become the first person to summit the 14,411-foot peak 500 times.
The ironman feat astonishes even those who were guiding when he was in high school.
It means 4.5 million vertical feet and 9,000 miles of climbing, each climb a two- or three-day test of endurance. And it doesn't include the estimated 100 times he's had to turn around short of the summit because of poor weather or other hazards.
"It's always a physical challenge," Dunn said. "I'm tired every time."
Of the thousands of people who've climbed Rainier, most do it only once. Eight have climbed the mountain 300 times and three have 400 summits.
"But it's not about the numbers," said Dunn, a director at Ashford's International Mountain Guides. "The beautiful thing about this job is the people I've met and getting to share lifetime memories with them. That's why I do this."
So for Dunn, the best part about No. 500 will be that it will be summit No. 1 for Jeremy, his 16-year-old son.
"He never focuses on himself," Nancy Dunn said of her husband. "He is very passionate about helping others have a great experience."
But while Dunn's pride will be directed at his son, those who know him and Rainier will use the landmark moment to celebrate his accomplished career.
"You can't quantify how impressive 500 summits are because there are no words to describe that much effort," said Robert Link, who has the eighth-most summits, 301.
"Climbing Rainier 200 times is an impressive career and he's climbed it that many more times than me. He puts his head down and goes to work every day at the hardest job on the planet.
"To be the one to be first to 500, that's huge. I'm in awe."
Dunn finished climb No. 499 on Friday. He doesn't remember for sure the year of his first climb. He figures it was in 1969, when he was a student at Renton High School.
Dunn was born in Wichita, Kan., before his family moved west. He didn't really have an interest in mountaineering until he heard about his school's climbing club.
"Of all the fluky things," Dunn said. "I swear the club only existed while I was going there. Then I think they realized, 'This is crazy. We can't do this.'"
Bad weather forced him to turn around on his first two attempts. He carried a kite to the summit when he finally reached the top on his third attempt, but he couldn't get it to take flight because the weather was so calm.
The same couldn't be said for the gangly kid's stomach. As is the case with many on their first ascent, he spent most of the time on top lying in the crater, feeling nauseous.
But shortly after he staggered down the mountain and thought about what he'd just done he had an epiphany.
"I thought, 'Wow, that was so cool' and it was like boom," Dunn said, snapping his fingers. "I knew I wanted to do that for the rest of my life."
He likes to say the loves of his life are tied to Rainier.
"It's been my home and my playground," he said.
It's also been his office. He even met Nancy at Paradise where she worked as a park ranger in the 1980s.
George Dunn was a 22-year-old student at the University of Washington in 1975 when he took a job guiding for RMI. He picked out two older guides, Phil Ershler and Eric Simonson, to be his role models.
Ershler and Simonson were quickly carving out reputations as some of the best guides on the mountain, with boundless energy and aspirations of leading international trips.
They climbed Rainier as often as they could, so Dunn did the same.
In 1976 he set a record by summiting 30 times.
A good-natured rivalry soon sprang up among the three as they raced to see who could be the first to 100, 200 then 300 summits.
"It was the slowest race in history," Ershler said, and Dunn lost them all.
But Simonson started slowing down after 200. He now has 282 summits. Ershler was the first to scale Rainier 300 times, but Dunn passed him soon after and never looked back.
Ershler still has the second most Rainier summits with 439.
Both men will accompany Dunn on his 500th summit.
"The significance of Number 500 is that it symbolizes his dedication," Simonson said.
And it was never about the stats for any of the men.
In 1986, they formed International Mountain Guides along with fellow guide Paul Baugher and started leading expeditions all over the world. Today they put more people on top of Mount Everest each spring than any other American guide service.
Along the way Dunn has stood on top of Everest and Kanchenjunga (the world's third-highest peak), trekked across Antarctica and led numerous trips in the Alps.
"He's done so much more than Rainier," Baugher said. "That's one of the other things that make 500 summits so impressive. He's so durable. It's an honor and privilege to have a guy like that as a partner."
While Dunn still guides international trips, he scaled back that work to be on Rainier closer to his family.
"He loves adventure, but he's a family man, a great guy," Nancy Dunn said. "He never sits back and watches TV when he's home. He always pitches right in."
The 500 Club: Who's next?
Phil Ershler, a director and guide for International Mountain Guides, has the second most Mount Rainier summits with 439.
But at 59, he says it's unlikely he'll match George Dunn's feat of 500.
The consensus in climbing circles is that if anybody else reaches 500 summits it will be Brent Okita of Rainier Mountaineering Inc. Okita, 49, bagged Rainier for the 400th time in June and is climbing 20 to 25 times a year.
Some believe he might someday pass Dunn.
"He (Okita) is like the Energizer Bunny," said Paul Baugher, one of Dunn and Ershler's partners at IMG. "He might be the record holder in 10 years."
Joe Horiskey of RMI agrees, but believes the 500 Club is unlikely to ever grow larger than two.
"Guides these days have so many more opportunities (to climb elsewhere) that the record could stand for a long time," he said.
What does Okita say about the prospect of another 100 trips up Rainier"
"Maybe," he said with a chuckle. "If I don't retire first."
BY THE NUMBERS
4.5 million: Vertical feet George Dunn has climbed on his 499 summit trips.
10,000: The number of people that guide Phil Ershler estimates Dunn has helped reach the top of Mount Rainier.
8,982: Miles Dunn has covered on Rainier during his 499 summit trips.
100: Estimated number of times Dunn has had to turn around below the summit because of poor weather or other hazards.
30: Number of ascents Dunn made in 1976, a record at the time. (Climbing rangers Chad Kellogg had 33 in 1997 and Mike Gauthier climbed 36 times in 1998).
19: Number of routes Dunn estimates he has climbed up Rainier.
42: Years Dunn has been guiding on Rainier.
© The News Tribune