Ageless mountain men: Rainier guides don't seem to get old
by Craig Hill; The News Tribune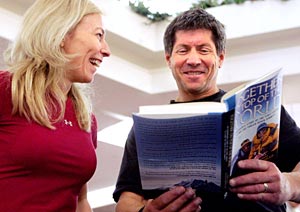 Susan Ershler laughs as her husband, Phil Ershler, signs "
Together on Top of the World
," their book about climbing the world's seven highest peaks. At 57, he is the oldest guide on Mount Rainier. (Janet Jensen, The News Tribune)
Mountain guiding is physically demanding, time consuming and occasionally dangerous work. It's more often a young-person's summer job than an established man's career. "It's a profession that most people get out of when they get married or have children," said Craig Van Hoy, a guide for Seattle's Alpine Ascents International.
"Most guides are in their 20s or maybe 30s."
But Van Hoy, 50, is one of the few who never let age keep him from his passion. He's been leading climbers up 14,411-foot Mount Rainier since the 1970s and is AAI's oldest guide. And he doesn't plan on stopping any time soon.
Neither do Phil Ershler, 57, and Gary Talcott, 55, the oldest guides at International Mountain Guides and Rainier Mountaineering Inc., respectively.
"There is physical age, and there is your calendar age," said George Dunn, 55, an IMG guide and director. "I know many people who are 50, 60, 70, but they are actually very fit and young," said Dunn "And what's sad is that there are people in there 20s and 30s who are very old physically."
Here's a closer look at the oldest active guides at Rainier's three guides services.
PHIL ERSHLER
International Mountain Guides
Age: 57.
Rainier summits: 435.
If you check birth certificates you'll find that Phil Ershler is the oldest active guide on Mount Rainier. But those who know him best don't believe it. "Phil is ageless," said Dunn, a co-director along with Ershler at IMG.
Not only is Ershler still taking clients to the top of Rainier, but also he's still guiding all over the world.
In fact, he was unavailable to be interviewed for this story because he was leading climbers to the top of Russia's 18,510-foot Mount Elbrus. All 11 climbers in his party reached the summit.
"He loves getting people to the top of mountains," said Susan Ershler, Phil's wife.
She said one of the perks to life in the mountains is that Phil is as fit as men half his age.
"He can run circles around me," said Susan Ershler, 52. "I could never keep up with him. He is very strong in the mountains... But where Phil really shines is his incredible experience."
Few have resumes as impressive as Ershler's. He was the first person to climb the highest peak on each continent twice. The spouses were the first husband and wife duo to climb the Seven Summits together. In 1984, he was the first American to climb Everest via the North Wall.
And only Dunn has climbed Mount Rainier more than Ershler.
"It's so cool that he's found something he is so passionate about," said Susan Ershler. "I image he is going to have to scale back at some point, but probably not any time soon. He loves what he does."
—Craig Hill: 253-597-8497
© The News Tribune