Fleet feat for guide on Rainier
by JEFFREY P. MAYOR; The News Tribune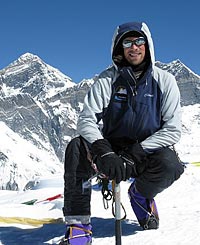 Thanks to near-perfect conditions, a Pierce County man now holds the unofficial record for speed-climbing Mount Rainier.
Justin Merle took 4 hours, 49 minutes, 35 seconds Wednesday to go from Paradise to the 14,411-foot summit and back down again. That beats the previous record of four hours, 59 minutes, one second set in 2004 by Chad Kellogg, which also was not officially timed.
A client on a guided ascent typically takes 17 to 18 hours of climbing time to complete the adventure, not including a sleep break at Camp Muir.
It was 6 a.m. when the 29-year-old climbing guide from Ashford left the Paradise parking lot at 5,400 feet, he said, and conditions on the Muir Snowfield were ideal. Merle said his pace was about 3,000 feet per hour when he was going strong.
Above Camp Muir, he started to pass climbing parties on their way down from the summit.
"It was kind of funny. I saw a bunch of guides I hadn't seen in a while, but it was like 'Hi, but no time to talk.' They quickly figured out what I was up to," Merle said.
As he approached the summit on the Disappointment Cleaver route, Merle said, fatigue and high winds slowed him.
"Close to the top I was really tired and thought I was going too slow. I was starting to get leg cramps when I was going across the crater to sign the register," he said.
He signed the book at Columbia Crest just three hours and 27 minutes after he started.
The good snow conditions helped Merle maintain a strong pace on the descent.
"The snow was soft enough that you could dig in your heel and really stretch out your legs."
When Merle reached the 8,500-foot level on the Muir Snowfield, a leg cramp almost brought his attempt to a halt, he said.
"I had to stop for about a minute. A bad cramp can immobilize you. I walked for a little bit until it went away."
The cramp soon eased, and Merle completed his record trek.
"The conditions were almost perfect for this," he said. "The snow conditions were pretty awesome for going up fast and coming down."
Merle knows there will be some who question the record because he did not have people to track his time. But he didn't do it for the glory.
"I like climbing and like going fast, and thought I would give it a try," he said.
Garrett Madison, a guide for Alpine Ascents, said he has no reason to doubt his friend.
"The majority of the climbing community would believe someone like Chad or Justin," Madison said. "They are trained athletes. They have worked on Mount Rainier for a long time."
"They have nothing to gain from it; they're not sponsored climbers," Madison added. "Without official timekeepers you can never be sure, but everyone in the climbing community believes him."
Another person cheering Merle's accomplishment was Kellogg, the official record holder.
"I think it's fantastic. Way to raise the bar," he said. "It's cool. He's worked up there for a long time."
Kellogg said he now has motivation to challenge Mount Rainier in a speed climb.
"That's half the fun, that (record) stood for almost 10 years," he said. "It's a passion for me for sure. I like to check my times against other marks around the world."
This was not Merle's first record attempt. Four years ago he did it in five hours, 40 minutes.
Merle's climbing resume includes successful expeditions on Mount Everest and Cho Oyu in the Himalayas, Mount McKinley in Alaska, Mount Vinson in Antarctica and Aconcagua in Argentina.
Merle says Mount Rainier is his obsession, not speed climbing. He has been guiding on the mountain since 1999, first for Rainier Mountaineering Inc. and now for International Mountain Guides.
"That was my 106th climb to the top. I have a special thing with Mount Rainier," he said.
—Jeffrey P. Mayor, The News Tribune: 253-597-8640
See the story of IMG guide Liam O'Sullivan breaking Merle's record a month later by 3 minutes »
© The News Tribune