IMG guide Dave Hahn sets record with 10th Everest summit
by Craig Hill; The News Tribune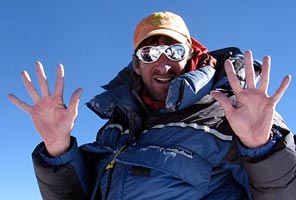 IMG guide Dave Hahn achieves his 10th Everest Summit
Dave Hahn now stands alone atop the western climbing world.
The Ashford-based climbing guide reached the summit of Mount Everest on Sunday for the 10th time, setting a standard for American and non- Sherpa climbers.
Hahn, 46, reached the 29,029-foot summit of the world's highest peak at 7:26 a.m. Nepalese time, International Mountain Guides director Eric Simonson confirmed.
Hahn was descending Everest and expected to return to base camp today. He was not available for comment.
"I guess a good analogy to put this into perspective for people would be to say this is like hitting 763 home runs," Simonson said, referring to Barry Bonds' Major League Baseball record of 762 career homers.
Hahn and George Dijmarescu of Connecticut shared the non-Sherpa and American record in recent years with each taking turns in front before the other caught up, usually only a few days later.
Dijmarescu is not climbing Everest this year. Instead, he's attempting K2, the world's second-highest peak. He sent a message to Hahn on Monday via Everestnews.com: "Congratulations Dave and I am glad it stays in America."
On May 20, Appa Sherpa of Nepal increased his record for Everest summits to 18.
Hahn lives in Taos, N.M., but spends most of his time guiding for two Ashford climbing companies - IMG and Rainier Mountaineering Inc.
Hahn has been guiding on Mount Rainier since 1986 and has reached its summit more than 240 times. Hahn also holds the record for most summits of Vinson Massif with 25. Vinson Massif is the highest point in Antarctica at 16,050 feet.
"He's like the Energizer Bunny," said Peter Whittaker of RMI. "He just keeps on ticking."
Hahn, who is not married, got his start while busing tables at the Paradise Inn in the 1980s.
"Every time he had a break he would run up to Camp Muir," Whittaker said. "When we saw him, we said 'Hey, you should be a mountain guide.'
"Fast forward to now and it's pretty amazing how that worked out."
Hahn's 10 Everest summits required 14 attempts. The first summit was in 1994. He has summited each spring since 2003, including twice in '06.
"I know personally how hard it is to get to the summit," said Simonson, who reached the peak once in four tries. "It's not a slam dunk. He is not a summit-at-all-costs guy. If he has trouble with customers or weather, he is going to turn around."
Phil Ershler of IMG said climbing Everest is like "running a marathon with a pillow tied around your face."
"The fact that he can do that so consistently is real impressive," Ershler said. "He still has 10 fingers and 10 toes, that's the biggest thing, even above success."
Last year, on his way down from Everest's summit, Hahn came across Usha Bista, a 22-year-old Nepalese woman who'd been left for dead about 1,800 feet below the summit. (Read the story of that rescue »)
Bista was incapable of moving under her own power, and her party had left her after she collapsed.
Hahn placed his oxygen mask on Bista and with the help of his Sherpa, Phinjo Dorje, started carrying Bista down the mountain. After about four hours they met a team of British doctors. It was the third time Hahn had helped rescue a climber high on Everest.
Simonson called Hahn's 10th summit "icing on the cake" for IMG's season on Everest.
IMG had its second-best season on Everest, with 31 climbers — guides, clients and Sherpas — reaching the summit in five parties. Its best season was in 2007 when 37 climbers reached the top.
Simonson was especially happy considering the climbing season was delayed while the upper mountain was closed for Chinese climbers to take the Olympic torch up the Chinese side of the mountain.
"For all of our concerns a month ago, it turned out to be a pretty good season," Simonson said.
—Craig Hill: 253-597-8497
© The News Tribune