Everest record-breakers include Auburn guide Justin Merle
by Craig Hill; The News Tribune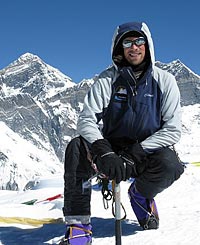 Justin Merle of Auburn was among a record 75 climbers who summited Mount Everest on Thursday.
It was the second summit of the 29,032-foot mountain for Merle, a 29-year-old guide for Ashford's International Mountain Guides.
The 75 climbers to summit on a single day broke the previous record of 63 set in 2002, a Nepalese official told The Associated Press on Friday.
Merle guided an IMG group that included two clients – Dean Smith of Toronto and Jaroslaw Hawrylewicz of New York – and two sherpas – Minga Tenzing and Tsewang Lendu. All were part of the record summit day.
IMG has put 20 climbers on the summit this spring, with another party approaching the summit Friday night, said IMG director Eric Simonson.
"It's been a busy year," Simonson said. "But the weather has been good."
Thursday's milestone was confirmed as news came that a Swiss climber had died on his way down from the summit.
Favorable weather conditions had allowed more than 100 climbers to scale Everest this week.
On Friday, two more groups of climbers – six foreigners and 10 Sherpa guides – were able
to reach the summit at dawn. But later in the morning, weather conditions worsened and other climbers stopped trying to make the summit, instead staying in their tents at camps set up along the route, said Nepalese Tourism Ministry official Ramesh Chetri.
Also Thursday, a veteran Sherpa guide scaled Everest for a record 18th time. Appa, who like most Sherpas goes by only one name, reached the summit along with several of his team members, said Ang Tshering of the Nepal Mountaineering Association.
Separately, expedition organizers said a Swiss climber was killed on Everest on his way down Wednesday. Details were sketchy, but Iceland Trekking in Katmandu notified the ministry that Uwe Miche Johannes Goltz, 44, of Avegno, Switzerland, had died near the summit.
Mountaineers were able to resume Everest expeditions May 9 after the government lifted a temporary ban meant to prevent any protests against China's rule in Tibet during an ascent by Chinese climbers with the Olympic torch.
—Craig Hill: 253-597-8497
The Associated Press contributed to this report.
© The News Tribune