The Brotherhood of the Rope
Sherpas and Western climbers stand united after a disaster on Mt. Everest
by: Mike Hamill, Everest Base Camp, Nepal
On April 18, as I watched from Everest base camp, a massive avalanche thundered through the Khumbu icefall. Sixteen Nepali climbers were lost, most of them Sherpas. In the following minutes, hours and days, the entire Everest climbing community, Sherpa and non-Sherpa alike, came together in one of the most involved and seamless rescue operations imaginable.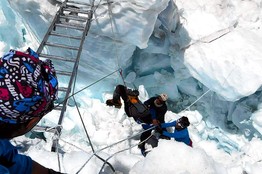 Rescue operations underway in Nepal, April 18.buddhabir rai / rss/European Pressphoto Agency
Shock and adrenaline turned to despair as the rescue concluded. Brothers, cousins, friends and tent mates were counted among the deceased. Despair turned to mourning as their bodies were flown off the mountain for funeral rites.
A vague notion gradually arose and has now become a movement of sorts, fueled in part by the collective need to find some way to believe that these men weren't lost in vain. Mourning has now blended with determination as much of this climbing community unites in questioning the reasons we climb, the reasons we die, what is and is not fair, and what can be done better. There are still far more questions than answers.
The media sensationalism about a spiritual, social or economic rift between Sherpa climbers and the rest of the mountaineering community is perpetuated by persons outside the Everest mountaineering community. More than 300 people representing Sherpa, foreign climbers, and commercial outfitters recently came together for a puja ceremony to honor those killed. Many people of various cultures spoke and the overwhelming message was togetherness and a "brotherhood of the rope."
There was no animosity at this somber event held in the shadows of the Himalayan crest. The scene was much the same on Manaslu two years ago after an avalanche destroyed an entire camp high on the shoulders of the Himalayan giant, Manaslu, killing 11 Western climbers and one Sherpa climber.
As a whole, no group in mountaineering is more respected than the Sherpa climbers. Their extraordinary strength, performance at altitude, work ethic and generosity of spirit are beyond measure. The rest of us mere mortals admire their place of ownership on this mountain. Here there is simply no room for rift, prejudice, feud or anything less than a unified effort, year after year. Commercial outfitters who compete fiercely to win client business become steadfast allies when their climbing teams arrive at base camp. Logistics are planned in open, communal meetings and in crisis, everyone pitches in, regardless of the color of their skin or the victim's skin. Death, and the pain and horror of it, is something we all feel.
The topic of fair pay on Everest comes up time and again. What is fair seems less relevant than what is true, and what is true is that Western guides like myself typically get paid the same as Sherpa climbers: just enough to entice us to keep coming back to Everest year after year and undertake a very risky endeavor in a sport that we are passionate about. None of us would turn down a pay raise if offered, nor do we feel so underpaid that we are ready to walk away from the job. And if we did, there would be 50 youngsters eager to take our spot. The basic tenets of economics and the laws of supply and demand hold true, even at high altitude.
Sherpa climbers clamber to get work on commercial expeditions. They can earn up to 20 times the median Nepali annual income from a single two month expedition. In relative terms, they are the highly paid superstars of their culture. As Ed Veisturs pointed out in a recent interview, "The Sherpas aren't forced laborers, they're paid relatively well, and everyone's there on Everest to work, to climb, with the understanding that there's a serious amount of risk that must be accepted."
At greater issue now are their other benefits, particularly in light of the small fortune reaped annually by the Nepal government in the form of permit fees charged to each international climber and the relatively small amount paid out to those on whose backs that lucrative revenue stream is generated. This has become a central issue of the 2014 Everest climbing season. Nothing can offset the loss of life or future income for any climber's family, but with such a large revenue stream flowing to the government coffers in Kathmandu, the pathetically low amounts paid out by the government when a Sherpa climber is killed, maimed or injured on the job falls far short of fair.
Sherpa representatives crafted and forwarded a set of demands to the Nepali government with almost unanimous support from commercial outfitters and international climbers. The entire climbing community wants to see higher payouts to the families of killed or injured climbers, a percentage of climbing permit revenue placed into a mountain workforce fund, and a memorial to be built in Kathmandu in honor of the deceased.
Unfortunately, a small group of militant Sherpas has threatened violence. This nebulous group has stated that if any climbers, local or foreign, enter the icefall, there will be physical conflict. This minority has attempted to essentially hijack the mountain at the expense of those less vocal Sherpas who, despite their grief and desire for policy change, wanted to continue their expedition work. This scenario is a harbinger of what the future could hold for Everest climbing without stronger and more organized dialogue and oversight.
The climbing community shares responsibility for the well-being of all climbers on Everest. The Sherpa climbers face a disproportionately high share of the overall climbing risks because they make many more round trips through the notoriously hazardous Khumbu icefall than their Western counterparts during any given expedition. Simple math dictates that they stand a much higher chance of injury or death. Mitigating the ongoing hazard of the icefall may provide the greatest improvement in climbing safety for Sherpa climbers and others.
One idea is to avoid climbing through the icefall altogether. As advancements in high altitude helicopter transport continue, a day in the not too distant future may see helicopters ferrying climbers and the tons of gear they use to a staging area above the risky icefall. To those of us who face it year after year, any reduction in climbing through the icefall is a good thing. Except for the chaotic noise and what would become an almost military warzone ambience, this idea is enticing.
However, that noisier but perhaps safer approach to climbing Everest would have an unintended consequence: a vastly reduced number of jobs for Sherpa climbers. Helicopter transport over the icefall would lead to increased costs and potentially fewer climbers. Fewer climbers would mean less gear, and with most of it airlifted to a staging area above the icefall, logic dictates a big potential reduction in the number of Sherpa climbers hired each year. In a country in which employment at that level of income is virtually nonexistent, the economic impact of safety would be hard on Sherpas.
In the near term, we must continue to support the families of those who lost their lives by giving directly to them or by donating to organizations such as Juniper Fund, Sherpa Support Fund and Support4Sherpa. Moving forward, the international climbing community must continue to help Sherpa climbers improve working conditions in a dangerous profession.
Perhaps the greatest challenge the entire Everest climbing community faces is the ability to remain engaged in the cause over time. It is easy to be swept up in fashionable sympathy the morning after news of a disaster flashes across our screens. It is an entirely different thing to keep the torch of reform burning in our hearts and minds next week, next month and, for those of us whose relationship with this mountain is not over, in all the years to come. Only then will proper homage be paid to those who died this year on Everest.
Mr. Hamill is a climbing guide, author and photographer based in Seattle Washington. His latest book is "Climbing the Seven Summits" (Mountaineers Books, 2013).