IMG guide Mike Hamill Climbs the 7 Summits in 11 Months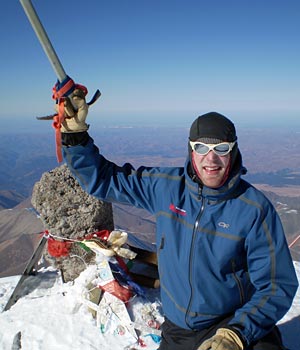 IMG Guide Mike Hamill on the summit of Mt. Elbrus in Russia, his last of the 7 Summits in 11 months.
Mike Hamill's Seven Summits Dates
Vinson: December 1st
Aconcagua: January 20th and February 15th
Everest: May 24th
Denali: July 10th
Kilimanjaro: August 12th
Kosciuszko: October 13th
Elbrus: November 1st
Seattle, WA — Mike Hamill didn't start out planning to do the Seven Summits in 11 months, but the stars lined up and it happened in just 335 days.
"All the climbs were great," says Hamill who is now relaxing and enjoying what he calls "Seattle life." "I've got about a month and a half before I head back down to Vinson [Antarctica] so I'm just like everybody else here in Seattle — just waiting for the snow to hit the mountains!"
When asked to reflect on the last eleven months Hamill highlighted his climb on Denali saying "Greg [IMG Guide Greg Vernovage] and I had a great time up there — we had 100% on top [guides and clients] and we got to the summit and off the mountain in just 13 days. It was a very smooth climb." He went on to say that his climb of Kosciuszko was possibly the hardest climb of all. After flying to Australia, then making the seven hour drive, he found himself in pouring rain and 60m.p.h. winds. "It was the hardest rain I've ever seen," Hamill remembers, "but we got to the top and then got the heck out of there". He spent just 60 hours in Australia. It wasn't Hamill's first time 'Down Under': in 1994 he skied to the summit of Kosciuszko through a university ski exchange program.
In addition to climbing the Seven Summits, Hamill also found time to sneak in a couple climbs of Mt. Rainier and a summit of 8201m Cho Oyu. A busy 335 days.
Hamill began guiding eight years ago. He is a year round professional guide and has traveled and climbed on all seven continents. When not guiding on Mt. Rainier, where he has over 40 summits, his expeditions include: three to Everest, five to Cho Oyu, eight to Denali, 16 to Aconcagua, two to Vinson, two to Ecuador, Kilimanjaro, Mexico, Peru, Chile, Russia, France, and Switzerland among other places. He is a former Division 1 collegiate ski racer and Junior Olympian, has a B.S. from St. Lawrence University, and is a Wilderness First Responder.